BROCADE Communications Systems Inc. (San Jose, CA), supplier of Fibre Channel fabric switches for storage area networks (SANs), reported earnings for the first quarter of fiscal 2000 of $7.3 million, or $0.12 per share, soundly beating estimates of $0.07 per share. Revenue grew 42% over fourth quarter 1999 to $42.7 million, driving income up 105% and earnings per share up 100%. Operating income increased from 8.5% of revenues in fourth quarter 1999 to 19% in first quarter 2000. Margins improved to 53%, up from 50.8% in the previous quarter. The company also announced a two-for-one stock split to take effect March 14, the second since its initial public offering last May.
Glen Ingalls, analyst at Wit Soundview, remarks that BROCADE's revenue was 5.5 million ahead of the firm's $37-million estimate, and represents 400% year-over-year growth. "The real story," he says, "is that the company's operating leverage kicked in this quarter. Operating margins doubled from 8.5% to 19%. And this is driven by several factors-the company achieved efficiencies from higher unit volumes, it completed the transition of its 1000 family of products to the new 2000 family product line, and, lastly, the percentage of reseller business or business through the company's system integrator partners grew from 10% of revenue to 15% of revenue."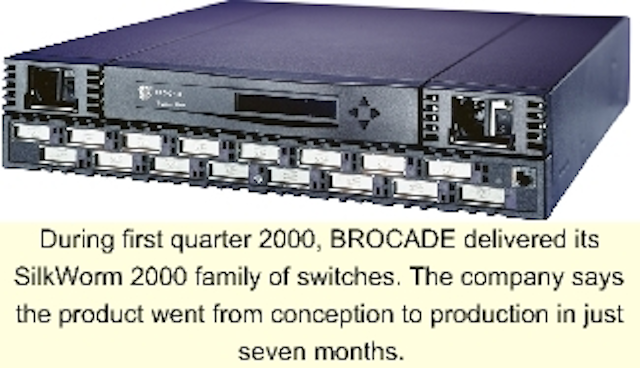 During first quarter 2000, BROCADE delivered its SilkWorm 2000 family of switches. The company says the product went from conception to production in just seven months.
Greg Reyes, BROCADE's President and CEO, adds that the company's numbers are even more impressive when one takes into account the large tax increase the company recently suffered. "We printed $0.12 a share this quarter, but we also increased the effective tax rate to 21% from 2% just a quarter ago," he says. "So if we hadn't been burdened with that tax rate, the numbers would have been just off the charts."
Analysts expect the market for SAN equipment to increase dramatically. Says Ingalls, "We're really at the early stage of the market; companies that are buying products right now are primarily doing 10- to 40-switch pilot configurations. As they start to understand the technology and what it can do, they'll be moving to expand these implementations to hundreds and thousands of switches. As they do so, we're going to see very, very large growth. It's the beginning of a new market, basically."
BROCADE is poised to seize an unusually large share of that market. According to Reyes, the company already commands 80% of it. "Our competitors evolved from disk-drive companies," he explains, which gives them a disadvantage. "They started off with hub-based systems, while we started off with switching technology. We bring a networking model to storage....With this quarter, Brocade's revenues will be 10 times greater than our closest competitor's."
Partnerships with companies such as Optical Networks (San Jose, CA) are also strengthening BROCADE's hold on the market by facilitating the interconnection of SANs across a wide geographic area. BROCADE and Optical Networks have developed a strategic relationship focused on connecting enterprise SANs over metropolitan area optical networks. The two companies plan to integrate their software management platforms to ensure interoperability between BROCADE's SilkWorm Fibre Channel switches and Optical Networks' metro transport systems.
The relationship is expected to extend the bandwidth, reliability, and manageability of SANs across metropolitan networks, providing up to 2 Gbit/sec transmission speed per wavelength. Customers will potentially benefit from such new types of SAN applications as remote backup and storage, dynamic data replication, and disaster tolerance in a reliable and scalable environment.