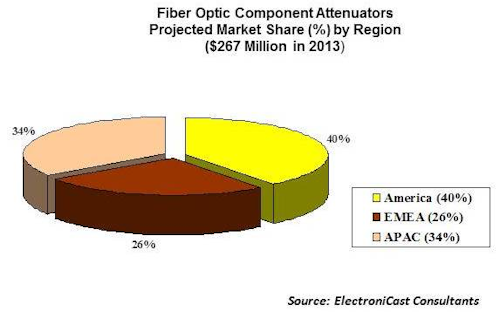 According to the latest report from ElectroniCast Consultants, the use of component-level fiber-optic attenuators will reach $370 million in 2018. Attenuators are used to control the power level of an optical signal used in fiber-optic networks.

"Dense wavelength-division multiplexing [DWDM] is widely used to expand the capacity of optical communication networks," explained Jeff D. Montgomery, chairman of ElectroniCast. "DWDM employs multiple wavelengths and channels in different communication protocols and bit rates requiring precise tuning of the power levels of the channel signals; otherwise, some channels may be distorted. Fiber-optic attenuators are often used to adjust the optical signal strength before they reach an optical device."

The global consumption value of component-level fiber-optic attenuators is thought to be worth $267 million in 2013, according to the market research firm. During the forecast period, the value is forecast to increase at an average annual growth rate of 6.8%, reaching $370 million in 2018.

As shown below, the American region consumed the most fiber-optic attenuators in 2013; however, the Asia-Pacific (APAC) region, with 34% of the relative market share in 2013, is expected to increase its share to 405 in 2018. The APAC region will increase at a faster pace versus every other region, says ElectroniCast.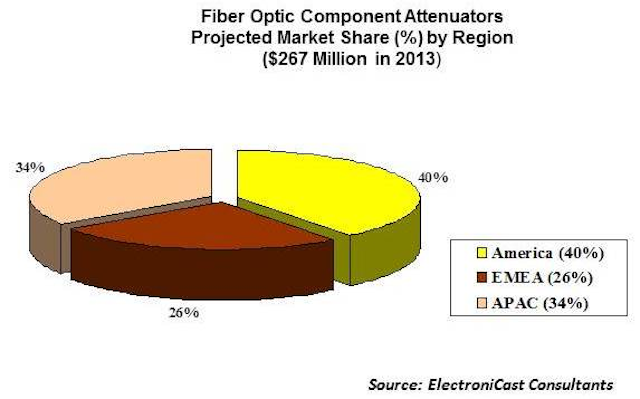 In the ElectroniCast study, the market is segmented according to following product categories: fixed optical attenuators, including bulkhead/plug/panel mount and in-line jumper with connectors; and variable optical attenuators, either manually controlled or electrically controlled.

According to the ElectroniCast, electronically variable optical attenuators (EVOAs), which can provide fast tuning speed and uninterrupted, inline adjustment, will become an increasingly important part of the market. The consumption value of EVOAs is forecast to reach $195 million in 2014.

For more information on optical components and suppliers, visit the Lightwave Buyers Guide.