Like Bo Diddley and George Thorogood, Infonetics Research asked carriers, "Who do you love?" And the market research firm has recorded the answers to that question in its 2013 Optical Equipment Vendor Leadership: Global Service Provider Survey report. The survey and report attempt to measure how service providers view suppliers of optical communications equipment suppliers and the criteria they use when choosing vendors.

"Our latest optical vendor study gives us the first picture of who service providers view as the leaders in packet-optical equipment, and Ciena, Alcatel-Lucent, Cisco, and Huawei rate tops among our survey participants," says Andrew Schmitt, principal analyst for optical at Infonetics.

When it comes to optical communications gear in general, the ranking isn't much different, as the graph below illustrates.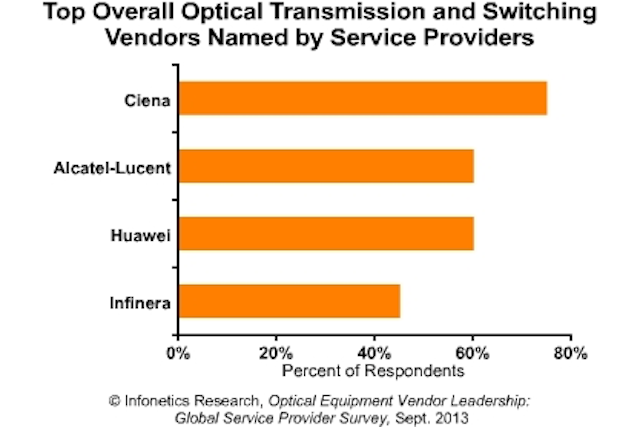 The survey was designed to measure carriers' familiarity with optical equipment suppliers, the vendors installed and under evaluation, essential equipment features, vendor selection criteria, and the most highly regarded suppliers in optical networking. Infonetics says the survey respondents represented nearly a third of worldwide telecom capex. Vendors named in the study included ADVA Optical Networking, Alcatel-Lucent, BTI Systems, Ciena, Cisco, Coriant, Cyan, ECI, Ericsson, Fujitsu, Huawei, Infinera, NEC, Tellabs, Transmode, and ZTE.

Ciena handily won the top overall spot in Infonetics' survey, with first-place rankings in each of the optical categories of the survey: optical transmission and switching, metro edge packet-optical transport systems (P-OTS), metro regional P-OTS, and optical control plane. Meanwhile, reflecting its overall success this year (see "Infinera forecasts profit and a metro platform"), Infinera doubled its awareness scores from last year's survey. Coriant – the former optical networking group of Nokia Siemens Networks that Marlin Equity Partners is attempting to shape into an optical communications powerhouse (through the acquisition of companies such as Tellabs) – also climbed the charts compared to last year, Infonetics says.

Interestingly, 100G dropped sharply in importance as an evaluation criterion among vendors surveyed, perhaps reflecting the maturity of the technology or the fact that carriers have already decided whose approach they like. "Multi-layer support and control plane technology are rising in importance with service providers when making vendor decisions," Schmitt notes.

Product reliability and total cost of ownership ranked as the most important criteria when selecting new vendors, the report states.

For more information on high-speed transmission systems and suppliers, visit the Lightwave Buyer's Guide.