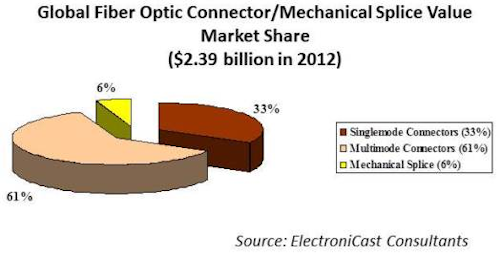 Sales of fiber-optic connectors and mechanical splices of all types registered $2.39 billion in 2012, according to a new report from ElectroniCast Consultants. While data center applications accounted for slightly more than half of this total, the telecom space will see significant growth through 2017, the market research firm says.

Private data network applications accounted for 51% of last year's total sales, $1.2 billion. While the telecommunications sector contributed $669 million to the 2012 total, ElectroniCast predicts that this application will see a 14.5% increase in sales per year, reaching $1.3 billion in 2017. Fiber-optic broadband access requirements will drive much of this growth.

Military/aerospace and other harsh environment applications accounted for $270 million last year as well.

Looking at specific fiber types, global use of singlemode fiber connectors hit $786 million last year, with telecom networks the major application. ElectroniCast believes multimode connector consumption value will continue to grow, up an average rate of 17.4% between 2012 and 2017. Connectors for multimode fiber will find most of their use in short-reach applications, such as LANs, high-performance computing, data centers, "Big Data," and storage-area networks (SANs) among other applications.



In fact, ElectroniCast points out that as technological advances help fiber migrate closer to the end user, shorter lengths will grow in use. "The trend toward smaller connectors, mainly multifiber connectors, [means] reducing both space requirements and costs per fiber interconnect," said Stephen Montgomery, director of the Fiber Optic Component group at ElectroniCast. "These connectors are miniaturized and they must achieve high precision of fiber-to-fiber alignment."

This report is available immediately from ElectroniCast Consultants.

For more information on fiber-optic connectors and suppliers, visit the Lightwave Buyer's Guide.