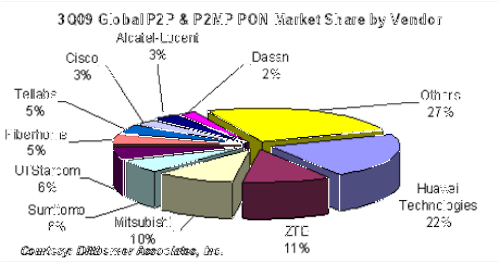 DECEMBER 15, 2009 -- According to Dittberner Associates, Inc's "DSL, FTTH and FTTB/LAN Shipment Analysis," PON shipments into China exceed longtime market leader, Japan for the first time.

Huawei repeated as the leader in DSL, PON, and FTTB/LAN port shipments, while ZTE placed second in all three market categories. Last quarter Huawei had overtaken Mitsubishi as the shipment leader, and this quarter ZTE replaced Mitsubishi in second place. This is because of the high growth of FTTH and FTTB/LAN deployments in China, beginning in the first quarter.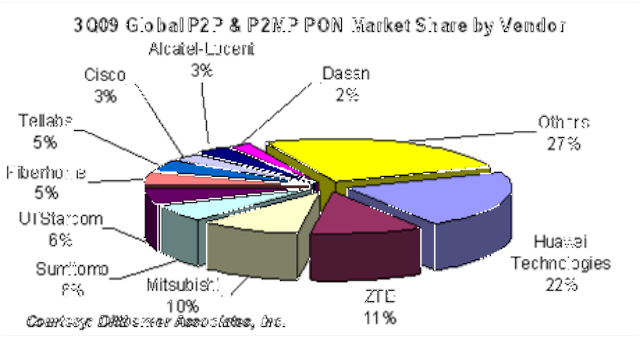 The P2MP PON market includes ONTs, OLTs, and ONUs, while the P2P market includes optical Ethernet. Quarterly PON shipments were down 7 % QoQ, from the near-record second quarter. Moderation of deployment in Japan and North America accounted for the lower growth.

GEPON market share grew slightly, but due to deployments of GPON in China and the slowing Japanese markets, P2P Ethernet lost share to GPON.

It is the growth of China's FTTB/LAN market that is propelling Huawei and ZTE into the lead in the PON market, Dittberner asserts. Most of the PON deployments in China use GEPON and ONUs.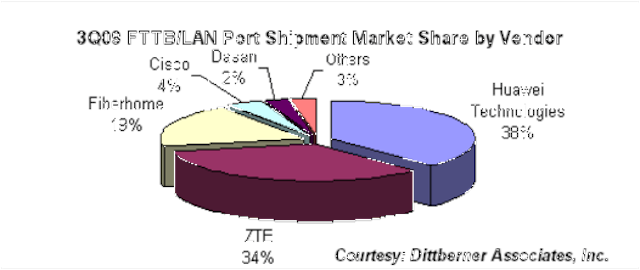 The FTTB/LAN market was up 22% in the third quarter after more than doubling in the second quarter. Dittberner expects the space to set more records in the next few quarters.

Dittberner's Broadband Study is an ongoing market research service updated quarterly, designed to track the BBxDSL and BBFTTX vendors and their potential. The study constitutes of business cases, case studies, and market forecast.

Visit Dittberner Associates