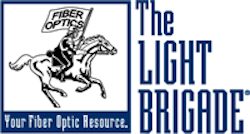 Light Brigade has trained more than 55,000 customers in its public and custom classes since 1987. The company offers a variety of fiber optic courses that cover basic fiber optic theory, design, maintenance, and testing, as well as more advanced topics such as fiber characterization and network design. Custom course development and 'train the trainer' services are also provided. In addition, Light Brigade produces professional-quality educational DVDs and online training.
Please visit us at www.lightbrigade.com.
Request More Information
Fill out the form below to request more information about Light Brigade.
---