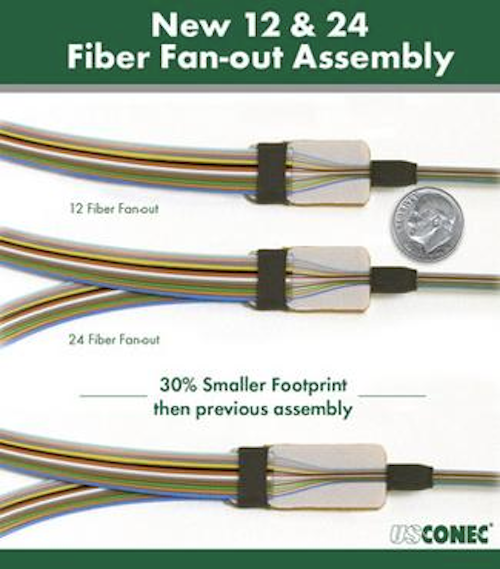 December 13, 2005 Hickory, NC -- US Conec's Concours optical circuit fan-out assemblies are designed to transition one or more multi-fiber ribbons into individual 900-µm buffered fibers, for termination to any single fiber connector type. The company says its new assemblies are 30% smaller than original designs, but feature the same matched hard backing to add strength in low profiles.
The company says its streamlined fan-out design minimizes the transition space required for multi-fiber ribbon to individual buffered fibers by eliminating the traditional, cumbersome breakout box. The company says that, by using its Concours mechanical features to couple the bare fiber and the protective buffer tube to the flexible substrate, fiber pistoning at the 900-µm to 250-µm transition is eliminated, resulting in a highly reliable interface.
The company contends that its Concour breakout assemblies also offer significant labor cost savings by eliminating arduous fan-out and furcation operations. According to the company, the smaller, low-profile configuration coils easily into a normal fiber wrap, eliminating cumbersome special mounting of the transition. The company says the technology is suitable for all optical module boxes and enclosures.
The company says its fan-outs are available in virtually any fiber count, including high channel counts (16, 24, 32, 48) for multi-row MT ferrule and planar waveguide interface applications. Unterminated assemblies are available in standard, stocked configurations, or as contract designs for specific applications.