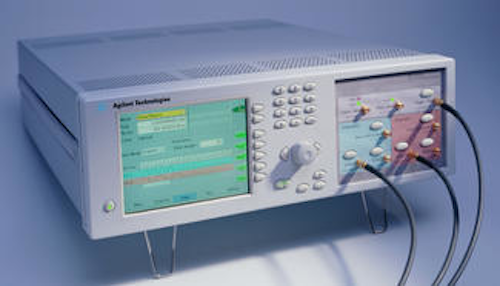 Agilent Technologies Inc. today introduced two high-performance, 3.3-GHz pulse/pattern generators featuring less than 40 ps rise times, less than 1 ps jitter, and full parameter flexibility for handling high-speed applications where timing and performance is critical, claims the company.
The Agilent 81133A and 81134A are easy-to-use clock and data sources for evaluating device behavior. The Delay Control Input and the Variable Crossover Point allow full control over the jitter performance and the signal integrity. Like their predecessor--the Agilent 8133A--the new 81133A and 81134A provide pattern and PRBS generation capability and now feature deeper memory and hardware PRBS from 27-1 to 231-1 complying to CCITT standards used in the communication industry.
"For more than 10 years, the Agilent 8133A Pulse/Pattern Generator has been the instrument of choice for R&D and test engineers evaluating high-performance devices," contends Sigfried Gross, general manager for Agilent's Boeblingen Verification Solutions Operation. "These new generators incorporate significant improvements for ensuring signal quality and dealing with today's increasingly challenging margins for digital designs."
The 81133A and 81134A also build upon the success of the popular 8133A by increasing the frequency range from 20 MHz to 3.35 GHz and by improving capabilities for adding jitter to allow for the emulation of real-world signals.
For more information about Agilent Technologies Inc. (Palo Alto, CA), visit the company's Web site at www.agilent.com.
Agilent's 3.3-GHz pulse/pattern generator