Maxim Integrated Products recently introduced the MAX3971A 3.3 V, 10.7-Gbit/sec limiting amplifier for use in long-reach 10-Gbit/sec optical receivers. This is an improved version of the MAX3971 10.3- Gbit/sec limiting amplifier, say company representatives, with reduced jitter, lower power, and better sensitivity.
With the MAX3970 and MAX3910 (10- Gbit/sec TIAs), the MAX3971A forms a 2-chip solution for the fiber-optic receiver modules. Manufactured using Maxim's second-generation in-house SiGe process, the MAX3971AUGP has a small footprint, ultra-low power consumption, and excellent jitter performance, claims the company.
Operating from a single +3.V supply, the MAX3971A has an input sensitivity of 2 mV peak-to-peak and input overload of 1200 mV peak-to-peak while consuming only 165mW of power. The MAX3971A accepts differential CML signals and provides a differential CML output with edge speeds of 20ps. The limiting amplifier generates only 1.8 ps of deterministic jitter (with 8 0mV input) and 0.6 ps of random jitter.
The MAX3971A is available in a 4mm x 4mm 20-pin QFN package or as die in the 0 degrees Celsius to +85 degrees Celsius temperature range. Prices start at $69.90 in quantities of 1000 and up. Evaluation kits are also available.
For more information about Maxim Integrated Products (Sunnyvale, CA), visit the company's Web site at www.maxim-ic.com.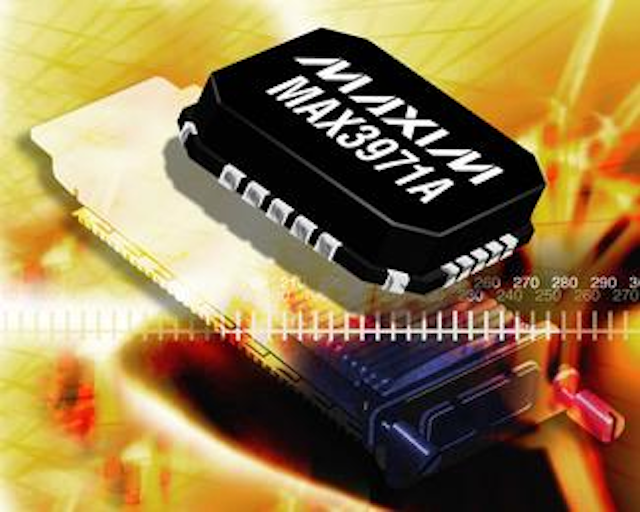 Maxim's new 10.7-Gbit/sec limiting amplifier