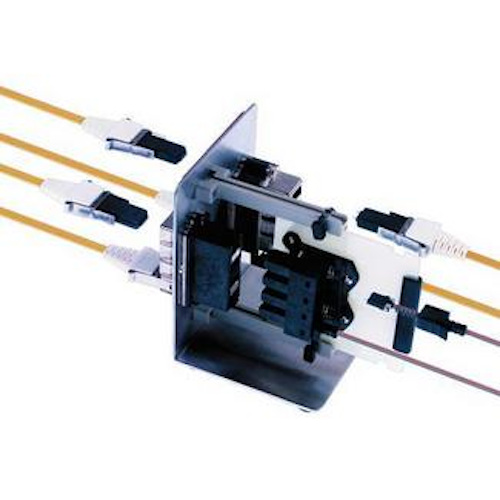 30 July 2003 Austin, TX Lightwave -- 3M's Electronic and Interconnect Solutions Division has announced that its Single-Mode Optical Gateway Interface (OGI) Multi-Fiber System, first released in January 2003, recently passed the Telcordia GR-1453 CORE standard for singlemode multi-fiber connector assemblies.
Testing was conducted in 3M laboratories and successfully completed last month. Eight-fiber MT-style ferrule OGI optical connectors were tested according to the procedures outlined in the Telcordia standard. All 15 of the mated pairs tested met the qualification requirements of GR 1435 without exception.
The patented 3M OGI high-density panel mount and backplane feed-through system is a technological improvement over previous parallel optic solutions, say company representatives. Panel mount couplings are available in single and four-port versions. Backplane blind-mate quad couplings hold four OGI connectors, each of which houses 8- or 12-fiber MT ferrules in a half-inch nominal interface. The metal components in the coupling bodies enhance EMI shielding performance, the robust housing and connector design provides improved reliability, and the independent shutter system in the couplings enhances eye safety.
3M Single-Mode OGI Multi-Fiber Cable Assemblies are available in both 8- and 12-fiber cables. Ruggedized fan-out assemblies are also available. Single-mode OGI standard and ruggedized fan-outs use an OGI connector on one end and discrete connectors (ST brand, LC, SC, FC) on the breakout end. The ruggedized fan-outs meet higher pull strength requirements for extensive handling applications.
3M also has developed a cleaning system that enables customers to clean OGI connectors after they are installed in a backplane or front panel, saving customers valuable time and money.
Pricing is based on the length of each assembly, termination requirements, and other variables.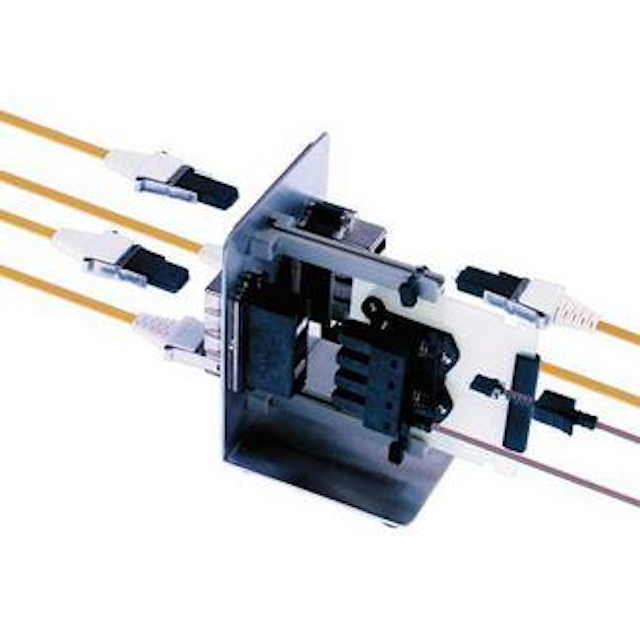 3M's Single-Mode OGI Multi-Fiber System is a parallel optic, feed-through system that provides eye protection, EMI shielding, and high-density fiber-optic connectivity.