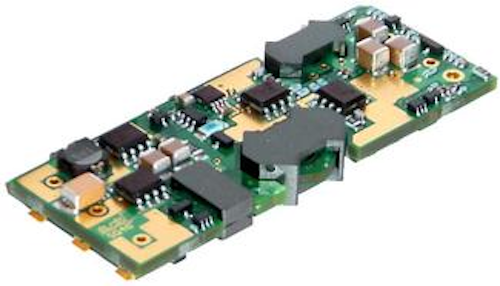 22 July 2003 Carlsbad, CA Lightwave--di/dt, a Power-One company, is launching the industry's first 24V input eighth-brick DC/DC converter, the SemiQ. The SQ24 is in a package size that is only 60% the area of the industry-standard quarter-brick and delivers up to 15A of output current with minimal or no derating at elevated temperatures and low airflow. The power density of 90 W/in3 (5.7 watts / cm3) sets a new standard for 24V input converters in a 2 square-inch (13.3 cm2) converter package. The SQ24 converters are pin-for-pin compatible with larger quarter-bricks.
The SQ24 converters come in an open-frame package that does not require a heat sink. They are assembled with 100% automation using di/dt's unique manufacturing processes. They have dimensions of 0.9" x 2.3" (22.8x58.4 mm), with a height as low as 0.26" (6.6 mm) and weigh only 15 g (0.53 oz.). The SQ Series operates from an input voltage of 18VDC to 36VDC and is available in standard output voltages of 12.0V, 8.0V, 6.0V, 5.0V, 3.3V, 2.5V, 2.0V, 1.8V, 1.5V, 1.2V and 1.0V. These converters come in both through-hole and surface mount packages. The surface mount version is shipped in tape-and-reel packing to facilitate automatic handling and pick-and-place assembly.
"The 24V input SemiQ is a welcome addition to our product line for telecom, wireless, industrial, and aerospace industries," said Dr. Apurba Roy, president of di/dt. "On a given circuit card, there can easily be 5 or more voltage rails, and conventional dc/dc converters take up large amounts of valuable board space. By supplanting the functionality and performance of quarter-bricks, our SemiQ products enable customers to realize significant space and cost savings.
"Additionally, our customers are on a path that is rapidly leading them to 100% surface mount assembly of their circuit boards, and our converters are proving to be an excellent vehicle to help get them there."
The SQ24 converters meet the basic insulation requirements of EN60950, and come complete with vital industry-standard features, such as remote sense, input under-voltage lockout, thermal shutdown, remote on/off, output voltage adjust pin, output over-voltage, over-current and short-circuit protections. They are manufactured in di/dt's manufacturing and design facility in Carlsbad, CA.
In quantities of 1,000 pieces, the SQ24 family is priced at $55. Samples and production are available now.