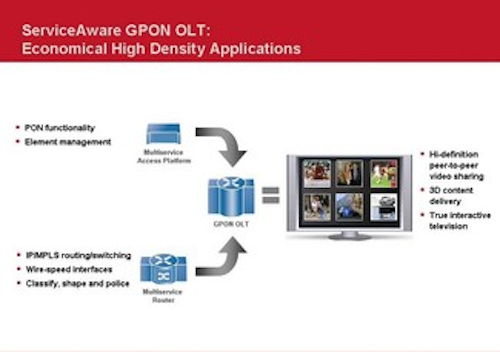 When implemented correctly, MPLS in combination with GPON will create a network capable of handling all current services while providing the technology and infrastructure required to deliver tomorrow's services.
By Tom Rarick and Tim Doiron, Tellabs
For generations, the public switched telephone network (PSTN) has delivered communications services with a high degree of reliability. And consumers now demand that same quality—or even better—from services such as voice over Internet Protocol (VoIP), video-on-demand (VoD), and virtual private LAN services (VPLS).
To satisfy customers' demands, these services must be virtualized and the proper quality-of-service (QoS) treatment applied. In some cases, best-of-class service may be acceptable. For example, customers may not mind if high-speed Internet access slows down during peak utilization periods if the price and service-level agreement (SLA) is appropriate. But if video delivery is hampered, by contrast, consumer satisfaction will certainly plummet.
Gigabit passive optical network (GPON) technology provides the requisite bandwidth to support new revenue-generating services. Industry-leading GPON networks deliver 2.5 Gbits/sec downstream and 1.2 Gbits/sec upstream. However, service providers still need a way to ensure the quality and reliability of the content riding over GPON. One logical way to accomplish this goal is to push multiprotocol label switching (MPLS) functionality out to the optical line terminal (OLT). By doing so, service providers can guarantee bandwidth and ensure QoS all the way to the subscriber's home.
An MPLS-enabled GPON architecture offers a number of features not possible with an all-IP, class-of-service-based network:
It is far more scalable than an all-Ethernet network because individual subscriber media access controller (MAC) addresses are managed by the OLTs, not the core switches.
Integrating service edge router functionality into OLTs inherently adds subscriber awareness, ensuring that subscribers' service expectations are met.
The traffic engineering capabilities of MPLS enable simple connection admission control (CAC) processes for individual sessions. Therefore, if enough bandwidth is available, a session is allowed to proceed.
Service providers can easily monitor the utilization of MPLS trunks to determine whether capacity changes are needed.
Quality assurance, opex reduction
With MPLS, service providers can combine a large number of networks and services onto a single, unified core network, enabling service providers to more effectively engineer traffic, be it voice, video, or data. The MPLS-enabled OLT terminates Ethernet-based networks toward the subscriber and forwards Layer 3 traffic to the core network over traffic-engineered MPLS trunks.
Using traffic-engineered label switched paths (LSPs), service providers can provide adequate bandwidth between nodes. They can also provide logical separation between different Layer 3 networks running over the same physical infrastructure.
By pushing MPLS technology to the OLT, service providers can easily separate and manage the various services as they converge on the OLT. Applications such as video, high-speed Internet access, VoIP, and future services will all come from separate service networks and converge at one point—the OLT. MPLS provides the tools for each of these services to be virtualized at the OLT and given the proper QoS treatment.
Moreover, MPLS CAC functions can be used to match service bandwidth demands against bandwidth availability. Therefore, if additional bandwidth is required for a particular service, the OLT will use CAC functions to determine whether that bandwidth is available. That service will either be delivered under predefined QoS parameters, or it will be denied until proper QoS can be delivered.
MPLS also offers high reliability via fast reroute (FRR), which ensures both the quality and the availability of services provided by an MPLS-enabled OLT. With MPLS FRR capabilities, the network can maintain high availability even in the event of a failure. Industry-leading FFR implementations can switch traffic around an outage point and onto an alternative network path in less than 50 msec, leaving customers unaware that an outage occurred.
Finally, with MPLS in the OLT, service providers can meet customers' needs while maximizing network assets and reducing operational and capital equipment costs. Under alternative IP networking approaches, network capacity must be overbuilt in an attempt to meet service expectations. The MPLS-enabled OLT, by contrast, integrates the functionality of the service edge router, thereby eliminating costly electronics and reducing interconnecting ports and integrated hardware. The MPLS-based architecture results in a significantly lower cost per subscriber versus an architecture that employs separate devices.
Conclusion
One of the best ways for service providers to guarantee quality is to combine MPLS with GPON technology. The superior traffic engineering and reliability of MPLS and the high bandwidth offered by GPON enable service providers to satisfy subscribers' demands for traditional services such as voice, video, and Internet access. More importantly, the combination of MPLS and GPON also provides a strong foundation for the delivery of future, cutting-edge services such as 3D video and integrated merchandising.
Tom Rarickis senior principal engineer andTim Doironis group marketing manager of the Wireline Segment Marketing Division at Tellabs. They may be reached via the company's web site at www.tellabs.com.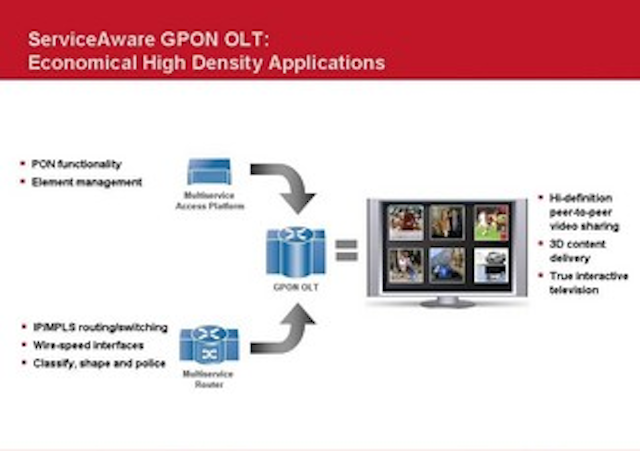 The MPLS-enabled OLT pushes subscriber-centric, service-aware intelligence to the end user, while integrated service edge router functionality enables service providers to reduce operational and capital equipment costs.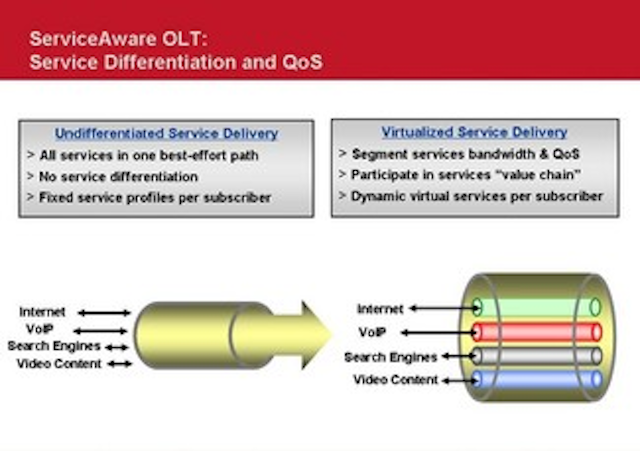 Extending MPLS to the OLT enables service providers to provide segmented and virtualized services to ensure proper QoS treatment and subscriber satisfaction.