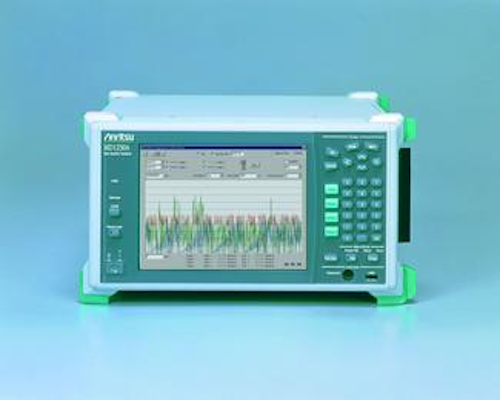 8 January 2004 Richardson, TX Lightwave -- Anritsu Co. recently introduced the MD1230A-20, a traffic monitor option that allows its MD1230A Family of Ethernet/IP Test Systems to conduct what the company claims are highly accurate analyses of streaming traffic such as video/IP and voice/IP. Providing 1-ms resolution, the MD1230A-20 detects subtle video stream delivery errors--such as video server stream peaks and insufficient bandwidth in routers and other network elements--missed by conventional network traffic monitoring solutions.
The high resolution of the new traffic monitoring option allows Anritsu's MD1230A and MD1231A testers to solve tougher and more subtle video delivery problems than existing measurement techniques that perform monitoring in one-second intervals, say company representatives. In addition, real time analysis capability addresses the critical latency time requirements associated with streaming transmission.
The performance of the MD1230A-20 option makes it an effective tool for video distribution equipment/system developers, service providers performing link turnup or troubleshooting, and end users responsible for maintaining and troubleshooting networks where video/IP is used, including enterprises and government and campus networks.
The MD1230A-20 can monitor two flows per port on each of two 1-Gigabit Ethernet (GbE) ports, allowing up to four flows to be handled simultaneously. All monitored 1-ms traffic counts are logged to the hard drive in real time. The log results can be exported in CSV format for further analysis, and graphics can be displayed with regeneration software. Results from traffic over as much as 30 hours can be captured, depending upon available space on the hard drive.
For maximum flexibility, the entire test system can be controlled from a remote PC over any IP network.
The capabilities of the MD1230A-20 complement the high precision Ethernet/IP traffic timing measurement abilities of the base MD1230A and MD1231A test systems, which include latency precision of ± 300 ns and frame jitter precision of ± 1 ms.
According to Anritsu, the MD1230A and MD1231A are the industry's only self-contained, portable Ethernet/IP, SONET/SDH, and Ethernet over SONET/SDH (EoS) test instruments that can analyze up to 40 10/100 or five 10-Gbit/sec ports.
The MD1230A-20 option is priced at $9,630. Configurations of the MD1230A family for GbE testing with this option start at $17,695. Delivery is 3 to 4 weeks.
The MD1230A-20 detects subtle video stream delivery errors missed by conventional network traffic monitoring solutions, say Anritsu representatives.