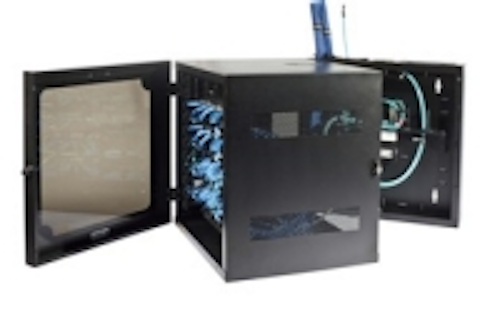 JANUARY 13, 2010 -- Legrand | Ortronics, a provider of high-performance network infrastructure products, is releasing a new range of Mighty Mo wall-mount cabinets designed with advanced cable management to help secure, support, and organize networking equipment where floor space is limited or in open office environments.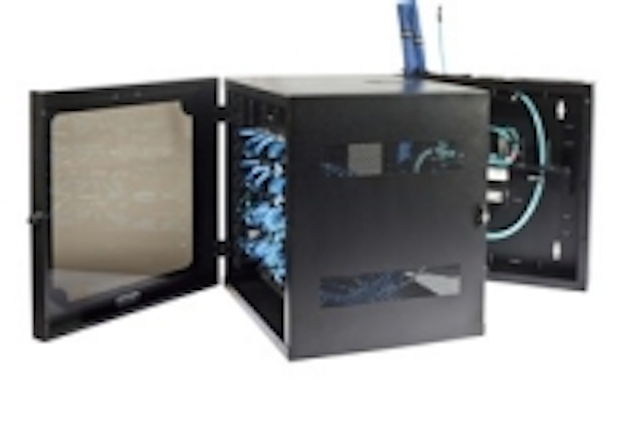 The new cabinets provide capacity for both active and passive equipment, and ensure maximum network performance by providing complete cable management, says the company. The cabinets feature rack unit finger-style vertical managers and one pair of fully adjustable 12-24 EIA mounting rails to provide the same level of support as a full-size cabinet.
The cabinets are available with an optional rear horizontal mount bracket kit, which is designed to provide additional fixed rack units on the rear wall for vertically mounting fiber cassettes, active equipment, or power distribution units. The center section of the cabinet swings out to provide access to terminations without disrupting the rear wall equipment. A front lockable wing turn latch secures the front door without having to lock the cabinet, which allows access into the front of the cabinet when used in a secure environment.
Mighty Mo wall-mount cabinets are supplied with various cable access options. Both the top and the bottom of the rear section have a 3-in. access hole with cap that is removable only with access to the inside of the cabinet. The top of the rear section comes standard with two brush cable entry plates to protect the cabinet from dust and dirt, and the bottom of the rear section comes standard with two knock-out plates.
The cabinets are built with a rugged 14 GA steel construction to minimize sagging under heavy loads. They are available in depths of 20- and 26-in. and heights of 23.50, 35.75, and 48 in., which provide 12-, 19-, and 26-rack units of equipment room. An optional 50-cfm fan provides 50% less noise than most other leading cabinets.