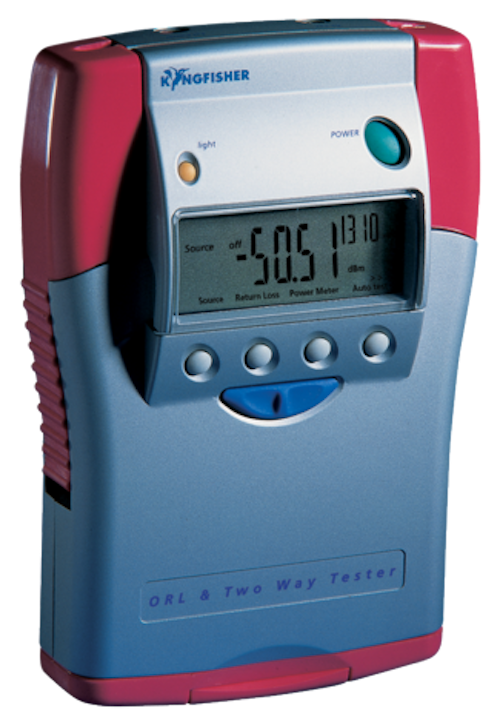 July 22, 2004 Melbourne, Australia -- Kingfisher International, provider of fiber-optic test equipment, has released an upgraded KI 7340A series CWDM Two way Tester. The handheld instrument tests optical attenuation and return loss in two directions and up to four wavelengths in real time, using CWDM compliant lasers. A power meter section is calibrated to a high 2% accuracy at all CWDM wavelengths.
Its high accuracy makes the Two Way Tester suitable for automated testing of optical loss, optical return loss, and optical power levels in all high fiber count LAN and Fiber-to-the-Home (FTTH) applications. The equipment is unique in providing effectively zero warm up to achieve a practical level of power stability, which improves efficiency and measurement confidence, say company representatives.
When used for loss testing, the average bi-directional loss is displayed in real time on both instruments, which makes operation fast and simple. The unit can also perform live pass/fail testing. Memory and the RS232 port assist with recording results, and the company's KITS software saves time with pass/fail assessment, report generation, and archiving.
All Kingfisher Autotest instruments provide compatible functions, offering significant savings in inventory, user training, and operational flexibility with field installation teams.
Additional practical features include long 190-hour battery life and drop protected interchangeable connectors. A variety of connector styles can be easily fitted by the user, including the new small form factor LC and MU styles. The equipment has a rugged polycarbonate case, it is comfortable to hold for extended periods, and the display is clearly readable under all practical field conditions. It comes with a three-year warranty.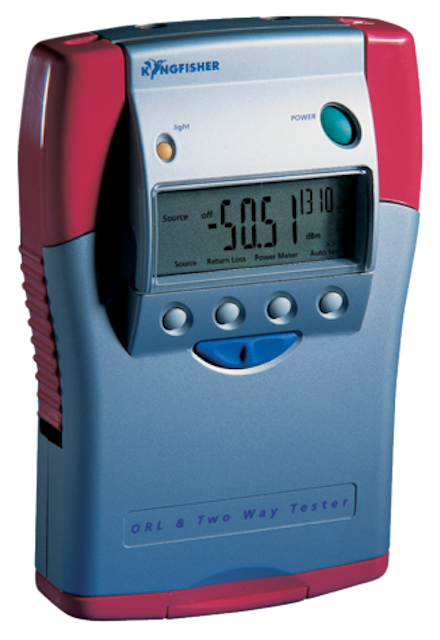 Kingfisher International's Two Way Tester is ideal for LAN and FTTH applications.