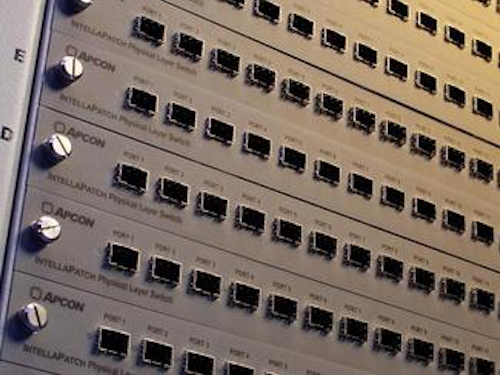 APCON Inc., provider of network solutions and intelligent physical layer switches for Fibre Channel, Ethernet and SONET, today announced the INTELLAPATCH 144 Physical Layer Switch.
Joining the APCON INTELLAPATCH family of physical layer switches, this 144-port, layer-1 switch provides low-cost connectivity solutions for interoperability test labs within telecom/datacom, network and storage, and military environments, explain company representatives.
"Our layer-1 switches are way ahead of the competition in port density and price per port," asserts Richard Rauch, president and chief executive officer of APCON. "The economy hasn't slowed new product development; it's just forced companies to look at how they are spending money and how they optimize development cycles. The INTELLAPATCH 144 is another example of instrumentation from APCON designed for test environments that are working with decreased manpower and capital investment dollars. At the same time, our switches can accelerate a product or service to market by automating time-consuming manual cable patching," he adds.
The INTELLAPATCH 144 is designed to remotely automate connectivity tasks, such as lab setup and system configuration. The layer-1 switch is an optimal solution for system integrators and test engineers who need to manage configurations between various servers, storage systems, peripherals and operating systems. "Wire-once" technology eliminates manual patching and re-patching and provides non-blocking, any-to-any connections at wire speed.
The INTELLAPATCH 144 supports 1- and 2-Gbit/sec Fibre Channel, 10/100/1000 Ethernet, and SONET OC-3, -12 and -48 for networks running ATM, IP (MPLS), and Frame Relay (HDLC). The layer-1, 144-port switch has a nine-blade design, giving users a scalable solution that can be configured in multiple protocols and data rates within one chassis. Each 16-port blade engages hot-swappable Small Form-Factor Pluggable (SFP) multimode, singlemode, or copper transceivers--all which may be used simultaneously. The chassis comes equipped with dual power supplies.
Lab environment configurations generally require multiple fiber-optic connections between various servers, storage systems, peripherals, and operating systems. These connections are made by manual patching and re-patching. INTELLAPATCH 144 switches permit engineers to automate fail-over testing, conduct electronic simulation of cable pulls, share analyzers and other test devices, multicast traffic generators to multiple ports (1-to-N) and enable reconfiguration of these environments within seconds using APCON CONTROL Software or a variety of flexible scripting options, says the company.
The INTELLAPATCH 144 Physical Layer Switch comes fully loaded with 2-Gbit/sec Fibre Channel blades. Blades and chassis can also be purchased independently for a scalable solution.
The 144-port unit joins a family of APCON physical layer switches available in 16-, 32-, and 64-port configurations. The APCON INTELLAPATCH 144 Physical Layer Switch is now shipping with prices beginning at $36,950 for a fully loaded model. APCON CONTROL Software is included in the unit price.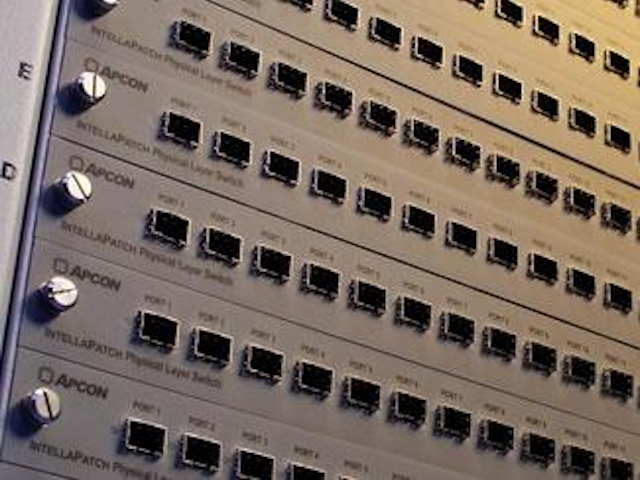 APCON's INTELLAPATCH 144