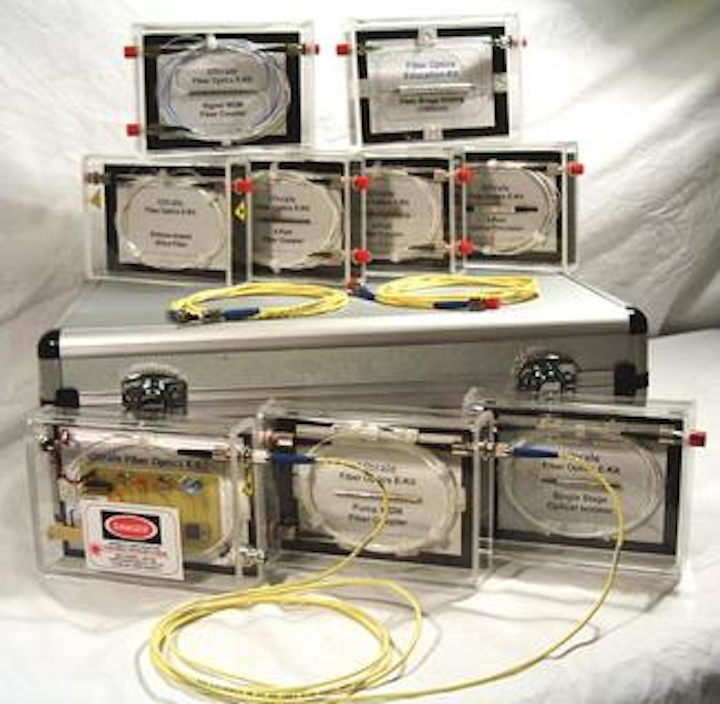 June 30, 2004 Marlboro, MA -- SENKO Advanced Components Inc. now offers a Fiber Optic Components Education Kit for beginner to graduate-level photonic students looking to develop their knowledge of optics in practical applications. The kit also provides technical personnel with easy-to-understand yet comprehensive explanations of fiber-optic components as standalone units and in the context of operation.
The kit consists of ten self-enclosed component modules. The modules form the basic building blocks of a fiber-optic network, providing a hands-on approach to learning for telecom, sensing, and other photonics-related applications.
Unlike the unprotected components found in other educational kits on the market, the SENKO kit components are sealed within a robust plexi casing to withstand the harsh treatment of the classroom, explain SENKO representatives. All components are fully functional and may be used and re-used in a variety of configurations. The front of module is transparent for easy viewing, while the back of module is clearly labeled with a functional diagram.
Each kit is equipped with a user manual containing complete documentation for the component modules, including operation and applications. The manual also includes suggested activities, preview and review questions.
The kit includes fiber patch cords, couplers, WDM coupler, isolators, circulators, Fiber Bragg gratings, erbium doped silica fiber, 980-nm pump laser, erbium doped fiber amplifier, and fiber lasers.