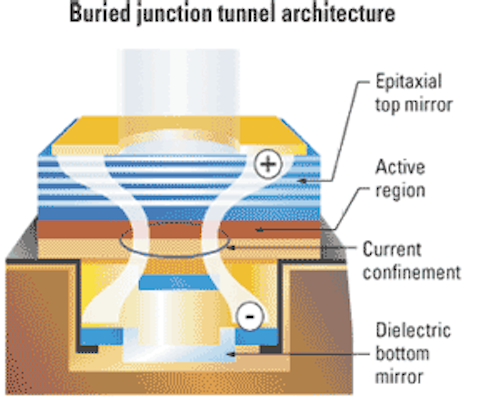 While the president of one developer acknowledged at a trade show earlier this year that the technology had been "a bit over-hyped," long-wavelength (LW) VCSELs have finally reached the market. Transceivers featuring the devices, which promise DFB laser performance at a Fabry-Perot (FP) price, are available from at least two vendors in sample quantities, with one promising full production this month or next. This first wave of these light sources will operate at 1300 nm, with an eye toward marching from 1-Gbit/sec to 10-Gbit/sec applications. However, a handful of vendors hold out near-term hope of 1550-nm devices.
VCSELs already have proved to be a popular choice for 850-nm applications, particularly for data communications over multimode fiber. Unlike edge-emitting DFBs and FPs, VCSELs emit light from the top of their structure. That means they can be tested while still in wafer form; edge-emitters must be cleaved into separate dies before testing. The devices also emit a more tightly collimated beam than their DFB and FP counterparts, making it easier to couple them to fiber. Thus, VCSEL-based transceivers generally are less expensive to manufacture than the other two alternatives and enable lower-priced (or higher-margin) products.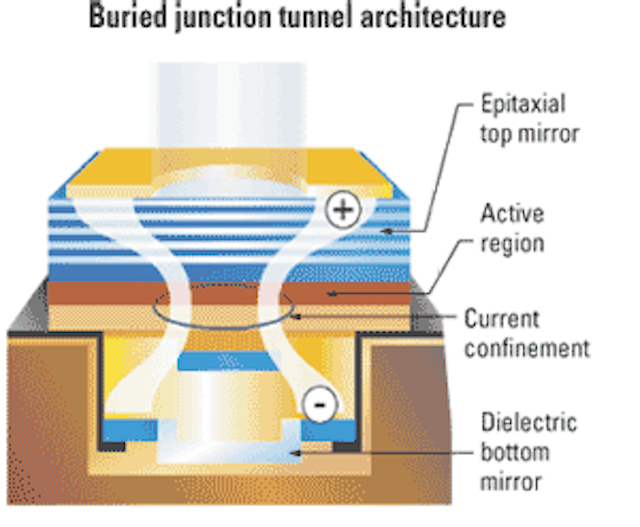 The Vertilas buried junction tunnel architecture uses a dielectric mirror and an extra current confinement layer to solve thermal issues and provide high performance.
The technology's success at 850 nm naturally has led to work on VCSELs capable of producing longer wavelengths. This goal has proved more elusive than anticipated, particularly judging from the stream of overly optimistic "they're just around the corner" announcements developers have issued since at least 2001. But starting in the first half of this year, advanced samples of transceivers with 1300-nm VCSELs have reached the hands of customers.
Optical Communication Products (OCP-Woodland Hills, CA) launched a 1-Gbit/sec product line at OFC/NFOEC last March. According to OCP marketing director Kirk Bovill, the company has delivered Gigabit Ethernet (GbE) transceivers in both small-form-factor-pluggable (SFP) and GBIC formats with 1300-nm VCSELs inside. The TRPAG1XRPBSS SFP and DTR-1250-MM-GB-XR GBIC transceivers will transmit over 2 km of 165-MHz•km multimode fiber at a temperature range of 0°-70°C. They should be released in full production quantities by the end of this year.
Bovill says the company has 1300-nm 4-Gbit/sec Fibre Channel and 10-GbE VCSEL-based products on the drawing board as well. The former will come in an SFP form factor and accommodate the current standard reach of 10 km at a price significantly less than DFB-based devices. Bovill says this product should be in production by the fourth quarter of this year. The 10-GbE device will come in an XFP format to meet the expected demand for 10GBase-LRM devices, once that standard becomes ratified. Alpha samples should be available by the end of the year; Bovill expects beta samples to arrive in customers' hands by next March.
Picolight (Louisville, CO) has started its 1300-nm VCSEL product deliveries at 4 Gbits/sec, according to Steven Hane, president and CEO; Vidya Sharma, vice president, marketing and business development; and Jack Jewell, chief technical officer. The company has shipped "production level" samples since the second quarter of this year; with qualification testing nearly completed, Hane predicts full production to begin either late this month or in October. Like its OCP counterpart, the Picolight transceiver will come in an SFP form factor and compete on price with DFB transceivers targeted at 10-km applications.
Picolight also has 10-Gigabit Ethernet in mind. Its first product will likely be a 10GBase-LR device, which Hane says should start bringing in revenue during the first quarter of next year. The company also has its eyes on the 10GBase-LRM market, although it doesn't appear to be as far down this path as OCP.
The evolution from 850 to 1300 nm may also change the value proposition for VCSELs. "The perception in the marketplace has always been that VCSELs are an inexpensive technology," says Jim Tatum, director of strategic marketing at Advanced Optical Components, a division of Finisar (AOC-Richardson, TX). AOC, whose heritage stretches back to Honeywell, is working to augment its current line of 850-nm VCSELs with 1300-nm devices. "That's certainly true to some degree," he adds, "but it's not really what controls the price at 1300 nm. What really controls the cost of those assemblies is the packaging that goes around them-the need for an isolator, the need for a fiber stub, the need for singlemode tolerance alignment."
Thus, particularly for singlemode applications, 1300-nm VCSEL-based transceivers probably won't cost much less than their FP counterparts, although they will perform better. There may be niche markets for such devices, even in the multimode world-OCP's GbE devices are an example, according to Bovill-but the real action for LW VCSELs will come in applications now dominated by DFBs. "We can achieve some significant cost savings in the actual laser itself compared to a DFB," Tatum says.
The 4-Gbit/sec Fibre Channel space appears to be one such opportunity. The Fibre Channel standards community has been considering a new version of the standard that would include 2-km FP transceivers to address user unhappiness with the price of 10-km DFB-based parts. The 1300-nm VCSEL promises to address cost concerns while maintaining the 10-km reach, say the AOC, OCP, and Picolight sources.
The 10GBase-LRM also holds significant promise. Bovill believes there is enough pent-up demand for these transceivers that pre-standard offerings may reach deployment in small numbers.
For the transceiver vendors, it appears AOC will be the only vendor of 1300-nm VCSEL lasers in the short term. OCP will use its technology in-house for at least the foreseeable future, while Hanes says Picolight is still pondering whether to release its VCSELs to the open market. Infineon GmbH (Munich), which had been developing 1300-nm VCSELs before it entered negotiations late last year with Finisar for the sale of its optical-component operations, is currently shopping its LW VCSEL intellectual property. Failing to find a taker, Karin Brackle in Infineon's media relations department says "these activities will be terminated by end of this year."
Meanwhile, E2O Communications was hard at work on LW VCSELs at the time JDS Uniphase acquired it. However, these activities appear to have slowed significantly with the acquisition, if not ground to a halt altogether. A JDSU spokesperson responded to queries for this article by saying "the company has nothing to add." Tatum believes a pair of startups in Korea may be working on the technology but doesn't expect to see anything from them in the near future.
None of the companies currently working on 1300-nm VCSELs have set their sights on 1550 nm. That doesn't mean no one has tackled this challenge.
Vertilas GmbH (Garching, Germany) has been shipping 1400-2005-nm VCSELs since early 2003, primarily for sensing applications, according to Gerald Vollnhals, the company's managing director. Vertilas has developed these devices using what it calls "buried tunnel junction" technology, which it says solves the thermal issues other VCSEL approaches experience at these wavelengths. A highly reflective dielectric mirror, in conjunction with p/n doping between this mirror and the active region, enables heat flow to a gold heat-sink at the bottom of the device (see Figure on front page). The extra doping also affects current confinement and provides a method to optimize the performance of the laser, Vollnhals says.
The result is a sidemode suppression ratio of 35 dB, threshold currents below 1 mA, and a relative intensity noise (RIN) value of 140-145 dB/Hz-values similar to good DFBs, Vollnhals asserts.
While the company's design wins are currently limited to the sensing arena, Vertilas has its eyes on the datacom market. Customer evaluations in this space are currently underway, as Vertilas nears the end of the Telcordia and ISO certification processes. Vollnhals says the company also will shrink the size of the device from its original 500×500 to 250×250 µm by next year's first quarter.
Vollnhals expects his VCSELs will find use at 10 Gbits/sec for short point-to-point links and CWDM. "In our opinion, 40 km will be an ideal application for VCSELs [at 10 Gbits/sec]," he says. Meanwhile, 2.5-Gbit/sec versions of the Vertilas device have demonstrated a reach of 60 km.
BeamExpress (Sunnyvale, CA, and Lausanne, Switzerland), a spinoff of the Swiss Institute of Technology, has touted its efforts to create transceivers and transponders based on 1550-nm VCSEL technology. The company announced its first demonstration of a 1550-nm VCSEL in 2002.
While the company could not provide a spokesperson in time to be included here, BeamExpress appears to be focusing initially on 10-Gbit/sec applications; its first announced product is a 10GBase-LX4 transceiver available in X2 and XENPAK form factors. It is not known, however, whether this transceiver line uses VCSEL technology.
Long-wavelength VCSELs have long been promised-a promise that is only now appearing to be met. The industry will soon see whether the technology can overcome its bumpy start to match the success of its shorter-wavelength progenitors.