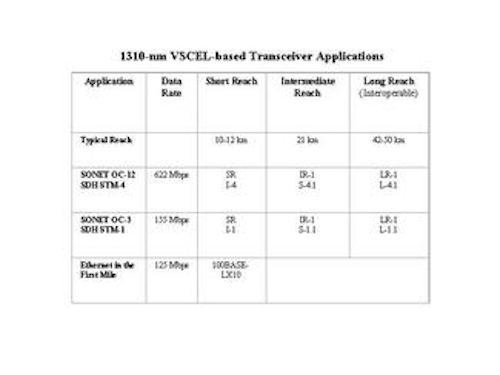 June 7, 2004 Boulder, CO--Picolight is unveiling a transceiver that supports 622-, 155- and 125-Mbit/sec interconnects for short, intermediate and long reaches. The small form factor pluggable (SFP) transceiver, complete with digital diagnostics, consumes only 400mW, about half the power of competing intermediate-reach transceivers, according to the company.
Part of Picolight's Extensus product line, the 1310-nm vertical-cavity surface-emitting laser (VCSEL) based transceiver operates over link distances ranging from 0 to 50 km. It offers SONET/SDH and Ethernet access network OEMs a single transceiver, which can be used to replace multiple devices based on different laser or LED technologies.
"SONET/SDH and Ethernet access links have been deployed using eight or more different types of transceivers, depending on reach. This results in significant configuration-complexity and cost," said Stan Swirhun, chief executive officer for Picolight. "By combining the capabilities for the most important access applications, the new 1310-nm VCSEL-based transceiver reduces cost of ownership, consolidates inventory, and simplifies system deployment."
According to Jack Jewell, chief technology officer for Picolight: "These 1310-nm VCSEL products usher in a new era for optical interconnects. The transceivers provide higher performance, improved power consumption, higher density, and greater cost-effectiveness. Completely new products and standards will be enabled, including multiple-channel transceivers and battery-powered transceivers. Within two years, 1310-nm VCSELs will dominate intermediate-reach interconnects over single-mode fiber, just as 850-nm VCSELs now dominate multi-mode fiber."
With the delivery of triple-rate, triple-reach performance on a low-cost, low-power transceiver platform, the PL-XPL-IC-VB3 creates a new economic model for access networks. Traditionally, disparate reach distance requirements and costs have driven access system providers to qualify multiple transceivers for short, intermediate and long links, which complicates the selection, inventory and field maintenance for access networks. The single device enables access network OEMs and their customers to build cost-effective and scalable infrastructures.
The PL-XPL-IC-VB3 triple-rate, triple-reach access SFP is packaged in a robust housing with an easy to use bail latch. The transceiver includes SFF-8472 digital diagnostics to provide users insight into the state of the optical network.
The new transceiver employs patented 1310-nm oxide-VCSEL technology to deliver efficient optical performance, low-jitter, and low-electromagnetic emission. The narrow spectral width and ultra-fast rise times of VCSEL transceivers contribute no penalty to these optical link budgets, therefore the link distances are limited only by receiver sensitivity and fiber attenuation. As a result, the launch power of the new transceiver cannot overload receivers, and link distances of 42 and 50 km are achieved at OC-12 and OC-3 rates, respectively.

The 1310-nm VCSEL-based transceiver for SONET/SDH and Ethernet in the First Mile applications has begun sampling and is scheduled to enter volume production during the summer of 2004. Pricing for production quantities is targeted to give customers long-reach performance at the price of intermediate to today's short-reach solutions.