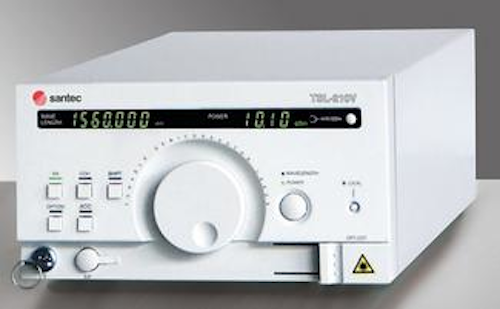 November 1, 2005 Komaki, Japan -- Santec, a manufacturer of tunable lasers and test instruments for the fiber-optics industry, has introduced a tunable laser with an extended wavelength range of up to 1680-nm. Based on a proprietary external cavity design, the product is designed to extend the range of the company's TSL-210V series of tunable lasers.
The company's current tunable laser series covers wavelengths ranging from 1260-nm to 1630-nm; tuning ranges for the TSL-210V are 1580-nm to 1680nm with an output power of up to 10 mW. The company says that, in addition to fiber-optic telecommunications, the laser is particularly suitable for applications such as gas sensing and material characterization.
According to the company, the laser is a single channel bench-top type model, offers continuous mode-hop-free tuning over the entire wavelength range, and has full GPIB interface. For gas sensing applications, the laser can be supplied with an additional function to enable wavelength modulation at up to 20 kHz. A rapid wavelength scan across multiple gas lines can also be easily achieved.