APRIL 3, 2007 -- LeCroy Corp. (search for LeCroy) recently introduced the WaveExpert 9000 and SDA 100G, which it claims are the world's highest performance digital oscilloscopes. Both feature 100-GHz bandwidth and an exclusive coherent interleaved sampling mode that enables the capture and display of very long serial data waveforms without the need for an external pattern trigger, say company representatives.
The WaveExpert 9000 and SDA 100G have an acquisition rate of 10 million samples per second, which is a 100x improvement over existing instruments in this class, says the company. Additionally, the oscilloscopes can output a TDR pulse with 20-psec incident rise time, which is 50% faster than existing instruments, making them the instruments of choice for time domain reflectometry (TDR) measurements, notes LeCroy.
This breakthrough in bandwidth is enabled by a new monolithic sampling head design that employs a patented non-linear transmission line (NLTL) in the sampling strobe generation circuit, creating a rectangular sampling aperture. Previous sampler designs produced approximate Gaussian apertures. According to the company, the rectangular sampling strobe results in nearly 100% efficiency, better bandwidth control, and lower jitter over previous designs. The monolithic design of the samplers allows much higher sampling rates to be achieved compared with previous discrete designs.
The Coherent Interleaved Sampling time base developed by LeCroy derives the sampling gate by phase locking the to the clock signal. This technique, says the company, results in very fast sampling rates and precise tracking of the signal bit rate. The coherent nature of the sampling gate allows the system to lock to the data pattern simply by knowing its length. The resulting waveform can be measured and processed in the same manner as a real-time oscilloscope trace. The random interleaved sampling mode (RIS), a first for this type of instrument, allows pulsed signals to be measured without an external trigger signal.
WaveExpert 9000 and SDA 100G have been designed to meet the measurement needs of today's high-speed designs. With serial data rates moving well beyond 3 Gbits/sec, high bandwidth instruments capable of measuring signals with very fast rise times are needed. The instruments feature real-time waveform displays and a special jitter measurement mode that measures total jitter as well as random and deterministic jitter components. The basic waveform memory in this mode is four million samples per channel, which enables jitter component breakdown and equalization on long serial data patterns. It can be expanded to 2G samples per channel so that the oscilloscopes can capture, display, and measure bit patterns that are millions of bits in length.
Both WaveExpert 9000 and SDA 100G use LeCroy's user interface (UI), which provides quick and easy access to over 50 measurements and math functions. Similar to a UI found on real-time oscilloscopes, the interface makes it a very simple transition for engineers who are new to sampling oscilloscopes, note LeCroy representatives. The UI also allows functions and measurements to be combined to create an almost unlimited number of more complex measurements.
The real time waveform (voltage vs. time) available from the WaveExpert 9000 and SDA 100G are ideal for evaluating high-speed serial busses. These include next-generation PCI Express, SAS, Fibre channel and FB-DIMM.
WaveExpert 9000 is aimed at general purpose signal integrity applications, including TDR and eye pattern analysis. A jitter and eye measurements package is also available. With the software, WaveExpert 9000 can perform eye pattern analysis faster than any other comparable instrument and analyze jitter in accordance with many standards. The SDA 100G specifically targets serial data applications and includes the coherent interleaved time base as well as a full jitter application standard.
In addition to the two mainframes, several plug-in modules are available for measuring electrical or optical signals. The electrical modules have bandwidths of 20 GHz, 30 GHz, 50 GHz, 70 GHz, and 100 GHz, while the optical modules have optical bandwidths of 25 GHz and 50 GHz. The module design allows customers to configure WaveExpert 9000 and the SDA 100G for their existing testing needs while maintaining the flexibility to extend the instruments' capabilities as analysis requirements expand.
The instruments include a full set of compliance masks, along with measurements for both RZ and NRZ signaling formats, says the company. The coherent time base enables a rapid mask testing feature that measures up to three million samples per second against a compliance mask-- a 30X speed improvement over existing mask testing equipment.

Visit LeCroy
Learn more about the test and measurement industry at Lightwave's Test & Measurement Resource Center.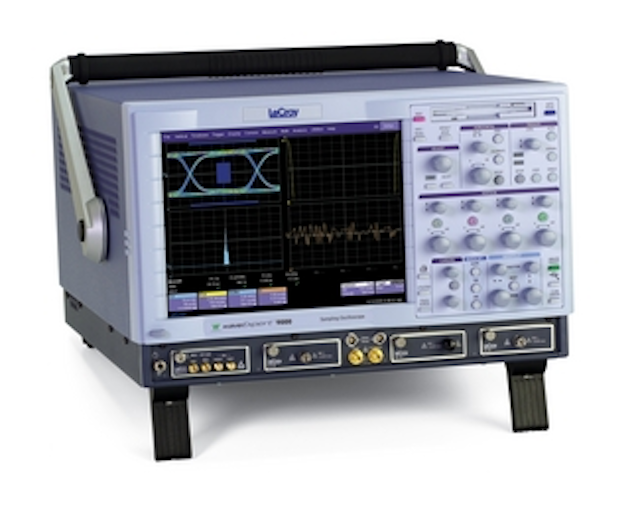 The WaveExpert 9000 has an acquisition rate of 10 million samples per second, which is a 100x improvement over existing instruments in this class, says the company.