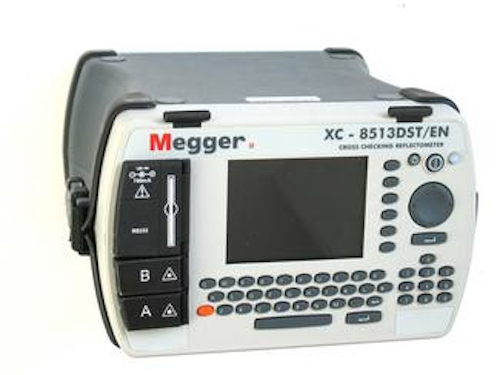 May 6, 2004 Dallas, TX -- Designed for the LAN installer to test premises and campus fiber networks, the new dual-wavelength cross-checking reflectometer from Meggar brings the benefits of optical time domain reflectometry (OTDR) to data networks, without the complexity and cost usually associated with OTDR testing solutions, say company representatives. The XC-8513 OTDR is capable of both simplex or duplex multimode testing.

850 nm and 1300 nm
With the ability to measure at 850 nm and 1300 nm, Megger's reflectometer is an ideal choice for installers who need to test systems at both wavelengths--for example, when there are contractual obligations to document the performance of links at both 850 nm and 1300 nm.
When used at 850 nm, the XC8513 measures all connector and fiber losses and shows faults, such as macrobends, indicating the position of fiber features to within 0.5 meter.
Operation at 1300 nm measures the fiber loss for links operating at this wavelength, which is predominately used for fiber backbones and in CCTV installations. The instrument is ideal for installers who need to test systems at both wavelengths, say company representatives.

Duplex operation
In use, the XC8513 quickly and easily measures the loss and length of a fiber segment, including both the fiber itself and the connectors. The instrument stores the results for use in reports and also indicates the cause and precise location of fiber features, allowing faults to be located much more easily than with a conventional light source and optical power meter.
The XC8513 is a duplex instrument and measures both fibers of a duplex link automatically without reconnection. The results are stored in a format that allows the overlay of the trace pairs, while retaining Telcordia compatibility. It may also be used in simplex or duplex-loopback mode, where its high dynamic range <16 dB is essential.
To further benefit the LAN installer, the XC-8513, used with the Megger MPM2000 Optical Power Meter and the Megger MLS1000 Multimode Light Source, forms a complete configuration and fault finding package that meets TIA and IEC specifications. The MPM2000 and MLS1000 meet cable certification of optical links and offer optical loss testing of fiber-optic cables.