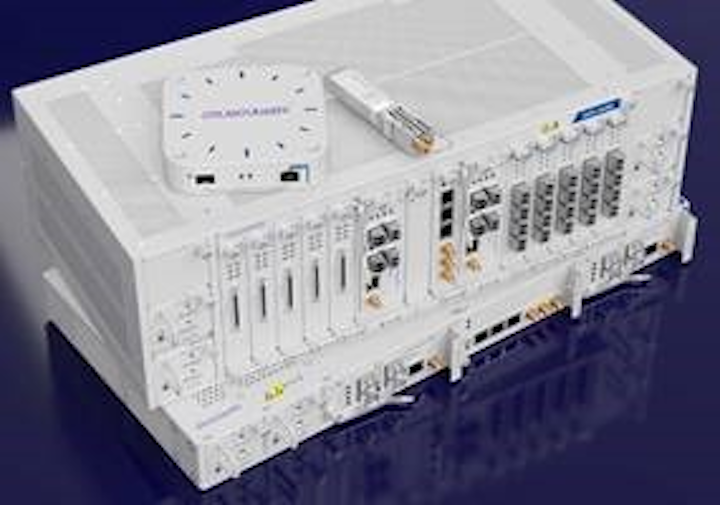 ADVA/Oscilloquartz
ADVA (FSE: ADV) says it has paired with Nokia to demonstrate an approach that delivers end-to-end network timing for 5G mobile networks at Orange Poland's Innovation Garden Summit. The demonstration leveraged ADVA's Oscilloquartz Precision Time Protocol (PTP) grandmaster clocks to deliver phase and frequency synchronization from the core to the cell site without risk from global navigation satellite systems (GNSS) vulnerabilities.
The live demonstration featured a range of clocks, including small units designed for use in large numbers and in tight quarters at the network edge. The two companies also used the Oscilloquartz modular IEEE 1588v2 PTP core grandmasters. The clocks are part of the OSA ePRTC system, which is designed to be a precise source of time with guaranteed holdover performance, which removes the risk of reliance on GNSS alone.
Said Jörg Urban, senior director, business development, Oscilloquartz, at ADVA, "We're showing Tier 1 CSPs [communications services providers] how easy it is to distribute, monitor, and assure end-to-end timing that is fully resistant to GNSS outages. The precision and reliability that our technology offers will empower operators to support emerging applications in fields such as highly interactive augmented reality and self-driving vehicles."
"We are rolling out some of the world's first 5G networks and more than half of them include wider portfolio elements that our competitors cannot match," added Adam Grodecki, customer solution architect, Nokia. "Our technology is solid and our end-to-end portfolio excels in the areas that matter most, including timing and synchronization. Thanks to the cooperation with ADVA on its Oscilloquartz technology we can very quickly adopt existing networks elements and pave the way to deploy the most cost-effective and accurate E2E [end to end] solutions for phase and frequency for LTE.A and 5G networks."
For related articles, visit the 5G Mobile Topic Center.
For more information on high-speed transmission systems and suppliers, visit the Lightwave Buyer's Guide.