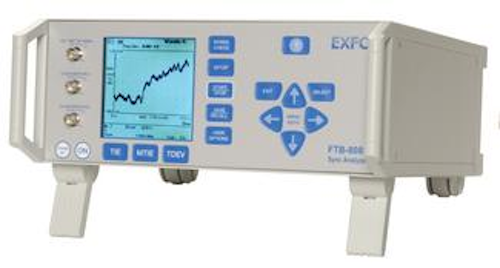 September 29, 2004 Quebec City, Canada -- EXFO Electro-Optical Engineering Inc. today announced the release of the FTB-8080 Sync Analyzer for network synchronization assurance, monitoring, and troubleshooting applications.
With ever-increasing data traffic on constantly evolving networks, maintaining network synchronization is more critical than ever. Assuring network synchronization relies on measuring wander in the clock signals used by timing equipment and network elements. Unlike jitter, which is suppressed by network elements, wander propagates and increases through the network. Left unchecked, synchronization errors can cause a significant loss of data and network capacity.
The FTB-8080 provides what EXFO claims is the industry's most cost-effective and comprehensive synchronization analysis tool available, supporting differential and absolute wander measurement on all standard wireless and wireline transmission rates from 4 kHz to 52 Mbits/sec (STM-0e / STS-1). The FTB-8080 Sync Analyzer can be used as a standalone instrument, controlled remotely via Ethernet or operated from the EXFO FTB-400 Universal Test System, and is fully interoperable with EXFO's next-generation SONET/SDH test solutions, extending wander measurement to OC-192/STM-64 rates. A complete set of SCPI commands (Standard Commands for Programmable Instruments) allows tests to be easily automated in system vendor manufacturing or lab applications.
The FTB-8080 Sync Analyzer offers a range of advanced functionalities, including graphical display of TIE (Time Interval Error), MTIE (Max TIE), and TDEV (Time Deviation) parameters, and correlation with standard ITU/ANSI/ETS or user-definable masks. The FTB-8080 Sync Analyzer's automated signal-detection feature ensures common measurement errors are prevented. The unit also offers automatic calibration of its internal rubidium clock via a direct cesium or GPS (Global Positioning System) reference signal, allowing for precise adjustment by field personnel.
"As a standalone instrument, or in concert with EXFO's wide range of telecom test solutions, the FTB-8080 Sync Analyzer offers the synchronization testing capabilities network operators require to provide world-class transmission networks," contends Benoit Fleury, EXFO's vice-president of protocol-layer product management. "The companion Sync View software suite enables remote data retrieval and test-case setup, eliminating the need to visit test sites during prolonged monitoring periods. In addition, by offering complete, dedicated synchronization test functionality, the FTB-8080 frees expensive, full-function SONET/SDH testers for other critical test applications," he adds.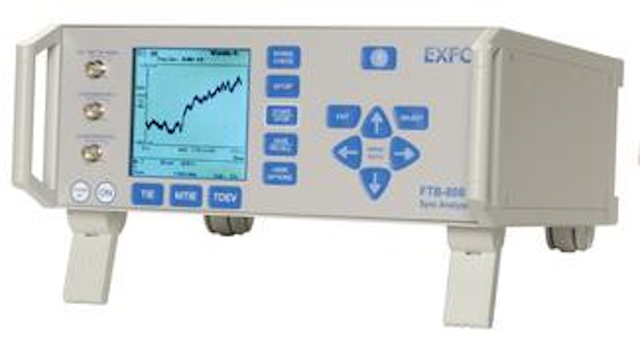 The FTB-8080 Sync Analyzer's automated signal-detection feature ensures common measurement errors are prevented.