Residential broadband services to net $95.1 billion by 2004
Jun 1st, 2001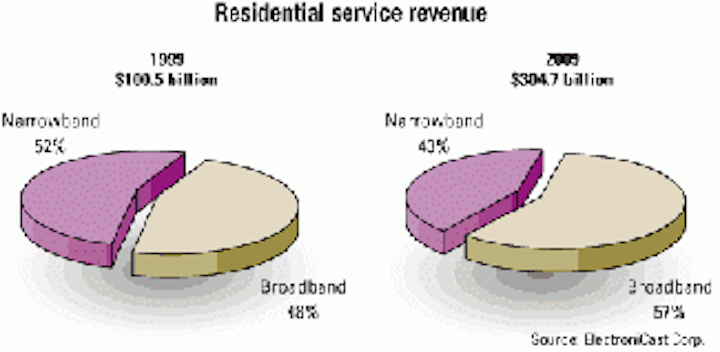 The revenue generated from residential broadband services in North America will jump from $48.1 billion in 1999 to $95.1 billion in 2004 to $174.8 billion by 2009, according to a new study from ElectroniCast Corp. (San Mateo, CA). The revenue from narrowband residential services is expected to increase from $52.4 billion to $130 billion over the forecast period. Combined, both markets will reach an annual rate of more than $300 billion by 2009 (see Figure).
The report, "The Metro/Access Fiber Optic Components and Equipment Forecast Service," defines the total metro/access consumption of equipment and components as the sum of residential services demand plus business/government communication demand. The report defines broadband residential service as an anything faster than conventional voice circuits, or anything faster than 28.8 kbits/sec.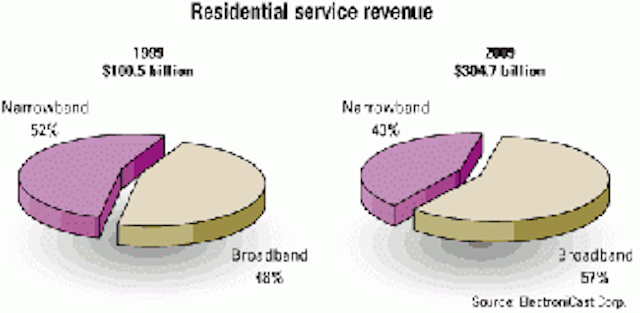 "The highest currently of-fered residential broadband equipment being promoted delivers OC-1 (52 Mbits) to each subscriber," explains ElectroniCast chairman Jeff D. Montgomery. "Over the next five years, however, OC-3 (155 Mbits) will be offered to residential subscribers in most regions, and even higher data rates (OC-12 and OC-48) will begin to be available," he adds.
Video entertainment will continue to dominate residential service throughout the forecast period, though it will decrease from 82% in 1999 to 57% of the market by 2009. Internet access revenue will see significant growth, gaining a 19% share of broadband service revenue by 2009. The fastest growth will be achieved by videophone services, which is expect to jump from just 0.02% to 11% over the forecast period. Telephony service (including tele-communications networks, wireless/cellular, cable TV, and other transport of voice) will decline steadily over the next decade, says the report, falling from 52% in 1999 to 43% by 2009.
The report also predicts a major increase in the bandwidth requirements of business communications through the forecast period and examines the North American consumption of equipment, component, and fiber-optic installation apparatus in fiber-to-the-office (FTTO) applications. According to Electroni-Cast, total FTTO-related equipment consumption will jump from its $2.83-billion mark in 1999 to $7.71 billion in 2004 and $22.8 billion in 2009.
For more information or to purchase a copy of the report, contact ElectroniCast at 650-343-1398 or visit www.electronicast.com.