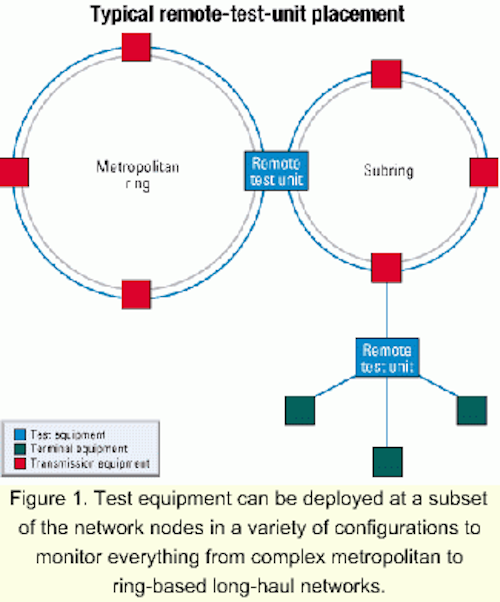 A remote fiber test system offers quick analysis to help monitor network quality and prevent downtime.
DR. DAVID A. COKER, GN Nettest
Global demand for communications bandwidth has led to a significant increase in the deployment of fiber-optic cable worldwide. As information becomes the world's most valuable resource, the integrity of the communications infrastructure is paramount; for carriers, dire are the consequences of network downtime-subscriber turnover, a reputation as unreliable, and reduced revenues.
The competitiveness in telecommunications is causing network operators to invest heavily in their infrastructure, with a significant focus on automated management, maintenance, and monitoring solutions for their networks. The use of remote fiber test systems (RFTSs) is an emerging trend among network operators to monitor the outside plant (OSP). As network architectures evolve toward an all-optical network, automated monitoring can improve network quality and facilitate service-level-agreement (SLA) maintenance.
With continuous evolution of the telecommunications industry, operators are forced to explore new business approaches and models with which to maintain their core competency and establish a competitive niche. Independent of a telecommunications operator's particular business model, there are a suite of core challenges each provider faces:
Evolving business in a competitive environment.
Need to offer increased quality of service (QoS) in the face of limited resources.
Emerging network technologies requiring continuous deployment and upgrade investments.
Need to master new technologies from a deployment and maintenance/testing view.
Real-time marketing and deployment of services.
Improved customer communication and service.
It is this set of challenges network monitoring systems must address. Regardless of the issue mix, all operators are ultimately concerned with the quality and maintainability of their networks. There are only two alternatives to addressing the OSP aspect: automated monitoring via RFTSs or dedicated field engineers with portable test equipment. Through deployment of RFTSs, continuous network surveillance and monitoring delivers early fault notification. Within seconds of a fiber fault, repair crews and network operations-center technicians are alerted. Each technician receives a fault report with probable cause, affected customers, services, and geographic location.
As an emerging technology to improve OSP management, RFTSs provide operators with the ability to continually monitor the status of their physical network. The RFTS continually characterizes and documents the state of the OSP; up-to-date performance measurements are obtained, allowing an operator to extract status and QoS measurements.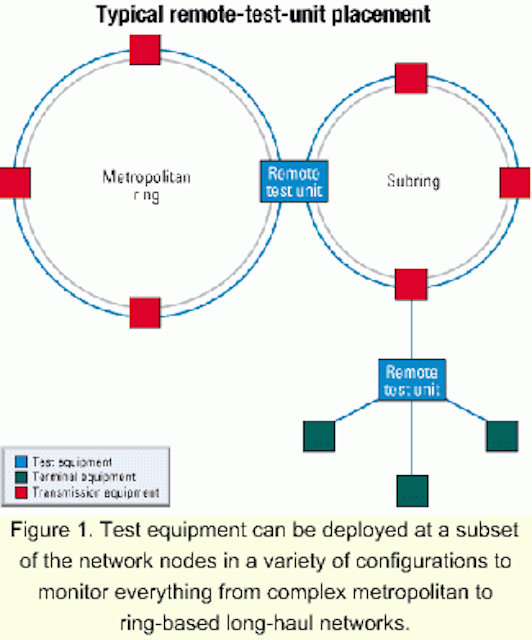 Figure 1. Test equipment can be deployed at a subset of the network nodes in a variety of configurations to monitor everything from complex metropolitan to ring-based long-haul networks.
Most network monitoring systems consist of three components: a test system controller (TSC), client interfaces (networked and Web-based), and remote test units (RTUs). The central server (TSC) provides database, network documentation, alarm notification, and scheduled test functionality, in addition to support for client access and configuration of integrated test equipment. The client interfaces allow remote access to the monitoring system's functionality, including configuration, network documentation, test data, alarm, and reporting interfaces. The integrated test equipment (RTU) provides test and measurement access to the monitored network components. In general, the RTU can perform optical time-domain reflectometer (OTDR) measurements, power monitoring, spectral, and a host of other measurements as required by the operator. To provide greater monitoring efficiency, the RTU is equipped with an optical switch, allowing access to multiple fibers from a single location.
The RTUs are embedded in the network to provide total coverage. As many of the testing technologies are single-ended, only a subset of network nodes requires the placement of test equipment (see Figure 1).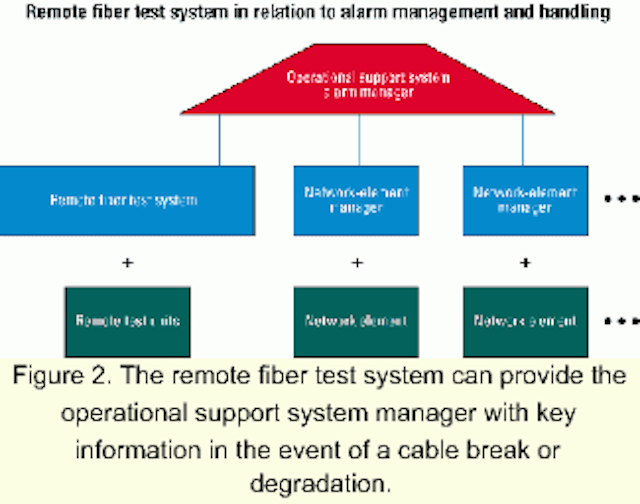 Figure 2. The remote fiber test system can provide the operational support system manager with key information in the event of a cable break or degradation.
RFTSs perform around-the-clock surveillance of the network primarily through the use of OTDR technology. By defining a reference data set, the system continuously tests the network, compares the results to the reference, and assesses current network status automatically. The entire monitoring system acts as a single element in the operator's alarm management model. The primary interface is provided by the TSC. In the event of a cable break or fault, the system isolates, identifies, and characterizes the problem; determines the distance down the cable; correlates this information to a geographical network database; and generates an alarm report. In this manner, an entire trouble report, including probable cause and localization, is generated within seconds of the fault. Through top-level integration, the RFTS may be used to close the loop with transmission and other communication alarm information (see Figure 2). In this scenario, there are several ways to leverage the deployed RFTS:
In the event of a cable break, the RFTS will send a complete alarm report that can be correlated by the operations support system (OSS) manager to appropriate transmission alarms.
In the event of a transmission alarm, the OSS manager can request a test on the appropriate cable to verify that the problem is electronic and not physical in nature.
In the event of transmission performance degradation, the RFTS can supply to the OSS manager a status update of each monitored cable. In this fashion, errant behaviour such as high bit-error rates can be tracked to physical degradation of the cable.
In a typical RFTS application, many operational features enhance both day-to-day and long-term network reliability, but the two major features are fault detection and isolation as well as early detection of physical plant degradation.
Fault detection and isolation are key strengths of the RFTS. In the event of a cable break, the monitoring system is able to detect the physical problem (the fault), diagnose the problem, then correlate this data with the geographical information documentation system to isolate the fault in less than 1 minute. This information is then broadcast to a number of systems with which the RFTS integrates (alarm manager, trouble-ticketing system, direct dispatch through pager or security management system, etc.). In many cases, this time may be further reduced through integration with transmission management or other alarm management systems. The net result is immediate dispatch of restoration personnel to the fault location. Users of fiber monitoring systems often realize a 4-6-hour decrease in repair time.
Proactive maintenance and care of network infrastructure are two of the best ways to provide peak network performance. With networks becoming larger and more complex, network operators are faced with the daunting task of maintaining the network with limited resources. As designed, the RFTS provides a time-stamped characterization of the network segments. In particular, the OTDR trace provides a measure of attenuation, reflectance, and discontinuities along the entire length of the cable for the fibers under surveillance. This data, from day one of system deployment, provides a benchmark from which to continually assess network quality. Through generation of appropriate measurements and system reports, operators can identify potential trouble spots, allowing for improved work crew prioritization.
In addition to facilitating more efficient operations and improved customer interaction, the deployment of a fiber management system is ultimately aimed at reducing subscriber churn, minimizing network downtime, achieving increased market share, and improving overall profitability. An economic assessment for RFTS deployment also indicates that carriers may see a net increase in revenues and profitability.
Considering the cost of a cable break, it is possible to estimate the annual cost reduction that users of RFTS obtain under certain assumptions. For an operator, the cost of a cable break consists of the following contributing factors: loss of revenue during the time of the network outage, a service-contract penalty, regulatory penalties, and loss of reputation.
All of these factors contribute to an overall QoS measurement typically expressed as network uptime. In most cases, the guaranteed levels of QoS can only be achieved with use of an RFTS. In some cases, the RFTS can provide early warning, preventing the cable break altogether. If a cable break occurs, the RFTS can pinpoint the location of the cable break within minutes, making the outage shorter. If fibers are leased with monitoring included, this service can be provided at a premium to increase revenues.
For a given network, the cost of deploying an RFTS can be estimated using the following guidelines:
Cost per monitored site is approximately twice that of a portable OTDR.
Number of monitoring sites is comparable to the number of portable OTDRs purchased to maintain the network.
The RFTS equipment has a minimum lifetime more than twice that of today's OTDRs, which leads to an amortized cost comparable to portable field equipment.
The most direct way to justify the expense of a network monitoring system is to examine the savings realized during fault restoration based on the primary variables involved:
Time-mean fault isolation and localization time, mean dispatch time for repair crew, mean repair time, and meantime to turn up system.
Average revenue per cable per hour.
Penalties per hour-regulatory, QoS, and SLA clauses.
A survey of RFTS network monitoring customers indicates that mean fault isolation and localization times were approximately 2-5 minutes with network monitoring, and 2-48 hours without network monitoring, depending on the circumstances of the fault. Dispatch, repair, and turn-up times were comparable with or without a monitoring system. In terms of average revenue per cable, there was a large range of values dependent on fiber count and provided services. Penalties, of course, are a function of operating-country and SLA contracts.
As an example, consider a cable generating $100,000 in revenue per hour along a major high-speed trunk that suffers a catastrophic break. With a monitoring system, the net outage time would be about 5.5 hours; without a monitoring system, the net outage time could be 9.5 hours or more. This reduction of 4 hours in downtime results in a net revenue protection of $400,000. Taking into account penalties and such, the overall savings could be much more, typically offsetting the entire cost of the system with a single break.
Traditional remote fiber monitoring systems are ideally suited to support operations and maintenance personnel. With the current focus on efficiency and return on investment, it is important to focus on tools that offer the greatest impact while remaining cost-effective. As the network is a continually evolving entity, all groups, from network planning and construction to operations and maintenance, are involved on a daily basis. By bringing sales and marketing into the mix, the continuous drive for competitiveness leads to a greater need to quickly identify and deploy network services to prospective customers. Thus, a coordinated interchange among all of these groups is required.
With its emphasis on real-time network assessment and characterization, the RFTS is well positioned to serve as a key component of this interchange. For leased-fiber operators, RFTS has the potential to support all stages of network development and deployment.
Recent advances in OSP monitoring systems enable operators and customers to interact in ways not possible even a year ago. As an example, consider a carrier's carrier whereby inactive fiber is leased to customers that provide their own terminal equipment. In the event of a network problem, it is often difficult to isolate the cause of the problem and thus responsibility, leading to costly delays and degradation of customer relations. By having the RTUs deployed throughout the network, operations personnel can easily perform a test of the fiber or cable in question. This information can then be analyzed to assure fiber characteristics are within specifications. Furthermore, the raw data and analysis can be easily distributed to key customer contacts, sometimes via a Web interface. In this manner, the true nature of the problem (electronics or cable) is readily determined.
Test and monitoring data filtered by domains, coupled with automatic reporting, produce timely and targeted network performance reports. Thus, operators can associate and assess the impact of fiber plant quality to select customers and services. As the RFTS provides a time-stamped record of network availability, SLA and QoS tracking per service, region, and customer is automatically provided by the system. Overall, the RFTS provides a suite of tools that enable operators to extract true network performance metrics from the vast amount of test data gathered by the traditional RFTS. It is this openness that promotes strong customer relations and loyalty.
To be successful, the next-generation network management system must support a coordinated effort among network planners, builders, operators and maintainers to provide a reliable and profitable network infrastructure. With new business models and financial pressures, outsourced agents have become key members of this network team.
Through automated monitoring, the network operator is able to effectively communicate OSP network issues clearly and automatically to the appropriate contractor. By configuring domains on a per-contractor basis, cable quality, trouble tickets, repair response time, and network availability may all be tracked on a per-contractor basis. In this manner, operators have access to metrics that demonstrate how well their agents are performing on their behalf. Conversely, through automated alarming and notification, contractors receive complete fault details, including map location and probable cause. The contractor wastes less time and is able to repair the fault in much less time, thus increasing efficiency and reducing costs.
As networks move toward the all-optical domain, operators will need to contend with dynamic provisioning, forward service reservation, and lambda-based routing. The content on the lambdas will be diverse (SONET/SDH, ATM, etc.) and will change over time along with customers. In this environment, tracking and identifying network problems will become an ever-increasing challenge.
To meet this challenge, fiber monitoring systems must evolve, as well. In particular, power and spectral monitoring, Q-testing, and optical Internet Protocol testing must complement today's OTDR monitoring. These advances in testing technologies and in automated analysis, correlation, and data handling will enable operators to effectively and efficiently balance the needs of operations, customers, and business objectives.
David A. Coker, Ph.D., is director of marketing and engineering for optical-network systems at GN Nettest (Utica, NY).