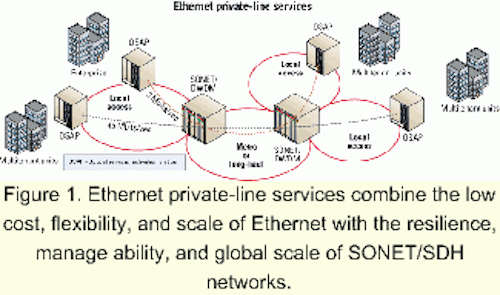 Ethernet as a universal services interface will help carriers realize the revenue potential of their optical networks.
MARK SEBASTYN, Appian Communications
The bulk of optical-networking investments to date has been in the long-haul and metro core of the network. The challenge now is to extend that capacity and flexibility to the optical-network edge-the final bottleneck to service revenues.
Ethernet is key to this strategy. It for the first time positions carriers to deliver high revenue packet services that meet the flexibility, scalability, and service level needs of corporate and carrier customers.
With its roots in LANs, Ethernet is viewed as a contention-based, best-effort LAN technology. Since the early IEEE 802.3 standards efforts, however, Ethernet has achieved a level of plug-and-play compatibility that has made it a truly ubiquitous technology. Ethernet supports a full range of scalable speeds, including 10/100 Mbits/sec, 1 Gbit/sec, and soon 10 Gbits/sec. And it's on a technology and cost curve unmatched by any WAN technology.
Enterprise network planners have, for many years, envisioned extending these cost and performance advantages across their WANs. They've been searching for services that reduce the gap between bandwidth in the LAN and bandwidth in the WAN-a service model that allows them to buy more bandwidth, in the specific amounts needed, when it's needed. And they'd like to pay for that bandwidth as they go.
Many experts believe that Ethernet will play a key role in making this vision a reality. With the growth in optical bandwidth and the availability of next-generation optical edge equipment that incorporates advanced packet quality-of-service (QoS) technologies, Ethernet is now poised to become the new carrier-customer de marc, enabling a new generation of flexible, service-level-agreement (SLA)-capable packet/data services.
From the customer perspective, Ethernet has al ways been about simplicity, cost, and scale. It's widely available, it's simple to administer, it offers tremendous scale, and most important, Ethernet equipment is significantly lower in cost and complexity than any existing WAN technology.
When Ethernet is presented as a universal packet services interface, the cost benefits are significant. Customers can avoid costly premises equipment, including high-speed WAN router ports, frame relay access devices, and channel service units (CSUs)/data service units (DSUs). They can instead purchase an inexpensive Ethernet interface for their router at a fraction of the cost. For example, a mid-range router with a high-speed serial interface and external CSU/DSU is priced at $16,340. By comparison, the same router with two 10/100 Ethernet interfaces is priced at $7,840.
More complex WAN technologies such as frame relay (FR) and ATM also require experienced, often in short supply WAN staff to manage the network. An Ethernet service can reduce administrative costs by leveraging existing LAN administration.
In addition, with Ethernet as a channelized, software-tunable service interface, customers can now partner with their provider for simple, low-cost access to more bandwidth and new network services. The possibility of on-demand and pay-as-you-go options now becomes a reality.
Given that aggressive pricing is part of any competitive market, there is constant pressure to improve service profitability. Solutions that lower operating costs, which often represent 50% of total service costs, are critical to a successful business plan.
Ethernet services provide the best of all worlds, enabling improved profitability with new sources of service revenue. Ethernet provides a foundation for delivering a rich set of differentiated services. By replacing traditional WAN services that require discrete circuits-one for each service-with a single high-speed Ethernet interface that can be software-tuned, the truck rolls previously required to upgrade and add new services can be eliminated.
In today's environment, a customer upgrading from a single T1 (1.544 Mbits/sec) to a 2xT1 Internet access service could experience delays of 12-14 weeks. The upgrade may even require three truck rolls to provision the new circuit, upgrade equipment, and activate the service. At approximately $500 per truck roll, the provider is spending up to $1,500 to install a T1 Internet access service that only generates $7,200 in revenue per year.
To put this cost into perspective, if a single truck is rolling only once a day for each of the 260 work days in a year, the cost to a carrier is $130,000. Assuming the carrier rolls 100 trucks in a day, that amounts to $13 million in costs a year-a significant opportunity to save in any business plan.
Compare that with an environment using Ethernet as a universal service interface. The same customer requests the same service upgrade. The request goes through the order-processing system; a technician sitting at a computer changes software variables that turn up the available bandwidth to that customer and triggers new billing. The whole process can take minutes, and the cost to the provider is negligible.
On the revenue side, being first to market with a new generation of Ethernet services will translate directly into dollars and margin. The competitive advantage that comes with shorter delivery cycles also impacts revenue. Not only are new customers attracted, existing customers are retained. The result is a faster time-to-revenue, enabling higher profitability over the life of the service.
In a more tangible example, by activating a $3,000-per-month DS-3 (44.736-Mbit/ sec) service in one week (includes order-processing time) instead of 13 weeks, the revenue gain for a single customer is $9,000 and for 100 customers it's $900,000.
Providers also benefit from the ability to offer more granular bandwidth services. Customers can in corporate incremental band width steps into their budgets sooner, allowing carriers to more proactively up sell services.
Ethernet unlocks many service possibilities that move far beyond traditional point-to-point, fixed-bandwidth native LAN services. Private lines securely dedicate bandwidth from end-to-end and are often used to interconnect corporate data, voice, and video networks.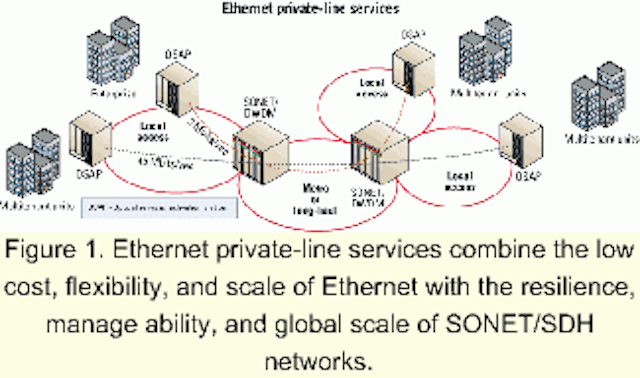 Figure 1. Ethernet private-line services combine the low cost, flexibility, and scale of Ethernet with the resilience, manage ability, and global scale of SONET/SDH networks.
Ethernet private line (EPL) is a natural next step for today's limited private-line service offerings. It brings the low cost, flexibility, and scale of Ethernet together with the resilience, manageability, and global scale of SONET/SDH networks to create a new generation of high-speed private-line offerings (see Figure 1).
Like traditional private-line services, EPL meets the QoS and "five-nines" reliability needs of existing voice, data, and video applications. Many in the industry view EPL as an NxT1/E1 and DS-3/E3 service alternative that offers an entry point to new, next-generation packet services over time.
The value to customers comes with service rates that can scale from 64 kbits/sec to 1 Gbit/sec, up to a 50% reduction in cost of ownership, rapid service activation and upgrade, five-nines reliability, and global metropolitan-area-network/WAN scale. Any application on an existing private line can be supported by an EPL service.
An Ethernet virtual private line (VPL) is a scalable, shared-access, point-to-multipoint service that offers granular FR and ATM-like QoS attributes. With the addition of protocol mediation intelligence, this service can become part of an FR/ATM migration strategy. With Ethernet as the high-speed interface, customers avoid costly DS-3/E3 or OC-3/STM-1 (155.52-Mbit/sec) WAN equipment upgrades.
VPL-service SLAs can be fully consistent with the FR/ATM SLAs already in effect. With the ability to match virtual circuit parameters such as FR's committed information rate and expected information rate to an Ethernet guaranteed bit-rate and maximum burst-rate setting, customers can meet the service-level needs of existing applications.
In deploying the service, providers can leverage the resilience, scale, and global reach of their SONET/SDH network. By backhauling high-speed traffic from local access rings through the SONET/SDH transport network to FR/ATM service points of presence (PoPs), providers can also utilize an installed network of FR/ATM equipment. VPL service can be further extended to create a high-speed, multisite virtual private network (VPN) (e.g., a Layer 2 VPN), offering a migration for existing FR services or enabling a new class of high-speed Ethernet service.
Internet access is a perfect example of a service where bandwidth flexibility and scale are highly valued. However, today's time-division multiplexing optimized SONET/SDH access network limits users to a rigid selection of services.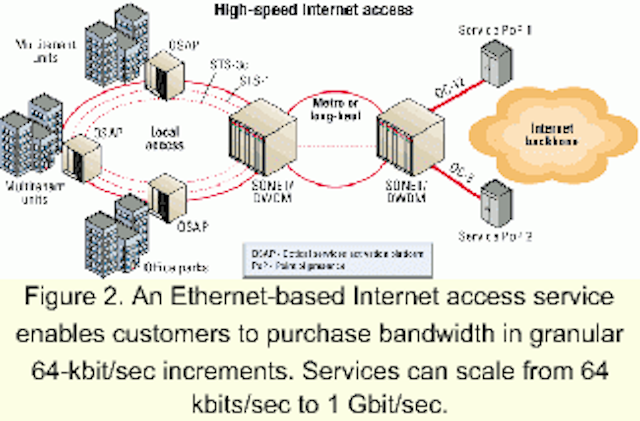 Figure 2. An Ethernet-based Internet access service enables customers to purchase bandwidth in granular 64-kbit/sec increments. Services can scale from 64 kbits/sec to 1 Gbit/sec.
An Ethernet-based Internet access service enables customers to purchase bandwidth in granular 64-kbit/sec increments with service offerings that can scale from 64 kbits/sec to 1 Gbit/sec. With software-tunable support for guaranteed and burstable rate options, Internet service providers can offer differentiated best-effort and committed-rate service levels. Figure 2 shows an example of Ethernet Internet access service deployment.
In delivering this service, the provider can leverage an optical edge solution that allows traffic to efficiently share common SONET/SDH trunks or paths. Traffic from multiple users is locally aggregated to a shared, high-speed path, allowing extremely cost-effective backhaul of traffic to an Internet Protocol services PoP.
Ethernet fundamentally changes the economics of high-speed service delivery, enabling a new generation of granular, scalable services that can be dynamically activated under remote software control. Advanced QoS mechanisms provide the means for meeting SLA requirements, and the ability to support multiple services over a single Ethernet interface is the key to reducing WAN access costs. Because of the huge SONET/SDH installed base, the ability to plug and play with an existing SONET/SDH network infrastructure is key to providing time-to-market and cost-of-ownership advantages.
The final requirement for delivering optical Ethernet services lies in the service management system (SMS). With a cost model that benefits tremendously from remote service activation, an advanced service-management adjunct that can be easily integrated into existing back-office systems is critical to managing time-to-service. Open application programming interfaces will ease integration into a carrier operation support system, easing flow-through provisioning, billing, and real-time service monitoring. And in the end, with an advanced SMS, providers will see a much faster path to reduced operations, administration, maintenance, and provisioning costs.
Mark Sebastyn is senior product marketing manager at Appian Communications (Boxborough, MA).