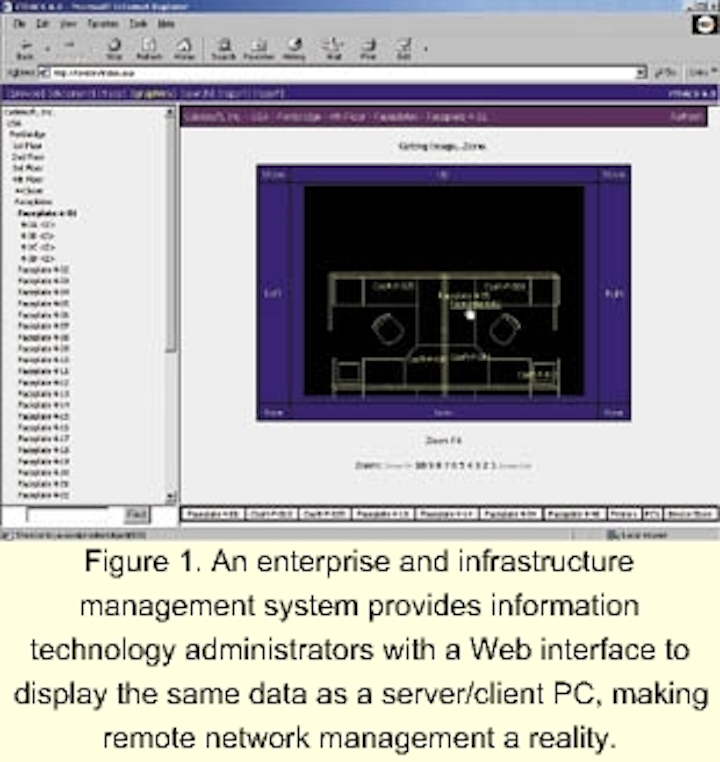 Changing role of software
Developments in the infrastructure management world not only help the information technology administrator, but also add to a company's bottom line.
BY THOMAS REEDY, iTRACS Corp.
"Technology" and "profits"-those of us in information technology (IT) like to think those two words are inextricably tied together. The use of more technology leads to more efficient systems, which means reduced costs and increased profits. But how to really go about this is everyone's own little secret. Let's shed some light on new developments in software that are changing what the return companies get from their IT investment. In this particular case, we're referring to enterprise and infrastructure management software (EIMS).
One of the most common jobs in IT is the constant documentation and monitoring of an enterprise's physical network. Whether copper or fiber, it's one aspect that IT administrators have to cope with day in and day out to keep a company's network up and running.
Issues such as troubleshooting; moves, adds, and changes (MACs); system downtime; IT questions; security breaches-the list is endless-keep the IT department busy all day long. That costs money. But at the end of the day, your IT manager knows what's on the network better than anyone else.
There is one other person who wants to be (or should be) kept in the loop in terms of how many IT assets an organization has: the finance chief. But why should the chief financial officer be interested in such small details as infrastructure documentation?
The answer is simple. Each year, executives spend billions of dollars upgrading and purchasing new IT equipment for their firms. This might look like a large expense on the company's financial statements, but it can be lowered quickly by making use of existing assets.
Systems require constant monitoring, not only to make sure everything is up-to-date, but so finance heads have an accurate idea of the cash value of IT assets the company possesses. That's where cable-management software (CMS) comes into play. CMS technology was developed to relieve the burden of asset management and documentation placed on network administrators, as well as to streamline the management of an organization's network infrastructure. With accurate documentation comes a clear picture of the net value of IT equipment.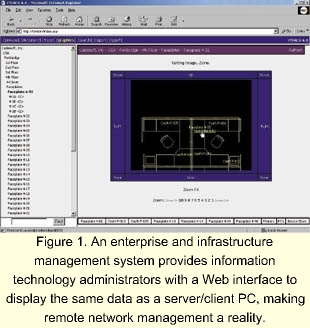 Figure 1. An enterprise and infrastructure management system provides information technology administrators with a Web interface to display the same data as a server/client PC, making remote network management a reality.
CMS has been successful, yet technology has pushed forward, bringing new developments such as real-time documentation from any desktop in the world. CMS has evolved into more than just cabling-it encompasses the enterprise as a whole. It has evolved into what we now refer to as enterprise and infrastructure management system.
Although research and development in this area has traditionally focused on copper networks, the deployment of fiber in the enterprise space is creating a push to develop the technology for optical applications. More product announcements are expected in the latter half of this year.
The aim of this technology is to revolutionize the way the enterprise and infrastructure are managed today by making any network connection. Make the IT administrator the boss of the physical network-not just in title, but in reality.
The key behind the technology is for the system to automatically discover and monitor, in real time, connectivity at data centers and wiring closets. EIMS allows network managers and administrators to remotely document, manage, and monitor physical-layer connectivity from a central point. It provides affordable, real-time, online monitoring of equipment from any vendor through an audit trail and log file of all MACs made (see Figure 1).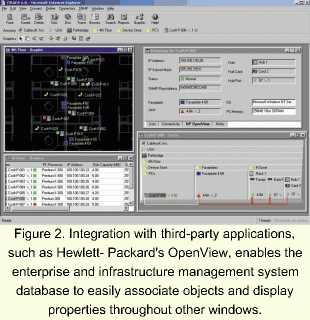 Figure 2. Integration with third-party applications, such as Hewlett- Packard's OpenView, enables the enterprise and infrastructure management system database to easily associate objects and display properties throughout other windows.
The solution enables a remote manager or administrator to verify connectivity points from the desktop, an activity that previously would have to be carried out physically onsite.
For this revolutionary technology to take off, EIMS must conform to certain vital criteria. Key to success-and acceptance by the cabling industry-is that this solution support open standards and be non-proprietary. It must work with all manufacturers' equipment, including hubs, routers, patch panels, and frames.
This interoperability is essential. There is no point developing or investing in a progressive system that is not compatible with any vendor's equipment and supports all current and proposed standards, including all Telecommunications Industry Association/Electronic Industries Alliance and international standards.
It is also important that the technology discover and monitor the physical connectivity between all port types. Development must ensure that there is no interference with the electrical integrity/performance of the monitored port in any way.
The beauty of this technology is that it is not just for brand new cable plants or those on the drawing board. A majority of organizations in North America have a formal cable infrastructure in place. This system can be retrofitted to any manufacturer's equipment, so any company across the globe can take advantage.
The technology, though completely innovative, is very simple in its operation. Upon power-up, the scanner discovers the connectivity at each port sensor and reports its connectivity back to the management software. Thereafter, every port is continually scanned, providing instant and real-time monitoring of the data center or communications closet.
Any change in connectivity can be checked for authorization and, if appropriate, action taken if the MAC is unauthorized. This might include e-mailing the photo of the person making the change and a description of the work performed.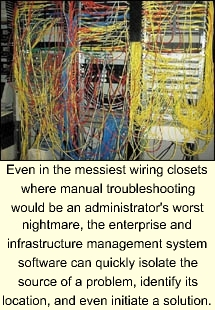 Even in the messiest wiring closets where manual troubleshooting would be an administrator's worst nightmare, the enterprise and infrastructure management system software can quickly isolate the source of a problem, identify its location, and even initiate a solution.
Status can also be assigned to ports. If this is altered, by the removal of a patch cord for instance, this would create an "event" or alarm. A typical event might be the activation of a sounder or alert, indicating the patch cord needs to be reinserted.
Every change in connectivity is recorded as an HTML audit/log file, along with a time-stamped digital photograph of the person making the change. The software provides real-time access to the scanner over the LAN, WAN, Internet, or any Transmission Control Protocol/ Inter net Protocol (TCP/IP) network.
The database containing the wiring administration equipment can be further developed to include all of the data an IT professional needs to document and manage an organization's entire network. That includes voice systems, LANs, WANs, structured cabling, faceplates, workstations, printers, servers, etc. In fact, anything that is connected to, or associated with, the network can be documented and managed within the application.
EIMS puts the infrastructure at the IT administrators' fingertips-complete network control, protection, security, and integration with other systems.
Control. Knowing what you have, where it is, and how it is connected puts control in the hands of the administrator. EIMS offers real-time, remote access to information to quickly isolate the source of a problem, identify its location, and initiate a solution.
Protection. EIMS delivers protection over the network, enabling IT managers to know who or what is connected to every port. This technology futureproofs not only existing network equipment, but also planned investments, thereby maximizing return-on-investment (ROI). It tracks redundant and reserved ports, safeguards the company's disaster recovery plans, and extends the life of the company's structured cabling system.
Security. Unauthorized or unintentional changes in data centers, communication rooms, and wiring closets are frustrating nuisances. EIMS helps prevent this by monitoring the connectivity of mission-critical network equipment, such as switches, routers, hubs, and patch panels. It can immediately take corrective action by setting off alarms, taking a picture, and sending alerts, e-mails, and pages to alert relevant parties. It ensures a 100% accurately documented network that is monitored 24/7.
Integration. EIMS acts as the missing link that bridges network-management software and physical-layer management. It can self-discover the physical topology of data centers, communication rooms, and wiring closets while, at the same time, manage and troubleshoot network connectivity through integration with third-party logical-layer applications, such as Hewlett Packard's OpenView (see Figure 2). It can also be integrated with network-management software, chance control and help-desk software, and facility-management software.
Alone, these benefits for the network manager rectify the installation of the solution. But it's the following benefit that promotes the black on the company's financial books and is the point of this article.
The financial impact from investing in an EIMS can be measured in two ways: cost savings made and additional value realized.
First, EIMS automatically updates MACs, eliminating the costs associated with manually updating work orders. It also significantly improves the accuracy of the documentation and the speed at which an organization can respond and simplify the MAC process.
The technology eliminates the need for IT professionals to search through hardware and software on the network to locate a particular problem. Whether it's a broken cable or a faulty switch or port, IT administrators have the information at their fingertips to get the system back up and running quickly.
For example, cost savings alone from reducing network downtime to a minimum are phenomenal. According to research by Standish Group and Intel, system downtime of less than 1% can cost small-to-medium enterprises up to $100,000 each per year. This is potentially fatal to a small- or medium-sized company. The second financial benefit from EIMS is centralized, real-time management. It enables a business to efficiently and effectively document the value of the company's IT assets.
For anyone seeking software with profits, the results from EIMS materialize into large-scale cash benefits. For instance, the organization will optimize network capacity, redeploy unused and/or abandoned equipment, extend the life of the structured cabling system, and allow regular reporting on tangible IT assets. You can almost feel the financial controllers rubbing their hands together in anticipation.
On one hand, EIMS offers financial savings by making an administrator's job easier and more efficient. Each incident constitutes a cost factor-some more than others-that affects the overall financial performance of the company.
On the other hand, the value of IT assets is fully realized. More and more finance departments are waking up to the time and cost savings made and looking to the value added. Only by documenting the complete infrastructure can companies understand the value of IT assets and measure the positive financial impact this technology has on the bottom line.
In a world of changing software, EIMS brings together the latest technology to significantly reduce business-related costs and produce positive ROI-enough to keep even the most demanding financial director happy.
Thomas Reedy is CEO and president of iTRACS Corp. (Tempe, AZ). He can be reached via the company's Website, www.itracs.com.