Telecom service provider capital expenditure (capex) is up in every region of the world, claims a new report from Infonetics Research (www.infonetics.com) titled "Service Provider Capex, Opex, ARPU & Subscribers." The report also shows service provider revenue also is up in all regions, as carriers launch new services to meet the demands of hundreds of millions of worldwide subscribers.
"For the third year in a row, carrier capex has increased in all regions of the world, but we expect this investment cycle to plateau in 2009 and decrease in 2010," asserts Stephane Teral, principal analyst at Infonetics Research and lead author of the report. "However, service providers in most regions are operating at a sustainable capex-to-revenue ratio in the 15% range, which should carry the market in these regions through the plateau without much disruption." He notes that the Asia-Pacific region shows an average capital intensity rate of 21%, fueled by China's rapid growth. "If that rate doesn't come down, we could be looking at the beginning of another telecom bubble in that region," he warns.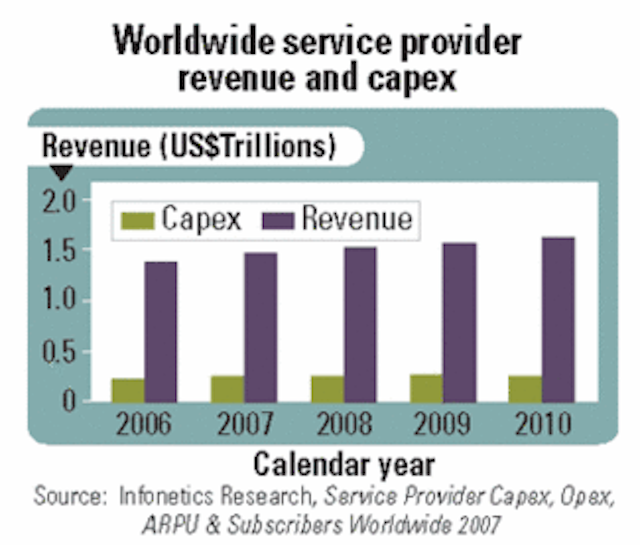 The report also finds that worldwide capex is expected to grow 4% in 2007 to $224.6 billion. Service providers earned a combined $1.2 trillion in annual worldwide revenue in 2006, up 8% from 2005, and are expected to increase their revenue 4% by 2007.
Asia Pacific's share of worldwide telecom capex spending is forecast to peak at 34% in 2007, followed by EMEA with 31% and North America with 29%, although the weak dollar has inflated these percentages.
The world's top 15 service providers account for roughly 50% of worldwide carrier capex spending. The top service providers that will make up more or less half of all public capex spending and include: AT&T, Sprint Nextel, and Verizon in North America; Deutsche Telekom, France Telecom, BT, Telecom Italia, and Telefónica in EMEA; China Mobile, China Telecom, and NTT in Asia Pacific; and America Movil, Telmex, and Telefónica in CALA.