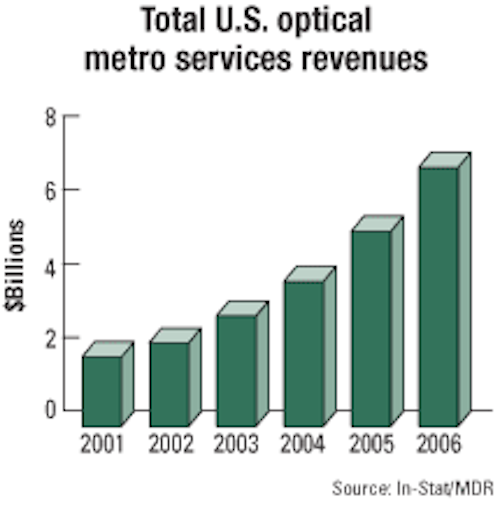 Optical MAN services-Ethernet, DWDM, and SONET-are "neither a panacea for all bandwidth needs nor another data service doomed to failure based on false promises," asserts new research from Instat/MDR (Scottsdale, AZ). Overall U.S. optical MAN-service revenues will jump from $1.9 billion in 2001 to $6.9 billion by 2006, as consumers and business users move to higher-speed Internet connections, businesses outsource corporate IT functions, and the localization of data traffic continues.
"Growth in this market, however, will not occur unabated," reasons senior analyst Daryl Schoolar, "as there remain several challenges to be overcome. The soft business economy and worsening financial position of many network providers are the biggest challenges to growth. With a shrinking customer base, many providers are finding themselves laden with high debt loads and revenue streams that don't meet their original forecasts. The issue only becomes more exacerbated as potential customers shy away from the provider, not wanting to tie up key business applications with a provider that may go out of business."
The report also reveals that DWDM will have the strongest growth from 2001 to 2006, primarily because it is a lower-cost alternative to purchasing dark fiber and has flexibility in handling multiple data protocols. By 2006, DWDM will overtake SONET in the United States in MAN-service revenues. Growth of the SONET market will be constrained by continuing data traffic growth.
Incumbent local-exchange carriers accounted for the majority of MAN-service revenues generated in 2001, report Instat analysts. Their market strength comes from their extensive fiber footprints; they own the majority of MAN fiber routes. In addition, they have already established relationships with many of the companies looking to use these services.
For more details on the report, "Shedding Light on Optical MAN Services: Ethernet, DWDM, and SONET," call 480-609-4551 or visit www.instat.com.