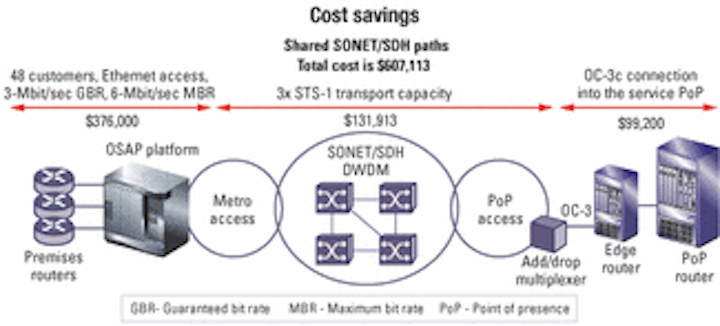 Providers must carefully weigh economic and technical factors in deciding which approach is more beneficial for their network.
ANAND PARIKH, Appian Communications Inc.
It's clear that Ethernet services offer providers a cost-effective way to increase revenues by meeting customer demand for services that are flexible, low-cost, and scalable. The question is, what's the best way to deploy these services? Should providers start from scratch and build a brand new service that includes deployment of new dedicated dark fiber, a totally separate back office and operational infrastructure, and updated transport? Or should they integrate the new Ethernet services into their existing SONET/SDH infrastructure?
Service providers don't often have the opportunity to seriously entertain this question. They rarely have the luxury of installing an entirely new infrastructure to support a single new service. But the economics of Ethernet are such that some carriers are seriously considering Ethernet overlays-at least for trials. For emerging players whose business plans center on providing Ethernet-only services-or for some RBOCs-overlay networks offer a possible alternative to address markets starving for flexible, affordable, best-effort services.
Still, the majority of established providers are opting to integrate new Ethernet services into existing SONET/SDH infrastructures, leveraging existing investments to generate incremental revenue. In making this key decision, providers need to carefully weigh economic factors such as which approach will drive more revenue. They must also take into account the technical factors such as how to deliver voice/circuit-quality services, packet-service resiliency, service scale, end-to-end service management, and end-to-end guarantees.
Transmission vs. service overlays
First, it's important to separate the concept of service overlays from transmission overlays. Service overlays are a fact of life in today's telecommunications services world. Services such as frame relay, voice, ATM, and Internet overlays all share the same reliable, globally accessible transmission infrastructure. At the service level, each service has its own separate provisioning, monitoring, and service-level-agreement (SLA) management infrastructure, reflecting natural administrative and skill set boundaries. That is largely a fallout of a regulatory environment that forced the separation of transmission and value-added data services.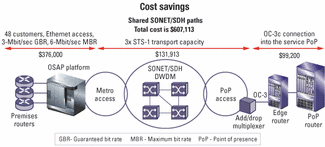 By integrating Ethernet services into next-generation SONET/SDH infrastructures, providers can save more than 70% of costs by aggregating shared high-speed trunks, reducing transport capacity through the network, and eliminating costly aggregation equipment at the service point of presence.
The transmission overlays being considered today, in contrast, have not only totally separate back office and operational infrastructures, but also new dedicated dark fiber in some cases. New fiber is deployed for each new connection point on the service, and each overlay network supports a single service.
As a point of reference, carriers have opted not to build transmission overlays in backbone/core networks because of economic reasons. Instead, they are migrating to new technologies like DWDM that enable them to keep a single, high-performance, multiservice transmission resource.
The arguments driving providers to consider transmission overlays for Ethernet services boil down to two concepts: simplicity and lower cost. Proponents of overlays say Ethernet data traffic is growing so rapidly and today's SONET/SDH infrastructure is so inefficient at handling data that it is better to build a network dedicated to just Ethernet services.
From the customer's viewpoint, there is no question Ethernet is much easier to administer than the complex WAN technologies like ATM and frame relay that they rely on today. Because of Ethernet's ubiquity in enterprise networks, virtually all enterprise-network managers understand the technology and how to manage it. With its software provisioning capabilities, Ethernet also dramatically simplifies the task of upgrading new services for providers, enabling them to be much more responsive to customer needs.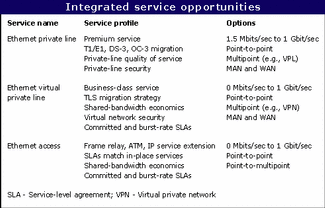 From the customer premises equipment and customer located equipment cost perspectives, the argument is also very clear: Ethernet interfaces cost an order of magnitude less than traditional WAN interfaces. For example, a Gigabit Ethernet interface is about $2,000, while an OC-12 (622-Mbit/sec) ATM interface is about $20,000. Those numbers, combined with the very aggressive pricing set by early MAN Ethernet vendors, is driving very strong customer interest in these Ethernet services.
Moreover, the software provisioning that Ethernet supports dramatically reduces operational costs for providers by enabling upgrades via software rather than expensive truck rolls. To put that in perspective, a carrier who can eliminate a single $500 truck roll per day across a fleet of 100 trucks would save $13 million in one year. Extending that to even a relatively small fleet of 500 trucks, then eliminating a single truck roll per day could translate into a $65-million savings within the year.
Limitations of Ethernet overlays
While these advantages are clearly compelling, it's important to note they all relate to Ethernet as a service interface. Ethernet overlays, or Ethernet over dark fiber, currently have several limitations that providers must take into consideration.
The first roadblock is scale. Ethernet-overlay networks today are point-to-point connections, with the carrier pulling new dark fiber to each new endpoint. While this approach may be viable for small networks, it becomes impossible for the large number of endpoints that most established providers service in their metropolitan deployments.
Another issue is back office costs. Between 40% and 50% of the cost of deploying a new service is in the provisioning, management, and billing systems needed to turn technology into revenue. Established service providers already have large-scale operational support systems that manage their existing network infrastructure. The cost of entirely new back office systems must be factored into the total operating expenses of deploying an overlay service.
Finally, providers need to consider the breadth of differentiated services they can provide across a network. Current Ethernet-overlay networks offer primarily best-effort Internet access service. While there are many initiatives underway to increase the resilience, voice quality, and service guarantees that are the building blocks of differentiated services today, pure Ethernet services rely on proprietary techniques to offer network-wide resiliency, service scalability, and levels of service differentiation. While the resilient-packet-ring initiative is working on a standard for providing resilience in ring architectures, the effort is months away from agreeing on a final draft standard. Few providers can afford to bet their success on proprietary solutions.
Best of both worlds
Integrating Ethernet services into existing infrastructures enables providers to maximize their Ethernet profit opportunity while wringing more revenue out of existing SONET/SDH transport networks and back office resources. With billions of dollars in SONET/SDH equipment installed worldwide and billions more dollars spent on back office systems to manage these networks, the opportunity to leverage these investments cannot be overstated.
As noted previously, much of the argument in support of separate data transmission overlays stems from the fact that traditional SONET/SDH infrastructures are notoriously inefficient at handling packet data traffic. Designed for circuit voice traffic, SONET/SDH dedicates a path throughout the network whether or not it's being used. Therefore, providers are forced to over-engineer their data services by, for example, supporting a 6-Mbit/sec request with a DS-3 (45-Mbit/sec) circuit. The result is that providers see lower profitability, as data services become a larger percentage of their overall business plans.
Next-generation SONET/SDH solutions, which bring statistical multiplexing to SONET/SDH, are key to enabling providers to carry data traffic efficiently across their existing infrastructures. Instead of dedicating unnecessary bandwidth to each customer connection, these new platforms are capable of grooming packet traffic from many users to shared SONET paths.
Therefore, a single path can serve many hundreds of customers with flexible, but explicit, service-level guarantees. In one conservative example (see Figure), the result is a more than 70% reduction in end-to-end transport costs, with lower cost per service because the capacity needed to serve each customer is reduced and improved return on assets as more revenue is generated from existing capacity.
This increased efficiency, coupled with the fact that much of the SONET/SDH network is already depreciating, makes it a much more cost-effective alternative to major investments in new dark fiber. Also important to the bottom line is that integrated services enable the cost of back office systems to be shared across all services.
With back office provisioning, management, and billing systems constituting more than half the cost of a new service, this ability to spread the cost can significantly shorten the time to profitability. According to a research report, "Gigabit Ethernet in the Metro Market," published by the Yankee Group (Boston) last July, next-generation SONET equipment sales are expected to increase from $2.2 billion in 2001 to $7.3 billion in 2005 in North America alone. That will play a major role in the deployment of metro Ethernet services.
Perhaps the single most important advantage of integrated services is the range of premium services that providers can offer based on the
50-msec restoration/recovery, global scale, resilience, management, and performance measurement features inherent in SONET/SDH. These capabilities enable providers to offer a wide range of differentiated services that give them an edge in offering high-margin services to enterprise customers whose businesses cannot afford to rely on best-effort services. Examples of the services (see Table) made possible today with integrated architectures include:
Ethernet private line (EPL) for many applications such as storage-area networking, H.323 voice-over-IP, broadcast-quality video, and legacy systems network architectures that require traditional private-line security and performance guarantees. EPL can also extend across the WAN between any two points accessible via the global SONET/SDH network.
Ethernet virtual private lines (VPLs) as a more cost-effective LAN-to-LAN service featuring granular bandwidth with SLAs that are comparable to frame relay and ATM services. VPL provides LAN-speed connections between two or more sites that span a MAN and WAN, with point-to-point and point-to-multipoint options.
Ethernet access services for simple Layer 2 entry points to IP, frame relay, or ATM services, with the added benefit that traffic from multiple customers spanning different access rings can be aggregated and forwarded through shared SONET/SDH paths to an application or service point-of-presence. This flattened Layer 2 access architecture reduces router hop counts and simplifies local loop administration.
Simple migration
There is little doubt that networks will evolve to include advances in scalability, resilience, and end-to-end fiber management to the point where data overlays will provide a more cost-effective solution for most providers. Until then, established providers seeking to add Ethernet services will find integrated solutions better suited to their profitability goals, while data-overlay networks will be a viable choice primarily for emerging providers focused on smaller-scale, best-effort services.
The evolutionary path of integrated solutions enables providers to get new revenues now with next-generation, carrier-class Ethernet services, while positioning themselves to take the next step to all-Ethernet networks.


---
Anand Parikh is co-founder and vice president of product marketing and business development at Appian Communications Inc. (Acton, MA). He can be reached via the company's Website, www.appiancom.com.