A graph is worth a thousand words
Aug 1st, 2002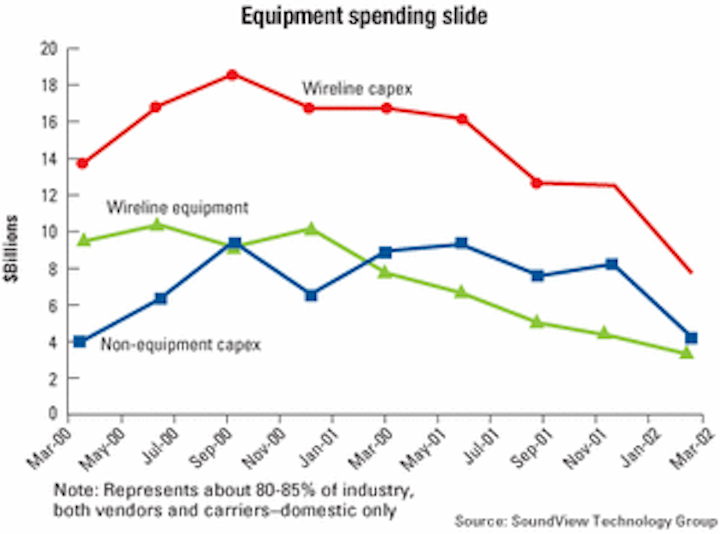 Investors may stay on the sidelines of the core and metro markets until the competitive clutter starts to clear.
BY KEVIN SLOCUM
As spring moved into summer, the question remained, when would we hit bottom in the telecommunications equipment sector? Many, including us, have succumbed to false hopes at various steps along the way. Stocks slid ahead of the decline and everyone knows they will rise ahead of the turn. SoundView has pointed to some of the prerequisites of a turn, and some of those have fallen into place. At the same time, share prices hit record low valuations in June amid continued tough industry news. That led us to take another look at the worst market during this slide: the United States.
The Figure is our attempt to tally as much of equipment spending as we could find in financial documents from global suppliers such as Lucent Technologies, Alcatel, and Fujitsu. We then compared the results against the U.S. capital-expenditure figures tallied for the same period. Our wireline data captured $40.3 billion in equipment spending in 2000 and $24.1 billion for 2001 in contrast to capital expenditures by the wireline carriers of $65.6 billion and $57.9 billion, respectively. The remaining line on our graph is the difference between these two data sets-carrier spending we would attribute to network construction, computer equipment, software, and services.
Sliding slower
The good news is that in the March quarter, wireline equipment sales slid at a pace that was substantially slower than other capital-spending activities on non-telecom equipment sales. The bad news is that spending nonetheless continued to slide, 21% versus 47%, for non-telecom equipment spending. We should soon have the same data for the June quarter.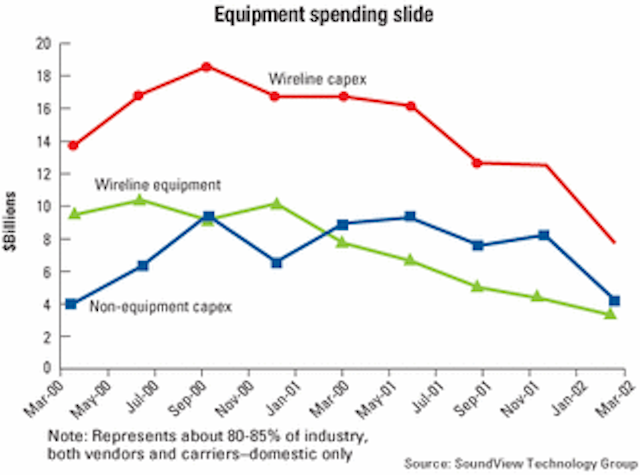 As we entered the reporting cycle for equipment suppliers, our hope was that the slope of the decline in equipment spending would continue to moderate and that the non-telecom piece would still be sliding at a steeper pace. That would tell us carriers were having a harder time ringing equipment savings from their operations and are having to look elsewhere for savings until they see a turn in revenue.
Bottoms up
It might also signal the bottom and a reason for stocks to start looking forward to easy revenue comparisons during the next 12 months. In the meantime, all we can do is look for cost-structure improvements to blunt losses, which is a positive. However, absent revenue growth and improved competitive conditions, we think a sustained rebound in the sector overall is unlikely.
Given these trends, there is a growing consensus among wireline suppliers that a recovery will be pushed into next year and a sustainable recovery is hard to imagine in the absence of significant industry consolidation. The latter will probably require revenue stability in the industry before getting underway in earnest. With so few carriers awarding business in the current environment, vendor product value propositions are hard to differentiate, and it is difficult for analysts and investors to pick winners. We expect investors to remain on the sidelines of the core and metro telecom markets until there is some clearing of the competitive clutter. The realization of a recovery of any consequence slipping into next year may finally trigger moves by some industry participants to make their exit. We can only hope. Surviving carriers will be more demanding than in the past. In the absence of consolidation, that burden will limit recovery margins.
Look to metro/access for signs
A recovery is most likely to first get underway in the metro/access markets. Stocks in that sector have become inexpensive by many measures, but a lack of any certainty that there can be a period of sustained recovery is likely to cause the sector to continue to lag the technology markets in general. A handful of names may be cheap enough to keep pace with the market, but getting the handful right is far from a certainty.
Without much help from their end customers, it is hard to paint a rosy picture of the optoelectronic-module suppliers. Only Agilent Technologies stands out to us among optical-module suppliers. Agilent's business is more diversified and enterprise-oriented than competitors in the group. We believe the company's diversity has already resulted in an earlier turn in its business, and it will continue to lead other communications names into a recovery. Like Agilent, Agere Systems benefits from the diversity of its Client Systems unit, but limited visibility on a return to profitability lessens our enthusiasm at least for now.
Next month, we will update you on the data for the June quarter. Until then, enjoy the rest of the summer.
---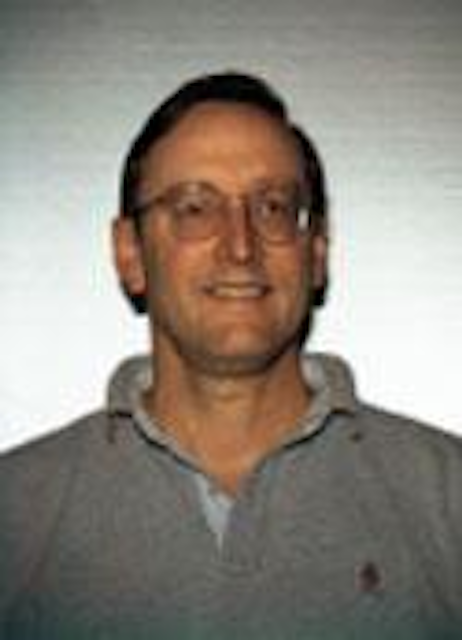 Kevin Slocum is a managing director and head of communications research at SoundView Technology Group (Greenwich, CT). He has more than 20 years of financial industry experience, including institutional equity research sales and analysis, and has been named to the Wall Street Journal's prestigious "Home Run Hitter" list two consecutive years. He can be reached at (203) 321-7200 or kslocum@soundview.com.