Carriers must lower opex per bit to keep pace with declining revenue
Jul 1st, 2003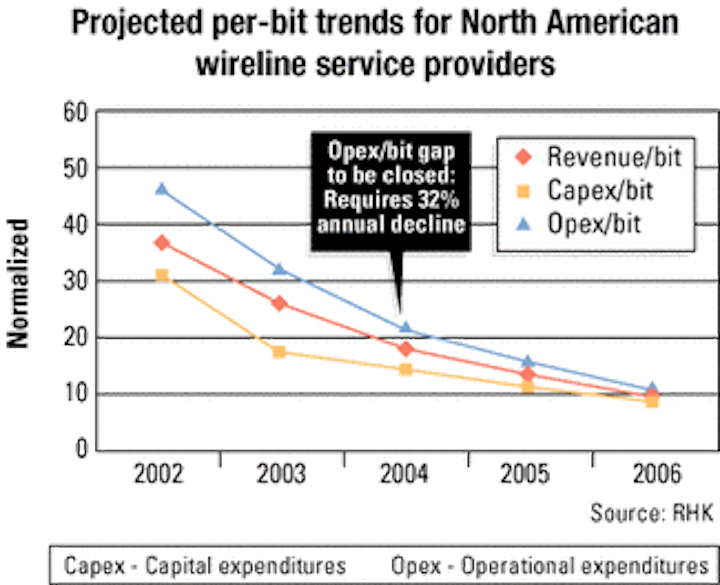 Service providers must reduce their operational expenditures (opex) per bit by 32% per year to keep pace with declining revenue, reveals new research from RHK (San Francisco). RHK's forecasts for service-provider revenue, capital expenditures (capex), and traffic point to a significant challenge for opex.
North American wireline carriers experienced an annual revenue-per-bit decline of 15% from 1996 to 2002. Opex per bit did not keep pace during that period, declining just 12% per year. However, say RHK analysts, carriers made remarkable progress with capx per bit, which fell 18% per year during the six-year span.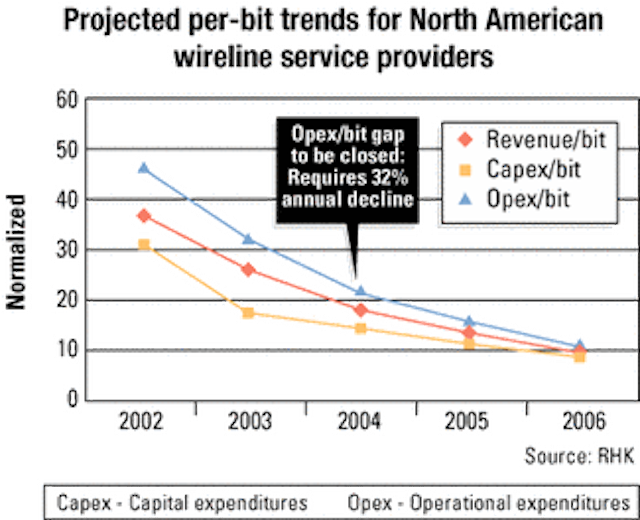 Through 2006, the decline in revenue per bit is expected to accelerate to an average of 29% per year, as relatively low-revenue IP traffic becomes more dominant. "IP revenue per bit declined by 50% last year, though this rate is expected to slow," reports Shing Yin, senior analyst with RHK's Telecom Economics Program. North American wireless carriers are facing the same challenges as wireline carriers, with price competition driving margins lower.
RHK also studied opex for a sample of European service providers and confirms that opex reduction needs to be a priority in Europe as well. "Many European carriers have higher network costs compared to North American averages, indicating that they have many opex issues to address," explains Kate Horricks, senior financial analyst with the Telecom Economics Program.
For more information, visit the firm's Website, www.rhk.com.