2003 promises higher component revenues
Feb 1st, 2003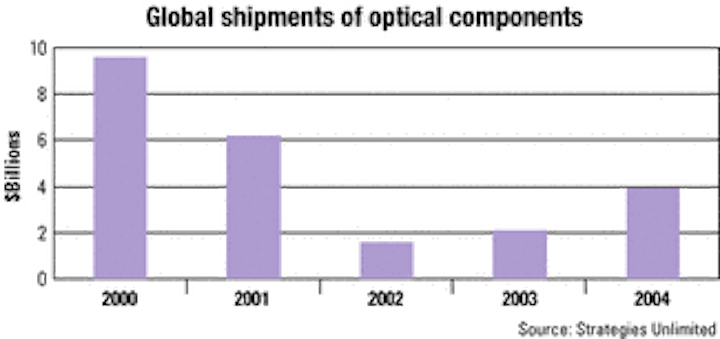 We all know the bad news from 2002, an absolutely brutal year for optical-component vendors. With product shipments at less than one-fifth their level in 2000, it was no wonder that industry giants like Agere Systems and Nortel Networks' High Performance Optical Components group were racing for the exits.
But 2003 offers some rays of hope. It may be years before shipments reach the heights seen in 2000, but many optical-component manufacturers will see revenues grow in 2003. Overall, Strategies Unlimited forecasts a 30% increase in the dollar volume of optical-component sales, compared to 2002. We estimate that shipments of optical components will rise to $2.1 billion in 2003. The relief comes as inventories are depleted, first at the system level, then subsystems, then components, and finally for subcomponents and tooling makers.
Let's review our understanding of the state we're in. The current downturn is not the result of a general weakness in the economy, the aftermath of Sept. 11, fraud at WorldCom, or too much or too little government regulation. It's simply a correction to the unsupportable levels of investment that took place at all levels of the telecommunications supply chain in 1998-2000.
Telecom capital expenditures (capex) peaked in 2000, as carriers worldwide chased the pot of gold expected at the end of the Internet rainbow. They built it, but the customers didn't come. Even when customer traffic increased, revenues remained flat or even fell.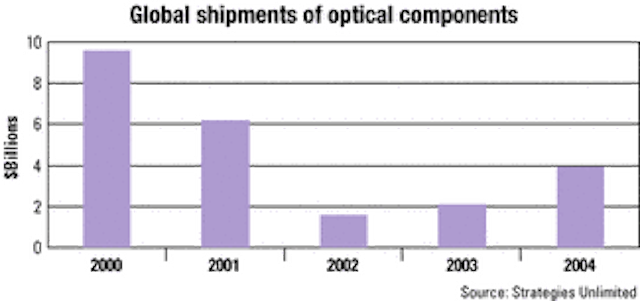 When the carriers stopped their spending spree, all came to a crashing halt. Like the end player in crack-the-whip, optical-component manufacturers were hit hardest by the change in spending. At the height of the boom, their factories were operating at full tilt. Subsystem and system vendors, wary of the danger of being unable to ship a multimillion-dollar system for lack of a $20 part, had been double-ordering and building up safety stocks of key components. Thus, when the game abruptly ended, the industry was beleaguered with huge inventories of components.
The inventory situation today is much improved, but not uniformly so. Components that aim at the long-haul (LH) market, represent "yesterday's" products, or sit relatively low in the supply chain will continue to be troubled. Relatively high inventories remain for continuous wave ITU grid lasers, thin-film filters, medium-power pump lasers, and commodity-type products such as couplers or materials for some passive devices.
Components that are highest in the supply chain, aim at the metro market, or address new markets are in the best position. These include metro transceivers, coarse WDM products, state-of-the-art high-power pump lasers, and new products for 40-Gbit/sec systems.
For things to improve further, carriers must start opening up their pocketbooks. We do not expect that to happen to any significant extent in 2003. European carriers such as France Telecom and Deutsche Telekom are awash in debt, principally from their expenditures for wireless infrastructure. A number of North American LH carriers remain in bankruptcy. Incumbent local-exchange carriers like Verizon, SBC Communications, and BellSouth have cut back on capex, partly because their revenues and profits have fallen from the recession and partly as a political strategy to gain regulatory relief.
Verizon, SBC, and BellSouth have announced that they plan to spend a combined $23 billion in capex in 2003, about 17% of their expected revenues. That is below their 20-22% pre-bubble ratio of capex to revenues. Simultaneously, these companies have all set aggressive targets for headcount reduction. The only way they can achieve these targets is by putting new equipment in place that automates provisioning and reduces truck rolls. Thus, we believe they are underspending on capital and expect their pocketbooks will eventually open up but probably not until late 2003 or 2004.
One area that has provided hope for component and equipment manufacturers is China. In 2001, China's addition of 36 million new wireline subscribers gave the country a total of 136 million subscribers, the largest total of any country in the world. Its 10th Five Year Plan for National Economic and Social Development, issued in 2001, calls for the number of wireline telephones per capita to nearly double to 25% by 2005, reaching more than 250 million. Investments estimated at over $150 billion will be needed to meet China's telecom infrastructure goals.
However, China offers a double-edged sword to beleaguered suppliers from the West and Japan. While we forecast that the Chinese optical-component market will double to $550 million by 2005, we also expect Chinese vendors to compete aggressively against established players from North America, Europe, and Japan. Already, Chinese vendors provide nearly 45% of the components and systems used by Chinese service providers. These vendors are casting their eyes beyond their shores and can be expected to go after business opportunities in North America and Europe when wireless capex once again rise.
Clearly, we must all remain prepared for continued turbulence in the optical-component and system markets. Further shakeouts are likely in the year to come, and even as business conditions improve, competition will be intense. However, 2003 does offer some rays of hope as inventory burn-off finally ends and new markets such as China offer possibilities for growth.
Peter Farmer is the managing director of Strategies Unlimited, a market research and analysis firm in Mountain View, CA.