Optical long-haul recovers in 2005 with 32% gain
May 1st, 2006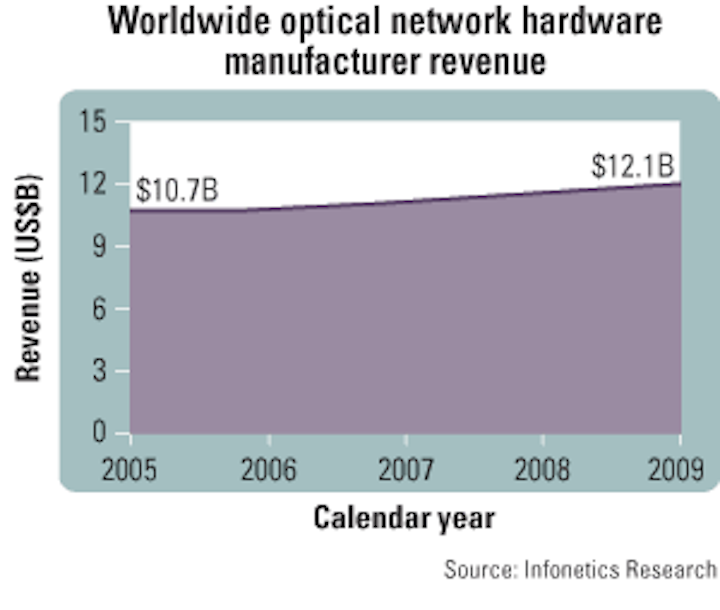 According to a report by Infonetics Research (Campbell, CA), worldwide optical revenue increased 19% between 2004 and 2005 to $10.7 billion, driven by strong growth in the metro equipment segment (up 15%) and the long-haul segment (up 32%).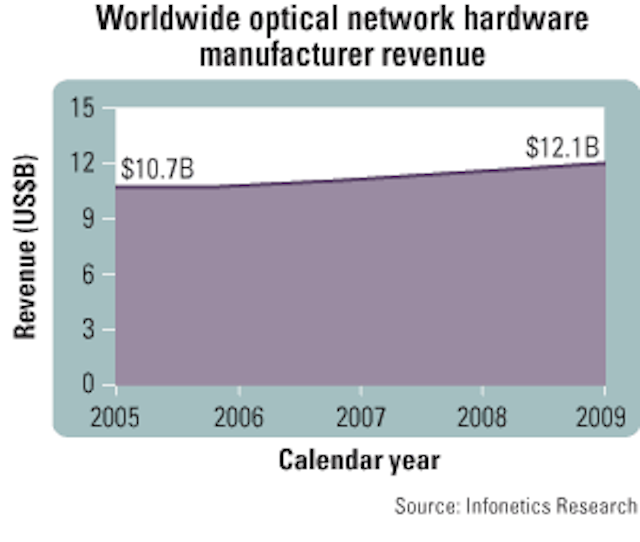 "2005 was the first time we've seen a gain in the optical long-haul segment since 2001, a good sign that carriers realize that investing in today's long-haul equipment will save them money in the long run through operational returns," observes Michael Howard, principal analyst at Infonetics Research.
According to the report, optical network hardware revenue was up 10% to $3.0 billion between 3Q05 and 4Q05, fueled by gains from ADVA, Alcatel, Ciena, Corrigent, ECI, Huawei, Siemens, Tellabs, and others; Cisco, Fujitsu, and NEC were down for the quarter. Alcatel remained the leader in worldwide optical-network hardware revenue share in 2005, followed by Nortel, Huawei, Fujitsu, and Lucent.
The report reveals that in 2005, WDM hardware made up 32% of total optical revenue and will increase to 40% in 2009; WDM ROADM switch hardware made up 19% of WDM revenue and will increase to 37% in 2009. Also, North America accounted for 32% of total optical network hardware revenue, EMEA for 33%, Asia Pacific 29%, and CALA 6% in 2005.
"The new long-haul WDM equipment provides greater efficiencies through ROADMs and other advanced features, enabling carriers to address competitive pressures, rising broadband traffic, and IPTV opportunities," maintains Howard. "As more carriers upgrade their networks, we'll see steady growth in the optical market at least through 2009."
The firm notes that although the long-haul segment is improving, the bulk of spending continues to be in metro optical equipment, which made up 71% of all optical network hardware revenue in 2005, compared to long-haul's 29%.
For more about the quarterly "Optical Network Hardware" report, visit www.infonetics.com.