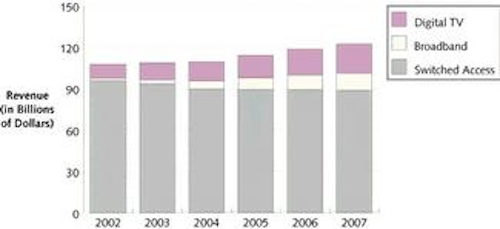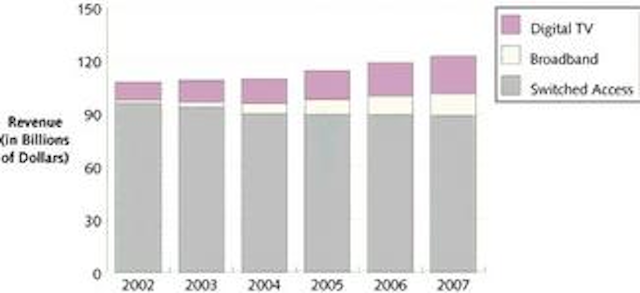 EMEA switched access, broadband, and digital TV forecast, 2002 to 2007
7 August 2003 London--The market in the EMEA region for consumer telephony, broadband services, and digital TV is assessed to be worth almost EUR 100 billion and is set to grow at a CAGR of 2.8% through 2007 according to Yankee Group's revised European Consumer Fixed-Line & Media Forecast.
The increasing uptake of both broadband services and digital TV will drive this growth. Subscriber growth in these two consumer services will more than compensate for the declining revenue from fixed telephony services. However, average revenue per user (ARPU) from broadband and digital TV will remain flat and service providers must address this challenge to avoid problems in the longer term.
Yankee's analysis covers the entire EMEA region and includes individual forecasts for 10 major countries in the region.
The starting point for the forecast is a thorough review of revenue and subscriber numbers recorded by telecommunications, broadband service, and digital TV providers during 2002 and Q1 of 2003. Apart from basic data collection, this stage entails normalisation of data to ensure consistency across different service providers and territories.
The forecast segments the numbers in the following way:
- Switched access comprises fixed rental, national, and international telephony usage.
- Broadband includes DSL, cable modem, and alternative access technologies.
- Digital TV includes revenue from DTH satellite, digital cable TV, and digital terrestrial television (DTT).
Forecasts include assumptions about the split between consumer and business usage where these are not directly reported. These are developed by inference from other territories or after discussion with relevant service providers.
For some smaller countries and less developed regions, the Yankee Group inferred subscriber and revenue totals using related data from published sources and data on demographic and economic development. This enables Yankee to create aggregated totals. Complete forecast methodology
details are provided in the report.
Results and observations
Table 1 shows the aggregate EMEA forecast for 2002 to 2007. In telecommunications access networks, the migration to broadband services only just compensates for the decline in revenue from switched access. Excluding digital TV, the consumer market will rise by just 0.05 percent per annum over the forecast period and it actually will decline in both 2003 and 2004. A key reason for this decline in the early years of the forecast is cannibalization of narrowband Internet revenue as consumers switch to broadband, resulting in falling Internet usage revenue.
However, falling prices for telephone usage and market saturation primarily will drive the decline in switched access revenue. In fact, the forecast shows that revenue from national telephone usage will fall from around EUR 35 billion to only around EUR 24 billion in 2007 - an annualised decline of 7.7%.
This decline is a key factor in the widespread promotion of DSL-based broadband by European telecom service providers: Broadband offers the only obvious means to increase overall revenue derived from consumer phone lines. We anticipate revenue from DSL-based broadband service provision will rise from about EUR 2.7 billion in 2002 to around EUR 13.2 billion in 2007.
The increasingly aggressive posture of telcos in the broadband market, together with a distinctly patchy effort by cable TV companies offering cable modem service, has skewed the broadband market toward DSL. In 2002, 64% of European broadband subscribers used DSL; by 2007, Yankee expects that to increase to 69%.
Meanwhile, digital TV is expected to make steady progress throughout the forecast period. Revenue will double, from just over EUR 7.5 billion in 2002 to almost EUR 15.9 billion in 2007. Household penetration will rise from around 9% to about 20% over the period.
One notable feature of the European market is that, in both broadband and digital TV markets, penetration and revenue vary widely by country. Yankee expects to see those variations even out somewhat over the forecast period; yet there will continue to be much more national variation than in the parallel markets for fixed and mobile telephony. For example, while digital TV household penetration will be around 20% in Italy in 2007, in the UK it is expected to reach almost 60%.
Those selling services and products into this region must expect continuing wide variation by country for the foreseeable future.
Conclusion
This forecast shows that although consumers will continue to spend more each year, it will still be a tough market. Service providers will have to fight for every euro. In particular, there is everything to play for at the dividing line between broadband services and digital TV.
BSPs need to increase revenue from new services, especially premium content. Digital TV providers, meanwhile, are encroaching into the online arena with a range of revenue-earning interactive services. The battle for consumer cash is likely to be won or lost on this interface.
Service provider recommendations
- Focus on acquiring and retaining new customers. Keys to success here include compelling price and package tiers carefully targeting specific demographic groups as well as investment in CRM.
- Develop attractive content packages and "triple-play" propositions that mix telephony, Internet access, and entertainment, aimed squarely at high-spending early adopters.
- Seek control of the home-networking environment by offering simple but powerful connectivity packages to consumers before rivals do.
Equipment vendor recommendations
- Help service providers control costs. In a market characterised by flat ARPU and slow overall growth, controlling costs will be vital for all types of service providers.
- Partner with service providers to deliver easy-to-use plug-and-play solutions in the consumer market. Digital consumer products are becoming more complex and highly featured, but consumers will not use services and products that do not work right out of the box.
Visit The Yankee Group