Making virtual tributaries come to life
By JON AMES and GREG FYKE, PMC-Sierra, Inc. -- SONET/SDH infrastructures can support Ethernet access services, thanks to new standards.
Sep 5th, 2003


Figure 1. Migrating from T1/E1 mapped data over SONET/SDH to direct mapping of Ethernet to the Low-Order SONET/SDH payload.
SONET/SDH infrastructures can support Ethernet access services, thanks to new standards.
Jon Ames and Greg Fyke
PMC-Sierra, Inc.
The Internet and the growing global economy are changing the landscape of modern communications. SONET/SDH networks once dominated by voice traffic have been witness to an overwhelming shift towards data. The applications driving this growth are both numerous and diverse but they share a common thread -- Ethernet. As fiber extends farther into the access network, the dependence on copper-based T1/E1 technologies for data communication diminishes. Standards-based solutions are now available that can provide Ethernet access services using the installed base of SONET/SDH equipment. Ethernet access services increase network efficiency, improve scalability, lower operational expenses, and hold the key to higher revenue generation.
T1/E1 evolution
T1/E1 lines are one of the most widely deployed access technologies today. Despite originally being developed to handle the complexities of voice communication, they now carry the greater part of data traffic in the access network. With increased access to fiber at customer locations, the importance of T1/E1 as a transmission medium has declined. Where a T1/E1 link may have once spanned many kilometers, it may now only exist as a short link in the basement of a building before reaching the SONET/SDH network.
The scalability of traditional telecom interfaces has always been an inconvenience. To increase access bandwidth, a subscriber must either utilize multiple T1/E1 ports and multi-link protocols such as ML-PPP or IMA, or upgrade to a DS3 interface. Multi-link protocols add complexity and cost to both customer premises and service provider equipment. Although a DS3 connection is simple in comparison, it represents a substantial increase in bandwidth and requires a completely new physical interface. The gap between T1/E1 and DS3 service has long been a challenge in the access network.
Virtual tributaries are used by add/drop multiplexers (ADMs) and multi-service provisioning platforms (MSPPs) to carry the electrical signals of physical links into the SONET/SDH network. VT1.5s and VC-12s, for instance, are typically used to carry T1s and E1s. Just as any container is often tailored to the characteristics of its contents, VT1.5/VC-12s have been designed to closely track T1/E1 data rates and management capabilities. (Note: VT-2s may similarly be used to carry E1s in SONET and VC-11s to carry T1s in SDH.)
The similarities of T1/E1 and VT1.5/VC-12 containers are highlighted in Table 1. Clearly, the bandwidth of T1/VT1.5s and E1/VC-12s are well matched. Errors are tracked using cyclic redundancy check (CRC) codes in T1/E1 overhead and a bit interleaved parity (BIP) scheme in VT1.5/VC-12s. If one or more errors are detected, all protocols will send a remote error indication (REI) back to the path source and, in the absence of a valid incoming signal, an alarm indication signal (AIS) will be generated.
Table 1: T1/E1 and VT1.5/VC-12 Similarities
| | T1 | VT1.5 SPE | E1 | VC-12 |
| --- | --- | --- | --- | --- |
| Line rate (Mbits/sec) | 1.544 | 1.664 | 2.048 | 2.240 |
| Max. Data rate (Mbit/s) | 1.536 | 1.600 | 1.984 | 2.176 |
| Performance Monitoring | CRC-6 (F-bits) | BIP-2 (V5 Bit 1-2) | CRC-4 (c-bits) | BIP-2 (V5 Bit 1-2) |
| REI | F-bits | V5 Bit 3 | E-bits | V5 Bit 3 |
| AIS | All ones | V5 Bit 5-7 | All ones | V5 Bit 5-7 |
Ethernet access services
Although T1/E1 standards define additional timing and signaling facilities, they are of no value to data services. Packet-based traffic is inherently resilient to jitter and the signaling system is only applicable to voice channels. So where fiber to the building exists, this additional layer of management has become redundant for data connections. In fact, when transporting Ethernet traffic over the SONET/SDH network, the entire T1/E1 frame is redundant. VT1.5/VC-12 containers alone are capable of transporting Ethernet (see Figure 1). Recent enhancements to standards have leveraged this fact by creating an Ethernet transport system based solely upon VT1.5/VC-12s. The result is the Ethernet access service¿ an Ethernet over SONET/SDH service that operates at scaleable T1/E1 rates.
In practice, Ethernet cannot be directly mapped in to either T1/E1 or VT1.5/VC-12 without some form of rate adaptation. The use of the Bridging Control Protocol (BCP) over Point-to-Point Protocol (PPP) in an HDLC-like framing structure has provided this mechanism for nearly the past 10 years. Data transparency is maintained by examining the frame content between opening and closing flags and substituting special characters with double-byte stuff patterns. In the worst case, this could lead to a two-fold increase in the required amount of network bandwidth. Although the standardization of the Link Access Protocol for SDH (LAPS) offers a somewhat simplified alternative to BCP/PPP encapsulation, it still suffers from the same potential bandwidth expansion problem.
Generic Framing Procedure (GFP) is an encapsulation standard recently adopted by the ITU that offers a solution. A key tenet of the GFP proposal was to ensure that it was bandwidth deterministic. Herein lies the cornerstone of the Ethernet access service: the ability to transmit Ethernet over SONET/SDH at a fixed, guaranteed rate without the need to overprovision the network uplink.
Table 2: Comparison of Ethernet Encapsulation Schemes
| | GFP | LAPS | BCP/PPP |
| --- | --- | --- | --- |
| Delineation | HEC Check Algorithm | Flag Sequence (0x7E) | Flag Sequence (0x7E) |
| Data Transparency | Payload Length Indicator (PLI) | Byte Stuffing | Byte Stuffing |
| Inter-frame fill | GFP Idle Frame | Flag Sequence (0x7E) | Flag Sequence (0x7E) |
In contrast to traditional telecom services, Ethernet access services scale easily. Just as T1/E1s can be logically grouped together using multi-link technologies, VT1.5/VC-12s can be combined into larger transport channels using virtual concatenation. The main differentiator of an Ethernet access service is, however, the customer interface. With a single Fast Ethernet network connection, a customer can subscribe to dedicated bandwidth between 1.6 Mbits/sec and 100 Mbits/sec in increments of 1.6/2.2 Mbits/sec. Compare this to a copper-based NxT1/E1 service where for every step in bandwidth an additional network interface is required. More importantly, the connection of these individual T1/E1 ports may need to be provisioned in the field by a service technician. In contrast, Ethernet access services can be provisioned remotely and bandwidth can be increased without the need to add additional physical links (see Figure 2).
Deployment considerations
A concern related to the widespread use of VT1.5/VC-12-based Ethernet services is the additional demands that they will place on the wideband digital crossconnect system (DCS) infrastructure. Traditionally this type of equipment has been expensive, cumbersome, and power hungry. However, new merchant silicon has enabled low-cost service cards that can be readily deployed at the metro edge and core. The combination of lowered wideband equipment costs and increased VT1.5/VC-12 utilization highlights new revenue potential for network providers.
Deployment of Ethernet access services also results in the simplification of customer premises equipment (CPE.) As virtual concatenation is restricted to the endpoints of a SONET/SDH network, it imposes no additional requirements on the Ethernet-based customer equipment. Multi-link T1/E1 services, in contrast, require multi-link T1/E1 access equipment. Because Ethernet interfaces operate at much higher line rates than T1/E1s, fewer network ports are required to achieve the same uplink capacity. While it is true that DS-3 and OC-3/STM-1 interfaces could be used to achieve higher line rates, Ethernet is still the most cost-effective alternative. Regardless of the technology, volume is one of the most effective tools to drive down the costs of a solution and Ethernet components have reached near commodity status due to their widespread use in the LAN.
Ethernet access services represent an evolutionary shift in access technology. These services build upon the legacy of the T1/E1 carrier system, leverage the installed base of SONET/SDH equipment, and take advantage of the ubiquity of Ethernet in the LAN. With the support of standards such as GFP and virtual concatenation, Ethernet has been transformed into a viable metro access medium. Although Ethernet access services mark a shift away from traditional T1/E1 copper interfaces, the fundamental service remains the same. Customers will undoubtedly value the cost-benefits, guaranteed bandwidth, and scalability of this Ethernet-oriented service. Carriers and service providers will profit from the ability to grow subscriber bandwidth at the touch of a button.
Jon Ames is product marketing manager, Service Provider Division, PMC-Sierra, Inc. (Santa Clara, CA); www.pmc-sierra.com/networking.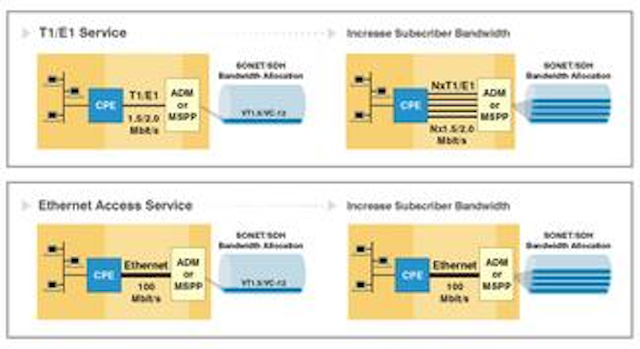 Figure 2. Bandwidth on demand.