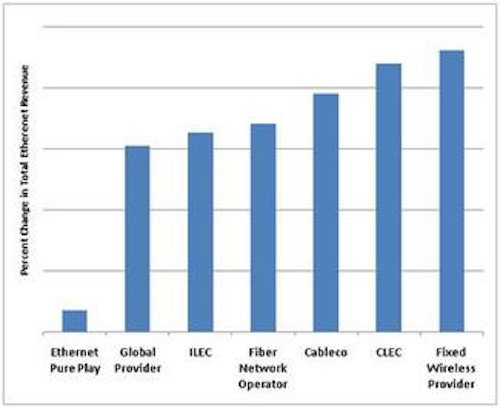 FEBRUARY 6, 2009 -- Metro Ethernet service has played a starring role on the telecommunications stage in recent years. New Ethernet installations are growing at a phenomenal rate and are generating revenue growth, while other services languish. This has created a dilemma for established carriers whose businesses were built on legacy service: Is it better to chase these "growth" dollars, or to continue reaping healthy margins on older service, despite slowing (or declining) revenue?
For providers operating without the burden of legacy infrastructure and services, the hard choice of others represents enormous opportunity. New Paradigm Resource Group details these challenges and opportunities in its just released Metro Ethernet Sector Analysis.
The figure below charts the year-on-year change in domestic Ethernet service revenue logged by each provider category. (Providers are grouped by their 2008 categorization; M&A activity is not discounted.) Fixed Wireless Providers recorded the largest percentage increase, a reflection more of their low 2007 baseline than anything else.
CLECs and Cablecos achieved the greatest genuine growth in Metro Ethernet, outpacing even the strong gains made by fiber network operators (FNOs) and incumbent local exchange carriers (ILECs), which includes AT&T and Verizon.
Ethernet pure plays, a group dwindling through attrition and absorption into other categories via M&A activity, managed more modest increases. This group has been competing via Ethernet the longest, say NPRG analysts, and thus has a mature revenue baseline that mutes the relative impact of new growth. NPRG says its research reveals that the novelty of the pure play model has worn off, and Ethernet is now being harnessed as a growth engine for companies with more diverse businesses.

Visit New Paradigm Resources Group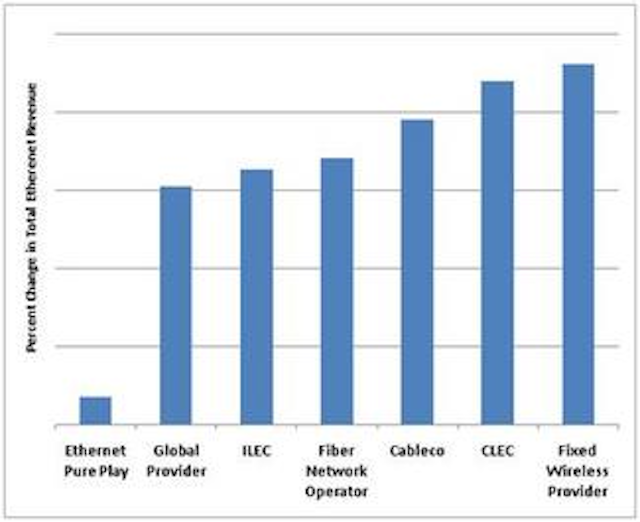 Annual Change in Total U.S. Ethernet Revenue, by Provider Category (2007-2008)