North American optical transport equipment sees only 10% growth in 2001
Aug 1st, 2001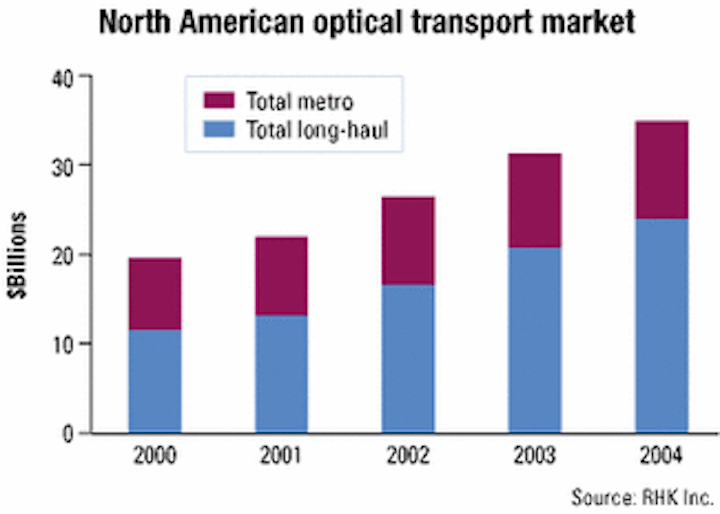 Growth in the overall North American optical transport market will slow to 10% in 2001, says new forecast figures from market researcher RHK Inc. (San Francisco). That compares to a 1999-2000 growth rate of 67% and a previous RHK forecast of 37% for 2001.
RHK reports that, given the current uncertain economic environment, service providers are focusing on improving utilization of their existing networks, moving more cautiously in selecting new products to deploy and taking advantage of a buyer's market to renegotiate vendor contracts. RHK expects the North American optical transport market to re bound in 2002, as service providers deploy new transport pro ducts and the long-haul WDM market begins to recover from flat sales in 2001. RHK forecasts that the North American optical transport market will grow from $19.6 billion in 2000 to $21.6 billion in 2001 and $34.9 billion in 2004, a CAGR of 15%.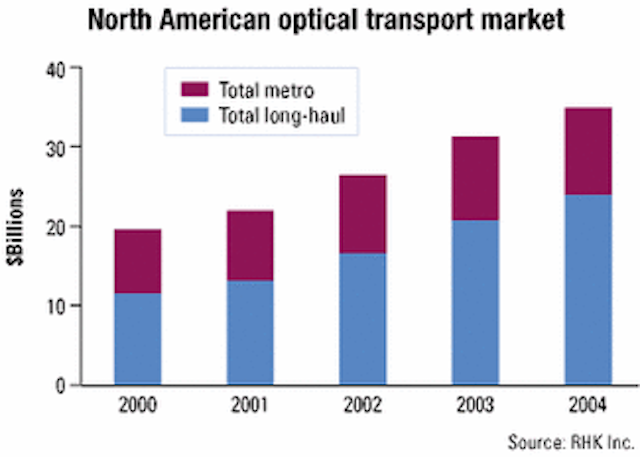 The new forecast analyzes how current macro-economic conditions have affected specific segments of the optical transport market. Changes recorded in the metro segment, which include WDM, SONET, and digital-crossconnect (DCS) equipment used in metro applications, are moderate, with RHK expecting the $8.1-billion 2000 market to grow with a compound annual rate of 8%.
The long-haul market, which includes WDM, SONET, and DCS equipment used in long-haul applications, accounted for 59% of total spending in 2000 and was most affected by the softer market. Specifically, long-haul WDM has seen increased competition and decreased pricing of low-channel-count systems (40 or fewer wavelengths). OC-48 SONET equipment has seen decreased pricing due to increased competition among vendors. Several new product categories have gotten off to a slower-than-anticipated start. RHK projects that the 2000-2004 CAGR of the long-haul segment will be 20%.
"Cutting the forecast by technology, RHK expects the North American WDM market, which includes both metro and long-haul WDM equipment, to grow 37% in 2001, with a CAGR of 36% through 2004," predicts Dana Cooperson, director of optical transport, North America. "The strongest growth rates will be in optical core switching and ultra-long-haul systems. In contrast, we expect traditional long-haul systems to be flat this year as a result of pricing pressure and slower network expansion and then begin to recover in 2002."
The new forecast provides a range of 2001-2004 market scenarios and key indicators to monitor and anticipate likely developments. For more information, contact RHK at 650-737-9600 or visit the company's Website at www.rhk.com.