Next-generation SONET/SDH equipment market sees growth
Jun 1st, 2001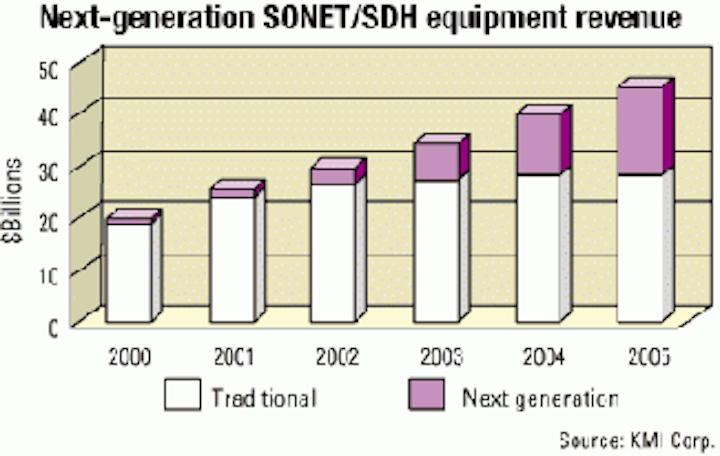 Next-generation SONET/SDH equipment comprised only 4% of the nearly $20-billion SONET/SDH market in 2000 (see Figure). However, by 2005, next-generation equipment will comprise 38% of the total SONET/SDH market, which will be worth an estimated $45 billion, according to a new study from market-research firm KMI Corp. (Newport, RI).
KMI defines next-generation SONET/SDH equipment to include SONET/SDH-based platforms that can interface with multiple protocols and aggregate lower-bit-rate protocols to various higher-bit-rate SONET/SDH and DWDM signals.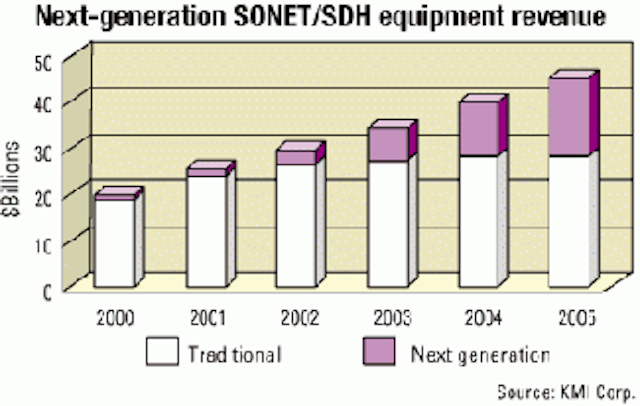 The growth in next-generation equipment sales will come at the expense of traditional SONET/SDH equipment sales, says the report-particularly in the SONET market, where next-generation equipment will jump from just $600 million in 2000 to more than $11 billion in 2005. Transmission systems at OC-48 will begin to see negative growth in 2004, while OC-192 systems will see negative growth beginning in 2005.
The SDH segment is projected to jump from $200 million in 2000 to $5.8 billion in 2005, when next-generation equipment will comprise 28% of the total SDH market. Traditional SDH equipment will have low-to-flat annual growth for the majority of the forecast period, claims the report, but it will remain positive growth through 2005.
Increased traffic demand, traffic trends, and new concepts in MAN design are driving the growth in the overall SONET/SDH market, while the need to ramp signals on to higher-bit-rate metro core, regional, and backbone
networks will propel the migration to next-generation devices, particularly aggregation equipment. Deregulation in Europe will also keep the fiber-optic equipment market strong, as will the demand for SDH equipment in Asia. Asia will be a strong growth area throughout the forecast period, claims the report.
For more information or a copy of the report, "SONET, SDH, and Related Next-Generation Equipment: World-wide Markets for Transport Equipment, Digital Cross-Connects, Digital Loop Carriers, and Associated Mod-ules," call KMI at 401-849-6771 or visit the company's Website at www.kmi.corp.