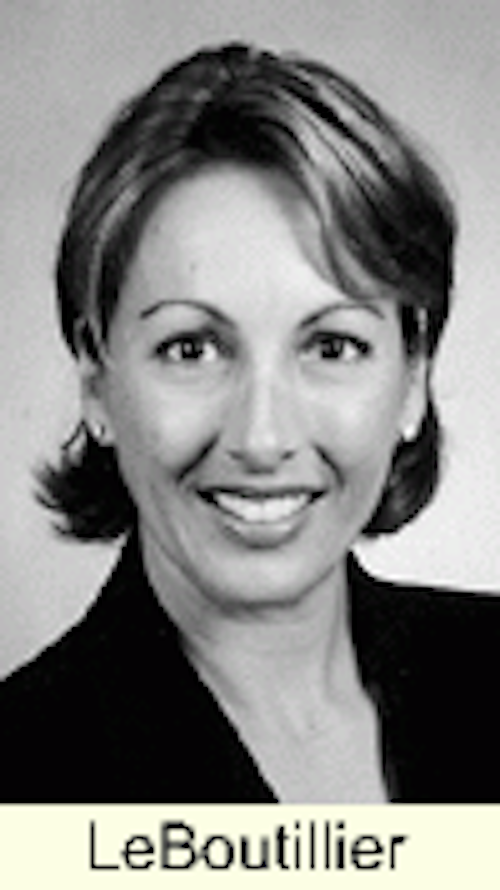 LightPointe Communications has named John Griffin president and CEO, responsible for helping the company execute and deliver clear business strategies around their free-space optical-networking products. Griffin comes to the company with more than 30 years of experience in telecommunications from ADC and US West.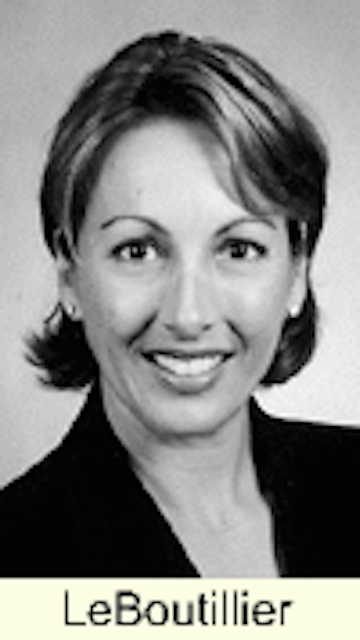 LeBoutillier
Anne LeBoutillier has been appointed director of T Soja & Associates Inc.'s new regional Asia-Pacific office in Singapore. Prior to joining the company, LeBoutillier held product management, strategic marketing, and business development positions with AT&T Submarine Systems Inc. and Tyco Submarine Systems Ltd.
Ian Jenks joins Symmorphix Inc.'s board of directors. Jenks is currently chairman of the board of Oplink Communications Inc. and limited partner with Crescendo Ventures. He is also a board member of a number of privately held companies including Novalux, Digilens, Crystal Photonics, Calmar, and Zolo Technologies.
LaserComm Inc. has appointed Yongqian Liu chief scientist. Liu, who brings 10 years of experience in optical-networking technology, will be responsible for furthering the implementation and maximizing the performance of the company's products in broadband optical communications systems. He worked formerly at Sorrento Networks, where he led the optical hardware group, responsible for the design and integration of the company's carrier-class transport and access system.
Jerry Chappel has joined Onix Microsystems as vice president of sales, responsible for establishing the sales processes and distribution channels for the company's all-optical-switching products. Prior to joining the company, Chappel managed a marketing group within the Lightwave Div. Of Agilent Technologies, focusing on optical test equipment and solutions.
John A. Tull has been named president, Asia, at 360networks, and Jimmy Byrd has been named COO. Tull will be responsible for all the company's sales and operations in Asia, as well as for overseeing the development of a terrestrial network that will link 10 cities in Asia. He will also manage pan-Asian partnerships and alliances. Prior to joining the company, Tull served as vice president of sales, marketing, and service at Level 3 Communications Asia. Byrd will be responsible for network operations, interconnection, provisioning, collocation, and information systems. He comes to the company from Level 3 Communications, where he oversaw all commercial operations in North America.
Patrick McGinty has joined Applied Micro Circuits Corp. as chief information officer. With more than 25 years of experience in information technology, McGinty comes to the company from Texas Instruments/Silicon Systems Inc., where he served for the past 10 years as director of product development systems and director of information technology services.
Raymond L. Robinson has been appointed president and CEO of Pirelli Cables and Systems North America, succeeding Kevin E. Riddett, who has been appointed CEO of the Telecom Cables and Systems activities of Pirelli SpA worldwide. Robinson was previously president of the Communi cations Div. in North America.
Cierra Photonics Inc. has announced the appointment of Bill Kastanis as vice president, engineering. Before joining the company, he was co-founder of SputterTek LLC, which merged with Cierra earlier this year.
ITT Industries, Network Systems and Services has named Jonathan Chauvin-Blitt president for the Americas, leading the company's operations, business development, and marketing strategy in the Americas, as well as being responsible for the organization's migration from a structured cabling and LAN provider to a source for the design, building, and monitoring of high-performance data-communications networks. He previously served as president of Allied Global.
Eugidio Nascimento joins MetroPhoton ics Inc. as CFO. He served most recently as CFO at NetActive, where he played a pivotal role in the company's spin-off from Nortel Networks. He was also responsible for filing a prospectus with multiple securities commissions.
Codeon Corp. has announced the appointment of Paul Yazge as vice president of sales and marketing, responsible for building and managing the company's global sales team and overseeing the company's marketing efforts to support its rapidly expanding product line. Yazge comes to the company from Zaffire Inc., where he served as vice president of worldwide sales and professional services, responsible for helping launch the company's sales and services organization and establishing initial supply agreements with all customers.
David Lockwood has been named CEO and Dr. Iain Anderson has been named chairman of Intense Photonics, both responsible for heading up the senior management team for the company. Lockwood joins from BAE Systems, where he headed up the Sensor Systems Div. Anderson, who is on the board of BT, was the strategy and technology director of Unilever until he retired in 1998.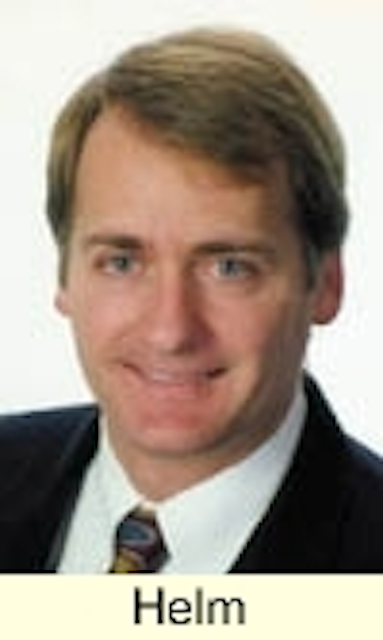 Helm
AirFiber Inc. has appointed Brett Helm president and COO, responsible for overseeing the company's wireless optical-networking product line and maximizing the company's market share in the wire less optical-network ing market. Helm previously served as general manager of Intel Corp.'s Network Equipment Div.
J. Daniel Badillo has been named regional sales manager of American Bright Optoelectronics Corp., assuming responsibility for the East Coast territory, where he will focus on the company's customer relationships and applications engineering service. Badillo joins the company with more than 12 years of experience in various sales, technical, and engineering positions with industrial manufacturers. He served most recently as sales/marketing engineer for Futek, where he developed new accounts and assisted customers with component selection for their application requirements.
The board of directors at Valdor Fiber Optics has announced a technical advisory board has been established, composed of four individuals with many years of experience in the fiber-optic field. Dr. Josephine Yuen, currently director of business development at Bell Laboratories, has joined as advisor for technology and applications. Raj Kapany, president and CEO of K2 Optronics, will serve as technical advisor for operations and marketing. Dr. Ranjit Mand, vice president of optical components at Comstellar Technologies, will be advisor for technology and marketing. John Rockwell, partner in Advent International and manager of its Menlo Park office, will be financial advisor of the technical board. The company has also appointed Glenn Fung director of Valdor. With more than 17 years of experience in the investment community, he worked previously as senior vice president and western Canada regional manager at HSBC Securities Inc.
George Cagle has joined Luxcore as senior vice president of engineering. Cagle brings to the company 29 years of experience in the telecommunications industry, specifically in the design, development, and deployment of telecommunications systems. In addition, he holds four patents in telecommunications signal processing and has experience in delivering DWDM systems and OC-48 and OC-192 SONET terminals and transmultiplexers. He worked most recently as vice president of engineering and chief technology officer at Hitachi Telecom.
Melles Griot has named Christopher Oliver sales and marketing manager, U.K., to strengthen its senior management team as the company continues its sales growth. He worked most recently at Image Automation as sales and marketing director, responsible for worldwide sales and marketing of the Ometron range of laser Doppler vibrometers.
Global TeleSystems Inc. has appointed Duncan Lewis president and COO, re sponsible for overseeing day-to-day global operations of the company. He will focus on expanding the company's broadband services business into the corporate market through the rapid deployment of a sales force and product set that serves the data- and network-communications needs of companies throughout Europe.