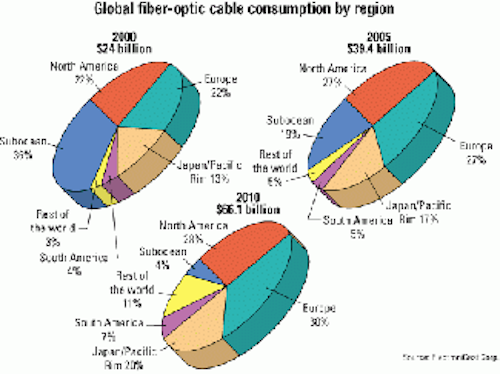 The total deployment of fiber-optic cable reached $24.4 billion in 2000 and is expected to experience an average annual growth rate of 10% over the next five years, netting $39.4 billion in 2005, according to a new study by ElectroniCast Corp. (San Mateo, CA). Over the 2005 to 2010 period, the overall consumption value will reach $66.1 billion, despite a projected decline in subocean cable deployment.
"Current generations of fibers are capable of transmitting 80 channels at 10 Gbits/sec per channel with 50-GHz channel spacing over moderate distances," says ElectroniCast senior analyst Saba Hailu. "Closer channel spacing, more capacity over longer distances without regeneration will be typical of future-generation fibers," she adds.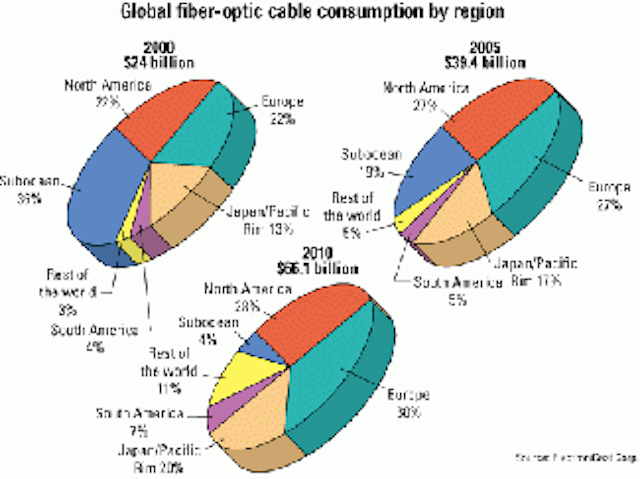 North America led the global consumption of cable in 2000, capturing 22% or $5.4 billion. Its consumption will increase to $10.6 billion by 2005, driven by the proliferation of private LAN/WAN and local-loop networks (see Figure). Though North America is expected to hold 28% of the market or $18.6 billion by 2010, it will be surpassed by Europe, which will consume $19.8 billion or 30% of the total by the end of the forecast period.
The average number of fibers per cable will also increase over the forecast period, according to the study. Countervailing forces such as DWDM, faster optoelectronics, and passive fiber-in-the-loop systems will only slow growth. The local loop fiber count-feeder plus distribution-will grow more rapidly, says the report, particularly in the more industrialized regions of the world.
For further details or to purchase a copy of the report, "The Fiber Optic Cable Global Market Forecast," visit the company's Website at www.electronicast. com or call 650-343-1398.