The total market for European optical transport, which includes shipments for WDM, SDH, and digital-crossconnect equipment, will reach $9 billion this year, according to a new report from market-research firm RHK Inc. (San Francisco). The market will experience a 25% CAGR to reach an expected $14.8 billion by 2004, driven by continued deregulation in the European Union, increased deployments of submarine cable systems, and increases in aggregate bandwidth capabilities.
The European WDM market for terrestrial optical transport is expected to reach $1.6 billion this year. Based on interviews conducted with European service providers, RHK analysts predict this market will jump to $5.6 billion by 2004, driven by an increase in traffic between France, Germany, and the U.K., which represent the largest three telecommunications routes between North America and Europe.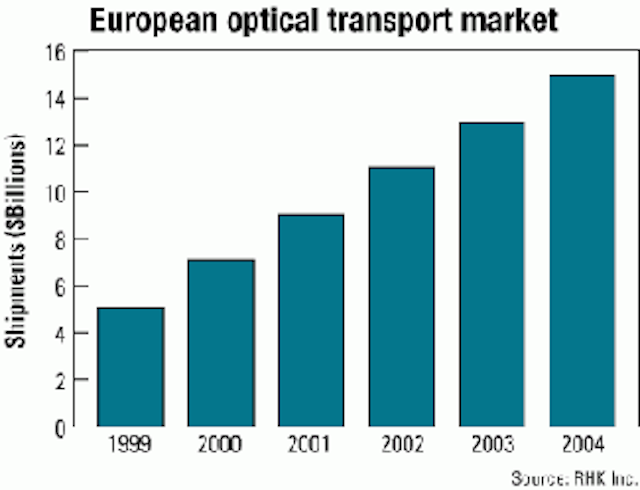 "We are seeing a dramatic increase in service providers acquiring transatlantic undersea capacity as it becomes more critical for service providers to scale intercontinental networks," says Stephane Teral, director of European transport. "The Internet is driving growth in international traffic within Europe and to North America," he adds, citing London, Amsterdam, Paris, New York, and Frankfurt as the top five cities in terms of their volume of international traffic.
Nortel Networks led the European WDM market in 2000, posting a 37% share on the strength of its DWDM equipment, particularly at the 10-Gbit/sec STM-64 capacity. Alcatel captured 20% of the overall market, while Ciena held onto 17%. Other top vendors included Lucent Technologies, Marconi, Sycamore Net works, Cisco Systems, ECI, Ericsson, ONI, Siemens, Sorrento, and NEC.
Sales in the SDH equipment market reached $5.4 billion in 2000 and are expected to jump to nearly $10 billion by 2004, say analysts. Marconi led the SDH market with a 29% share, thanks to recent acquisitions from Bosch and Nokia. Alcatel captured the second-largest slice of the market, posting a 24% share, followed by Nortel with a 17% share. Other vendors in the top 10 include Lucent, Siemens, ECI, Sagem, Redback, and Tellabs.
Further details about these findings can be found in RHK's European WDM & Optical Networks and European SDH & Transport Networks services. For more information, visit the company's Website at www.rhk.com or call (650) 737-9600.