10-Gigabit Ethernet sparks transceiver shift
Nov 1st, 2001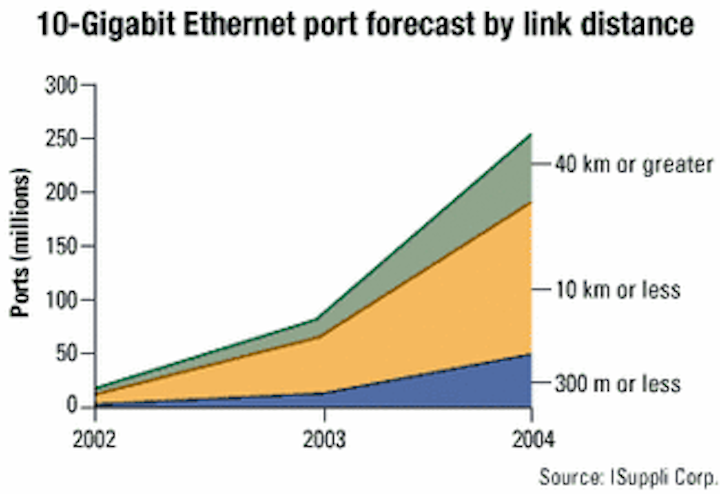 While the demand for networking equipment has weakened significantly during the last three quarters, fiber-optic-component technology continues to move forward, creating opportunities for several companies in the emerging market for 10-Gigabit Ethernet transceivers and modules.
The latest forecasts from iSuppli Corp.'s (El Segundo, CA) market intelligence services group indicate that revenues for 10-Gigabit Ethernet fiber-optic transceivers will be $208 million in 2002, growing to more than $2.7 billion by 2004. The emerging market for 10-Gigabit Ethernet modules is predicted to show similar high-growth opportunities, rising from $497 million to more than $1.2 billion during the same period.
In iSuppli's latest report, "Fiber Optic Transceivers and Modules: Make Way for Integration," author Scott Smyser indicates, "While SONET/SDH will continue to have its place in traditional long-haul telco networks, high-speed Ethernet with its lower total cost is poised to become the choice technology for MAN applications. With the finalization of the IEEE 802.3ae interconnect standard for 10-Gigabit Ether-net slated for March 2002, this category will quickly expand to displace SONET/SDH as the topology for Inter-net backbone installations in the last mile."
The report analyzes the market drivers for 10-Gigabit Ethernet and SONET/SDH fiber-optic transceivers and modules and examines the packaging issues that are being addressed to move the former devices into the competitive arena.
Revenue projections are provided for all classes of devices, and details of important multisource agreements (MSAs) are discussed in detail. Newly announced developments are also covered.
For more information, contact iSupply at 310-524-4000 or visit the company's Website at www.isupply.com.