Tycom and Alcatel lead in undersea deployments
Nov 1st, 2001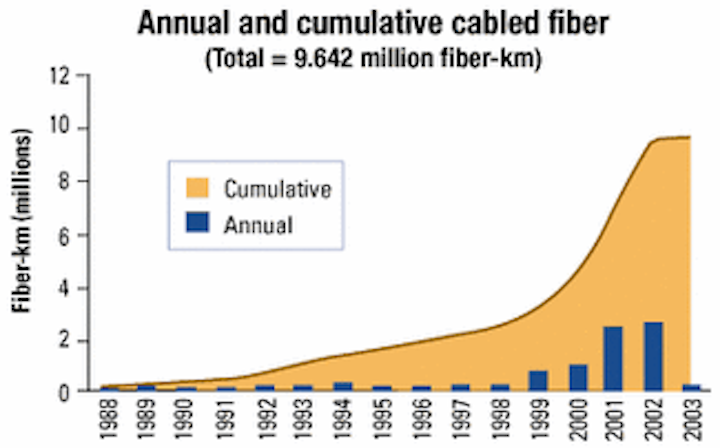 Of the fiber-optic undersea systems announced in 2000, unrepeatered systems represent 3,650 route-km, while repeatered systems amount to 131,400 route-km. Alcatel and Tycom dominate the business either alone or with partners, according to KMI Corp.'s (Providence) annual undersea cable survey. Tycom, with a total award of 19,000 route-km (36,000 with partners), is the marginal leader over Alcatel (18,800 route-km alone; 30,600 with partners).
Four times more undersea cable kilometers will be activated globally in 2001 and 2002 than in 2000. In total, 124,000 route-km of cable were cut over in 2000, just short of the record 128,000 km cut over in 1999. During the period August 2000 to July 2001, 21 additional systems were announced that will add another 135,000 route-km of cable containing 1.665 million km of fiber that will add 41,000 Gbits/sec to existing undersea capacity. Announcements for systems to be cut over in the year 2001 indicate the cumu lative route-km of cable will increase by more than 40%, from 642,000 route-km to 911,000 route-km. Cumulative fiber-km for 2001 will increase by 57% over 2000.
Cumulative investment will increase from $33.8 billion to $49.9 billion, or 48%. Cumulative maximum capacity will increase by 12%.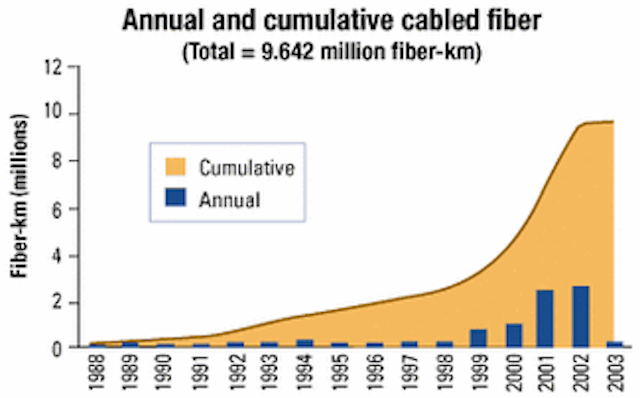 The average number of fibers from the cable cutover in 2000 is eight. Of the total 4.3 million fiber-km installed through 2000, the largest markets are the Pacific and the Atlantic. Additional fiber is planned for all regions between now and 2003, and the Pacific and Atlantic will again lead the market.
The year saw positive results of DWDM technology. While route-kilometers of cable installed were slightly below those for 1999 and fiber-kilometers were higher by 20%, the maximum capacity of the fibers installed in the Atlantic and Pacific regions increased by more than 700%.
In the Atlantic region between Europe and North America, maximum capacity increased from just over 200 Gbits/sec to 1,500 Gbits/sec in 2000. This increase is expected to grow more than 10-fold by 2002 to 17,000 Gbits/sec.
For more information on this annual undersea cable study, contact KMI at (401) 243-8100 or visit the company's Website at www.kmicorp.com.