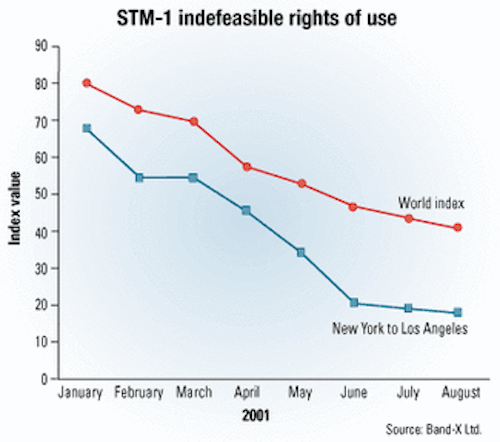 TRENDS
By KATHLEEN RICHARDS
Recent data released by Telegeography, a market-research subsidiary of the Band-X (London) online bandwidth exchange, confirms that bandwidth prices have followed the general trend in the industry-downward. While industry observers expect the trend to reverse in time, no one seems confident about when that time will be.
In April 2000, Band-X started tracking wholesale pricing of 155-Mbit/sec STM-1 indefeasible rights of use (IRUs) on its highly traded routes. The company developed an index with initial values of 100 to measure the pricing fluctuations of these routes, which were deemed most representative of the pricing in their regions: London to leading European cities and Hong Kong; Los Angeles to Beijing and Tokyo; New York to Frankfurt, London, Los Angeles, and Moscow.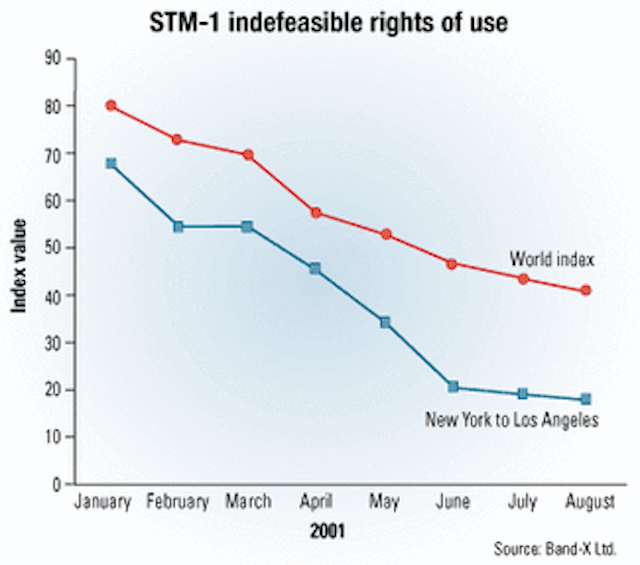 Figure 1. A dramatic decline since last January is apparent in wholesale pricing of STM-1 indefeasible rights of use, according to the bandwidth index developed to measure pricing fluctuations on Band-X's highly traded routes worldwide.
As wholesale carriers went from boom times to bust, pricing started to freefall on several routes. Pricing on the New York-to-Los Angeles route last January was 68.2% of what it was in April 2000; by August of this year, it plummeted to 18.2% of its initial value (see Figure 1).
An earlier Band-X bandwidth index launched in October 1998 for 2-Mbit/sec E1s and 1.54-Mbit/sec T1s indicates a less pronounced pricing decline for lower-capacity pipes (see Figure 2). Pricing on the New York-to-Los Angeles route last January was valued at 58.6% of its initial October 1998 listing, 27 months after the index was launched, and dropped to 41.1% in August.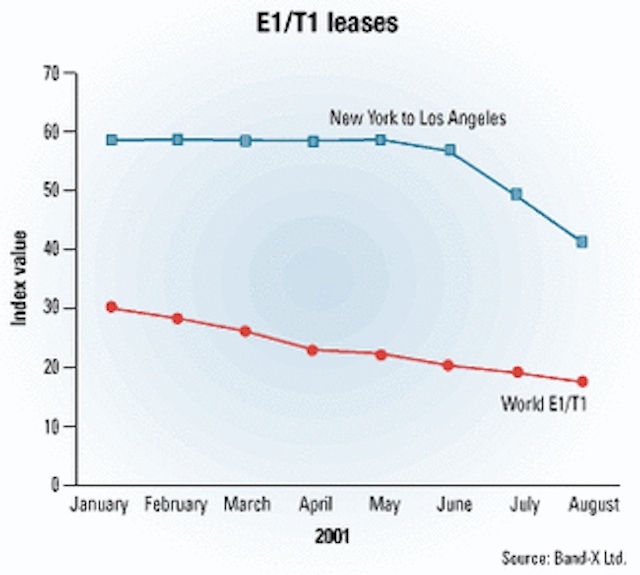 Figure 2. The drop in lower-capacity 2-Mbit/sec E1 and 1.54-Mbit/sec T1 pricing shown in the Band-X bandwidth index is less pronounced; margins were thin to begin with.
"In the lower capacities, there is not as dramatic a change," says Rob Schult, senior analyst at Telegeography. One reason: pricing is already extremely low-in some cases close to or matching carriers' incremental operating costs.
"If you look at the STM-1s, prices have continued to fall because there is a lot more margin. STM-1s are the new currency of bandwidth of people willing to buy circuits. You can buy an STM-1 for not a whole lot more than for a DS-3," says Schult. "The [pricing] difference is not insignificant, but it is not as big as it once was."
The values input each month into the Band-X bandwidth indices are determined by several factors, including the prices of "trades" facilitated by the company's network trading floor and pricing information gathered through relationships with tier one carriers as well as other sources.
Pricing is not the only issue in a state of flux. The number of carriers actually buying and selling capacity is unclear. "The great myth is that a transaction happens on these routes every single day," says Schult.
While the aggressive business tactics of some large carriers drove the downward pricing in many markets, several providers competing largely on price have disappeared from regions or been forced to shut their doors. "Some of the most competitive carriers were too competitive," explains Schult. One such wholesaler entered the Zurich market with lower pricing to compete against the PTT. The carrier has since gone out of business. Other carriers in need of capital as a result of investment drying up are resorting to "fire sales" of bandwidth to buyers with ready cash.
With carriers under pressure to move inventory, they're willing to make concessions and be more flexible in the way they structure sell-side contracts, observes Nick Cioll, chief strategy officer at bandwidth intermediary RateXchange (San Francisco). "On the IP front, some of the larger carriers on the supply side that nine months ago were very reluctant to sell on a pay-as-you-use basis, or a short-term basis, have come to us and said, 'We'll interconnect to you and we'll only charge you as you use it and resell it.' That makes it a lot easier as opposed to me making a one-year commitment to buy a Fast Ethernet. I can interconnect that Fast Ethernet or Gigabit Ethernet and resell it on an 'as I sell it' basis."
New metro entrants in the United States such as Telseon with its wavelength and Ethernet services, Sigma Networks, and Sphera Optical Networks offer faster turn-up and provisioning and shorter contract durations, sometimes even on a monthly basis, which makes delivery of bandwidth a lot easier, asserts Cioll. "The hardest thing to find in this market is end buyers. With the meltdown in the ISP [Internet service-provider] world, it really turns a lot of us toward the corporate [customers] and the enterprises. Having flexible products that we can ultimately get from the backbone carriers and resell often in shorter increments to the end buyers creates a framework which some of the companies that want to trade can trade around." Most carriers are still not interested in trading, however.
"It's definitely a buyers' market," says Telegeography's Schult. "Everybody wants to sell, but people don't have requirements; they have cancelled a lot of new acquisitions and new builds and are not going to execute the huge CapEx [capital-expenditure] plans that they may have had previously. There aren't very many buyers out there. A year and a half ago people were buying [capacity] speculatively. Now they need to have a customer first."
The economic climate has indeed changed carriers' behavior. Many operators are beginning to practice just-in-time lighting of bandwidth. Others are buying bandwidth instead of lighting it to fill holes or even some routes on their networks "for various reasons, not the least of which is the capital crunch," says Cioll.
"We've obviously had a very hard crash in prices and that is a continuing thing," he says, "but the pace of the drop in prices has been pretty severe over the last three to six months and that really has created the opportunity for some of the end buyers to come in and buy in different ways and try to save a lot of money. That's really been the hardest part of this market, because it has really been out of balance; it's really been much more supply than demand and it has been difficult to find the buy side of the market.
"At some point, if prices keep falling as they are falling and capital is not available, the supply and demand situation is either going to come into balance or flip, and you are going to see shortages on routes. And I don't know if we are a month or two or even 18 months away from that, but we do see this as being an unsustainable situation. You have growth in traffic of 100% to 400% per year depending on whom you listen to and you have people adding capacity and turning capacity up somewhere south of 100% per year. You just can't continue that forever; something has got to give.
"This is something that we saw in power in 1995 and in 1996. What we had was long power, and all of a sudden power became short and the buyers came storming into the market. At some point you get to low enough prices where the supply-demand situation will clear itself and turn back around. I view bandwidth as going through its first boom/bust cycle."
---
Whatever the purpose, all articles, product announcements, and advertisements in Lightwave can be reprinted to suit your informational needs.
For information, contact Kathleen McIntosh at: (603) 891-9203, fax (603) 891-0587, or e-mail: kathmc@pennwell.com.