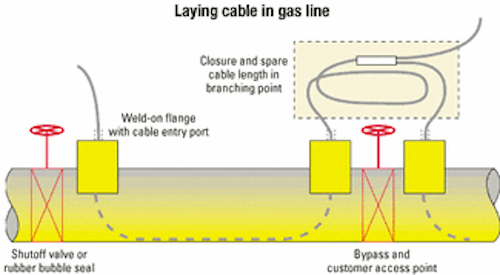 NETWORKS
By ROBERT PEASE
One of the biggest challenges still facing telecommunications providers is moving optical fiber closer to the customer in the metropolitan environment. But before fiber can reach the customer's doorstep, the barrier of a "concrete jungle" of pipes, cables, tunnels, and other city infrastructure must be successfully overcome.
The key to busting through these barriers lies in using subways, railroads, highways, energy lines, sewers, gas lines, and even drinking water lines as infrastructures to deploy the fiber, rather than treating them as obstacles to circumvent. With that in mind, manufacturers have developed fiber-optic products and installation techniques to meet a range of "alternative" rights of way (ROWs) in metro areas around the world.
As reported previously in Lightwave, (October 2001, page 65), Corning Cable Systems offers three cabling products-S.L.I.M., MCS-Drain, and MCS-Liner-for deployment in storm and sanitary sewers. Meanwhile, Alcatel has also begun to promote the use of ROWs beyond the trenches, railroad tracks, and overhead lines that have traditionally hosted cabling.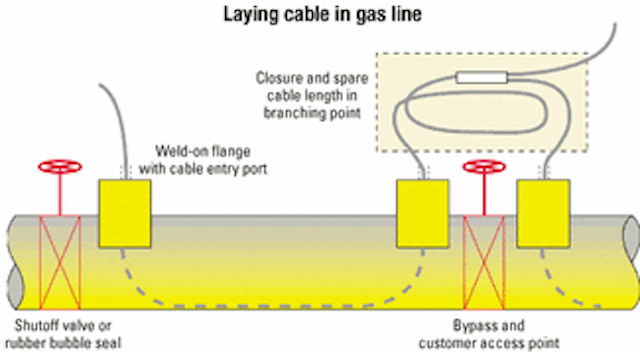 In a gas line, the optical cable is laid in sections between valves-which must be bypassed-to establish a potential access point. A cable entry point consists of a steel dome welded to the pipe with a sealed cable inlet. Gas flow is stopped for the cable-laying process.
"Fiber deployment cost is the key issue for further network expansion, especially with respect to access and fiber-to-the-user," says Klaus Nothofer, product manager for ROWs and special products at Alcatel's Optical Fiber Div. "From a number of options, the operator-or network builder-can choose the optimum combination in terms of cost and time."
For example, the company offers a gas pipeline solution whereby fiber can be safely inserted into gas conduits, even while the gas is flowing under normal conditions. An added advantage of this scenario is that the optical fiber can also function as a leakage detection system to enable gas-line operators to easily monitor and manage their gas networks.
Fiber can also be installed in city water distribution networks. Naturally, the installation process and the cabling itself must pose no threat to the drinking water supply by being both non-toxic and non-polluting. Alcatel claims to have a system that is low-cost, long-term, and easily upgradable.
Sewer systems are quickly becoming a popular way to install entire metro networks and optical meshes (see Lightwave, February 2001, page 1). CityNet Telecommunications (Silver Spring, MD) took this idea to Alcatel and Swiss robot manufacturer KA-TE. Using robots to pull and install fiber cable through sewer pipes can be beneficial to sewer operators as well as carriers, since telecommunications companies are often willing to provide maintenance and repair for the privilege of using the ROW. CityNet recently completed an optical mesh network in Albuquerque, NM, using this method, and a second project is underway in Dallas.
With such variety of fiber deployment methods, telecommunications providers can choose the most efficient and cost-effective strategies for their particular needs. More access solutions are being developed that will lead fiber right into the home or office-either by conventional means or by using alternative techniques.
Today, however, these new ROW techniques are mainly viewed as backups to more conventional means of fiber deployment.
"The first choice will be conventional laying such as duct, buried, or aerial installation," says Nothofer. "Where this is not possible, not permitted, or just too expensive, the alternative solutions for deployment come into the game. The preferred method will depend on the infrastructure situation. Sewer installation is certainly the most accepted alternative deployment method to date. Generally, however, we are facing a huge interest from all market regions in the developed world for alternative ROW solutions."