Role of the metro core in next-generation access networks
Jul 1st, 2001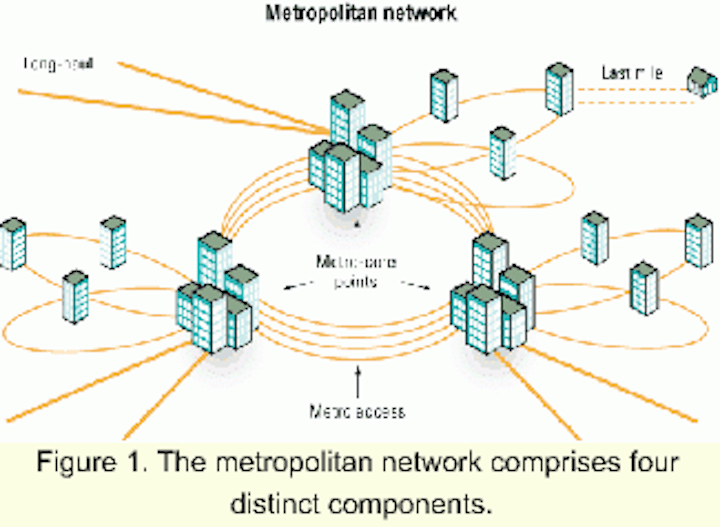 SPECIAL REPORTS / Access Networks
The optimization of the metro core is the latest key to developing the optical access network landscape.
G. GABRIEL COLE, ixpanse inc.
Enterprise telecommunications customers and communications service providers are getting increasingly sophisticated and demanding when it comes to network access. They not only want high bandwidth, but they also want that bandwidth on demand. They not only want a choice among multiple carriers and service providers, but they also want rapid provisioning once they have made their choices.
Additionally, they want an increasing array of services, not just network and Internet access, but also everything from remote management and monitoring to server hosting and data storage. The only way to effectively meet the service demands efficiently and effectively is through the metropolitan-core network.
The metro-core network is the latest entry in the network access landscape (see Figure 1). For the past decade, the network access environment has comprised the long-haul network, MAN, and local loop. The long-haul network consists of the familiar long-distance carriers like AT&T, MCI WorldCom, and Sprint. The MAN provides high-speed fiber access to customers at locations scattered throughout a metropolitan area. The local loop, of course, covers the last mile to each customer's premises.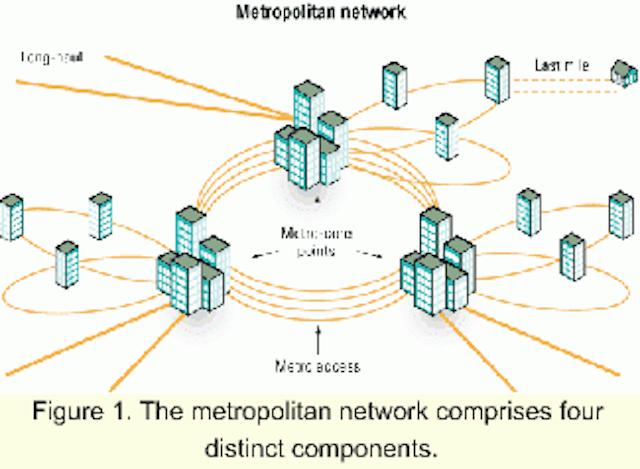 Figure 1. The metropolitan network comprises four distinct components.
Now, we are witnessing the optimization of the metro core. It takes advantage of the point at which communications networks converge and provides a central point for the deployment of a wide range of services. Given the increasing commoditization of network capacity today, the metro-core network is quickly assuming a central role in the provisioning of network access and delivery of value-added services.
The diverse network environment itself is a relatively new phenomenon, coming about with the rise of telecom competition beginning in the 1970s. Before then, customers had few choices in network access, with the possible exception of the very largest enterprises.
An enterprise data center, for example, might boast extensive services-redundant power, mirrored storage, continuous monitoring-but it probably would connect with only one network. Even most large businesses received their local access, long-distance access, voice, and data services from a single telecom provider, namely the incumbent phone company.
It was a regulated environment with no competition that resulted in few choices and high rates. Service provisioning also was slow. Companies could wait months, for instance, to get delivery of new, high-speed circuits. Mid-sized and smaller organizations had even fewer options and no recourse.
Today, we live in an era of growing telecom choices. Even with the recent shakeouts and consolidations, organizations have more telecom options than ever-and they will have even more in the future. But it took some time coming.
With the emergence of competitive long-distance carriers in the 1970s, businesses for the first time had a choice between carriers, and prices began to drop. But the option of an alternative long-haul carrier did little to address other equally pressing concerns such as rapid provisioning and the need for value-added services. Still, it was a start.
With the arrival of MANs, enterprises began to experience the benefits of competitive telecommunications access. The MANs connected many of the largest office buildings in a given market with the competitive long-distance networks. They provided an alternative to sole reliance on the phone company. Enterprises at these locations could take advantage of high-speed fiber to connect with their selected long-distance carrier network as well as communicate within the metro network.
But MANs did not necessarily provide convenient access to multiple networks or deliver much in the way of value-added services. That sometimes resulted from poor planning, and other times it was a deliberate choice to focus customers on a specific long-distance network.
With many different access points, the MAN could not efficiently aggregate multiple network access options. Similarly, it offered no single point from which to effectively deliver services. Although the MAN represented a major improvement in network access for enterprises, something more was needed.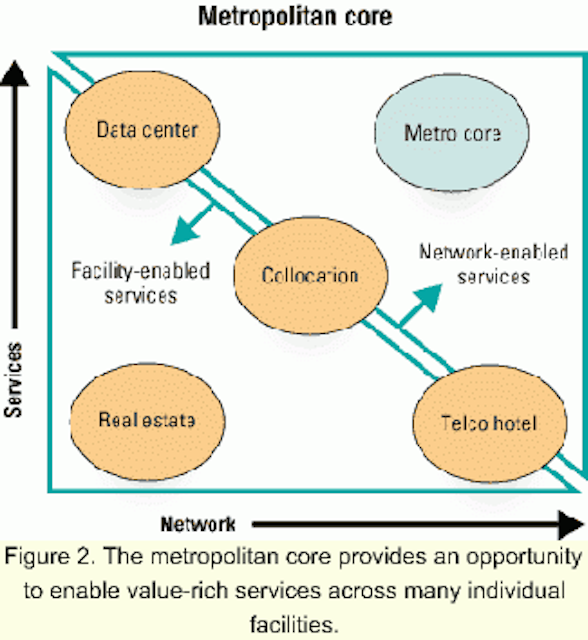 Figure 2. The metropolitan core provides an opportunity to enable value-rich services across many individual facilities.
Paralleling the rise of MANs was the emergence of telco hotels and collocation facilities. Telco hotels evolved over time as new networks were built out and companies required raw space to house equipment. Although they act as communications hubs due to the large number of networks that run through them, they are typically owned and managed by real estate companies that focus much more on traditional real estate concerns than on the network and technology needs of the facilities. Typically, they lack the managed network, infrastructure, and technical service foundation to fully satisfy customer demand for sophisticated network access services.
Collocation facilities began to emerge in the mid-1990s to satisfy the conditioned space requirements of communications services and network providers. While most collocation facility operators marketed their facilities as network-neutral, limited space availability at established telco hotels often forced them to locate at second-tier sites with inadequate network access. That made it difficult to attract the full range of network providers serving the metro. In addition, collocation customers often sought to purchase value-added services from network providers rather than from collocation operators.
In short, telco hotels provide access to many networks, but offer little in the way of services-often suffering from limited space. Collocation facilities offer more services and more space but usually provide access to only a limited number of networks (see Figure 2).
As mentioned, the latest addition to the metropolitan-network environment is the metro-core network. It is located where multiple local and long-haul networks interconnect to form the network core, typically at a top-tier telco hotel. It takes advantage of the multiple networks already located there to provide fiber-based connectivity and services to the entire metro area.
Through the metro-core network, telecom customers can directly access any and all the networks, regardless of whether the customer's local facility-a collocation site or corporate data center, for example-is served directly by one or several networks. These remote customers typically connect via a fiber link to the metro-core network.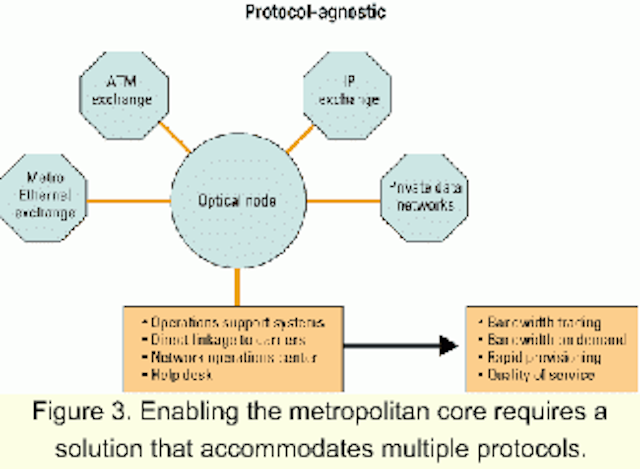 Figure 3. Enabling the metropolitan core requires a solution that accommodates multiple protocols.
The metro-core network provides a base to layer value-added services (see Figure 3), such as exchange services for network and protocol conversion-Ethernet, IP, ATM, and private data nets-to connect with multiple network carriers through direct links at an optical, as well as electrical, level. The metro-core network also provides a single point from which to deliver 24/7 operations support, a network operations center, a help desk to troubleshoot and resolve problems, and a robust network-management infrastructure.
Most important, the metro core provides a central point where service-level agreements (SLAs) can be managed between networks and monitored for compliance, which is critical to service providers and enterprise customers who derive their success from keeping network connections operational.
As a single aggregation point, a metro-core network platform provides an ideal, managed setting for the delivery of a variety of services, including:
Fully redundant network interconnection and distribution to customers in the building or metro area.
Exchange services, including peering, aggregation, and protocol conversion, encompassing SONET, ATM, IP, Ethernet, Fibre Channel, etc., multiplexing, bandwidth management, network security, and SLAs.
True optical interconnection to reduce latency and data loss.
Advanced operations services, such as real-time pricing and settlement for bandwidth trading, bandwidth on demand, and rapid provisioning.
The metro-core network provides the ideal location to develop a platform that is able to deliver substantial operational and economic benefits to the metro area-benefits that cannot easily or economically be provided from metro-access networks, collocation facilities, or even the telco hotels. These benefits include economies of scale, reliability of systems, speed of deployment, easy access to services, and reduced costs.
For example, centrally managed systems result in greater reliability, while direct interfaces with the networks speed deployment. At the same time, the metro-core network becomes an effective vehicle for demand forecasting, managing carrier relations, and centralized telecom operations.
Despite the current turmoil in the overall economy, as well as within the telecom industry, the long-term indicators point only to increased demand for telecom capacity and services. The Internet and e-business will continue to evolve and expand; broadband will become pervasive. More organizations will be demanding increasingly advanced services involving more people via the network.
Even more important than the growing use of telecommunications is its central role as a key component of an enterprise's business strategy. Already, enterprises are turning to telecommunications to help them achieve strategic objectives, such as developing new customers, products, and markets. Increasingly, enterprise network access is an integral part of the product and the customer relationship.
In the middle sits the metropolitan-core network. As networks become increasingly commoditized, beginning with the long-haul carriers, and as customers leverage networks in innovative, strategic ways, the metro-core network will emerge as the best candidate to deliver the advanced services telecom customers need to bring their telecom-centric business strategies to fruition.


---
G. Gabriel Cole is president and CEO at ixpanse inc. (Boston). He can be reached via the company's Website, www.ixpanse.com.