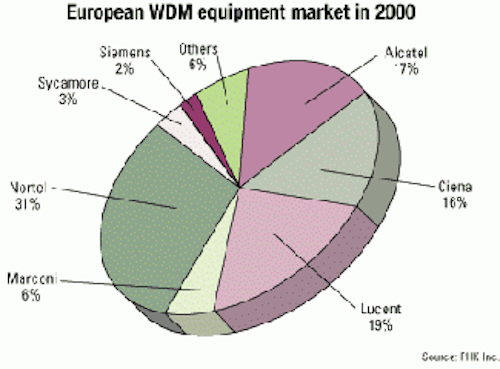 New market-share data released by telecommuni-cations market-research firm RHK Inc. (San Francisco) shows shipments of WDM equipment for the European market in year-end 2000 were led by Nortel Networks with a 31% market share, followed by Lucent Technologies (19%), Alcatel (17%), and Ciena (16%) (see Figure). Europe's continued pan-European network build-outs, stemming from deregulation and increased global connectivity, resulted in the WDM market climbing to $1.74 billion in 2000, more than doubling 1999 shipments.
"Last year was a milestone year for Europe with 80% of the pan-European pure-play operators completing network build-outs," comments RHK director of European optical transport, Stéphane Téral.
RHK's findings show Nortel captured the number one position in Europe, displacing Ciena. Nortel increased its market share from 23% in 1999 to 31% in 2000. Lucent further enhanced its number two position in 2000, growing from 17% to 19%. Alcatel, with a 17% share, up from 13% in 1999, secured its position by building a broad customer base and implementing a global approach to undersea transport.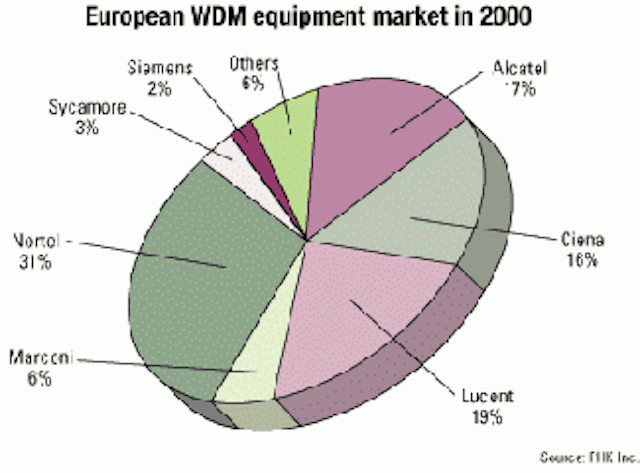 Ciena, the number one supplier at 35% in 1999, saw its market share reduced to 16%. Although Ciena's share decreased, its revenues almost doubled with the success of its high-channel-count DWDM system, metro-core equipment, strong customer support, and metro-access system.
Marconi increased its position from 2% in 1999 to 6% in 2000 as a result of expanding its geographic coverage through its acquisition of Bosch and Nokia transmission groups, and creating a clear product road map to 40 Gbits/sec. Sycamore Networks, Siemens, and others followed with a combined 11% of the market.
RHK's report, "Nortel, Lucent, and Alcatel Capture Top Market Share Positions in the European DWDM Equipment Market," can be found on their Website at www.rhk.com. For more information on European WDM and optical networks, call 650-737-9600 ext. 233.