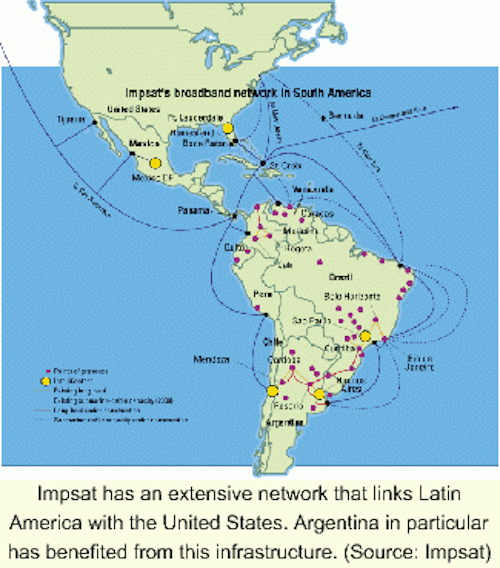 NETWORKS
By PETER HOWARD WERTHEIM and DAYSE ABRANTES
Argentina's fiber-optic sector is greatly benefiting from the country's long-awaited telecommunications market liberalization. Aside from last November's full deregulation, the increased trade within the "Southern Cone" is developing the country's network and boosting demand.
The Argentine government hopes that over the next four years the telecom sector will attract investments of $18-$19 billion. However, a Yankee Group report says that "foreign players have pledged roughly $4.5 billion in investments over the next few years, with national entities vowing another $3-$4 billion."
According to the report, fierce competition is expected, mainly in Las Toninas and the Andes corridor, where terrestrial cables link the Atlantic Ocean sub marine networks with networks in the Pacific. "The links with Chile and Brazil via the Mendoza-Santiago Andes crossing are limited to only two possible routes: along the road and through the tunnel, or along the Gas Andes natural gas ducts," adds the report.
Argentina is being served by new international links, including Emergia and the South American Crossing (SAC). Soon new comers into the Southern Cone market will lay others. The Magellan System is a 19,900-km network worth about $2.5 million and planned to circle South America in the second half of this year.
Emergia, Telefónica's submarine cable division, connects Buenos Aires and Sao Paulo, Brazil, as part of a 25,000-km network linking South, Central, and North America. Nortel Networks provided the high-capacity optical technology for Emergia, designed to carry 1.92 Tbits/sec.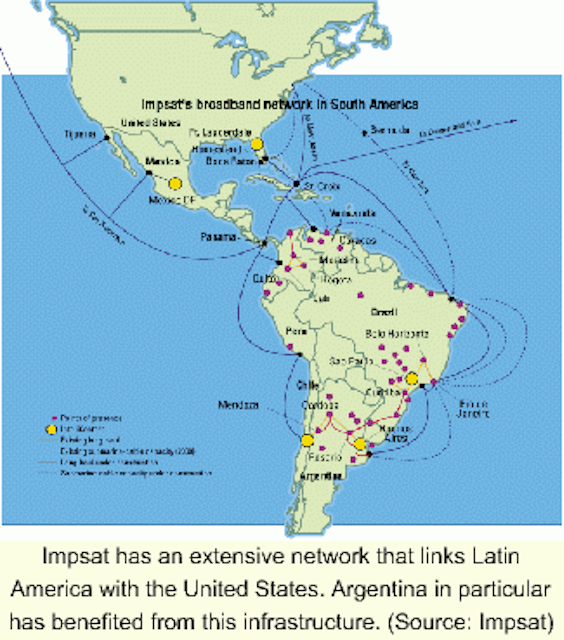 Impsat has an extensive network that links Latin America with the United States. Argentina in particular has benefited from this infrastructure. (Source: Impsat)
Of the $2 billion being invested by Global Crossing in Latin America, some $100 million is in Argentina. The first quarter of this year marked the start of operations of the SAC system, fully connected in Argentina last November. Total length will exceed 16,000 km, of which 2,200 km is terrestrial cable in Argentina. The four-fiber-pair system, each with 10-Gbit/sec capacity via WDM technology, also links Buenos Aires to Sao Paulo and Rio de Janeiro. This system is integrated with the entire Global Crossing Network (see Lightwave, October 2000, page 1).
The carrier works in partnership with Impsat Fiber Networks, Lucent Technologies, and Alcatel Submarine Networks, according to Joseph A. Guzman, Global Crossing's chief operating officer for Latin American and the Caribbean. Impsat, known as the builder of land links for the southern section of Global Crossing's fiber ring around Latin America, claims the first broadband network deployed in South America. Its long-haul network has 1,800 km in Argentina, 1,600 km in Brazil, and more than 300 km in Chile, featuring 36 pairs of nonzero-dispersion-shifted fiber-optic cable, allowing for scalable transmission capacity starting at 2.5 Gbits/sec. One of the links runs between Las Toninas and Buenos Aires and the other connects Valparaíso in Chile with Mendoza in Argentina.
Guillermo Jofre, Impsat's chief financial officer, says that this year the network will reach 3,700 km of total route fiber connecting the metropolitan backbones and running across the Andes into Chile. Two fully redundant network operation centers, one in Buenos Aires and another in Sao Paulo, Brazil, support the backbone as part of the Impsat 2000 Project (see Lightwave, January 2000, page 35).
Impsat Argentina was formed by British Telecom, Morgan Stanley Dean Witter, and Grupo Pescarmona. The expansion of intercity and international (Trans Andean Crossing) connections in Argentina involves agreements with Movicom BellSouth and Global Crossing and equipment from Lucent and Nortel.
According to A. Pablo Iannone, principal of Iannone and Associates LLC, an international business services company based in the United States, although Impsat operates more than 123 km in metropolitan Buenos Aires, Impsat and Global Crossing recently announced an agreement to offer long-distance and local services in Buenos Aires, Rosario, Cordoba, and Mendoza through a 65-km link. Plans include the use of fiber optics and wireless LMDS, he adds.
Most of Argentina's fiber-optic network infrastructure is operated by Telefónica Argentina (some 15,000 km of fiber), Telecom Argentina (11,120 km), Impsat (around 3,000 km), MetroRED (260 km), and Movicom BellSouth, says the Yankee Group report.
The largest nationwide network belongs to Telefónica Argentina (owned by Telefónica de España) with 2,000 km of fiber in metropolitan Buenos Aires and an additional 2,570 km connecting most major towns north of Buenos Aires province, including Entre Rios, Santa Fe, Chaco, and Corrientes. Last year, Telefónica invested some $150 million in northern Argentina to install fiber, transmission equipment, and switches. Major cities like Cordoba, La Rioja, Catamarca, Santiago del Estero, Tucuman, Salta, and Jujuy are linked by 1,437 km of cable. Main suppliers are Pirelli/Cisco, Siemens, Alcatel, and Nortel.
According to the Yankee Group re port, last year Telecom Argentina (owned by Telecom Italia) invested some $30 million and in 1999 deployed 4,850 km of fiber north and south of Buenos Aires to connect the country's capital with the Atlantic coast, Bahia Blanca, and Neuquen. The fiber-optic vendors were Siemens and Alcatel.
Telecom Argentina's expansion plans include a $50-million investment in an ATM network over a fiber backbone in six major southern cities. In metropolitan Buenos Aires, the network is 820 km long and expanding, especially downtown, in an attempt to make inroads into Telefónica Argentina's dominant market share, the report explains.
MetroRED, a data services provider for the corporate market, has some 260 km of fiber covering some 35% of metropolitan Buenos Aires. The company is owned by Fidelity and Colt. SDH equipment was purchased from Siemens and Nortel, PDH from Tellabs, ATM from Cisco, and fiber from Pirelli and Corning. MetroRED's plans to expand telephony services to Cordoba and Rosario required investments of $27 million. The company also wants to attend Santa Fe and secured local and long-distance licenses.
The report's list of newcomers to the Argentine fiber-optic market include Southern Cone Communications (with plans for a 4,300-km cable), AT&T Latin America (2,500 km), Comsat (1,650 km), Techint (1,600 km), Iplan (1,000 km), 360networks, Nextel, and others.
Southern Cone is a joint venture among Chilean Manquehue Net, National Grid, and U.S.-based Williams Communications to exploit existing energy infrastructure. Plans are to invest $220 million to develop a 4,300-km broadband fiber-optic network linking Buenos Aires, Las Toninas, Rosario, Cordoba, Mendoza, and Neuquen in Argentina with Santiago and Valparaiso in Chile. The end points of the Southern Cone network will connect to the major undersea cable landing sites in the two countries. About 36 of the company's 48 fibers will be available for sale to other carriers.
For the southern arc of its domestic ring, Southern Cone purchased an 18-fiber indefeasible right of use (IRU) from Transener. For the northern arc, the company leased duct space from Techint and will install its own fiber. Southern Cone will connect the two arcs with its own duct and fiber installation. For its Andes passage, Southern Cone has an exclusive agreement with a natural gas company, Gas Andes, to use its ducts. The Santiago-Buenos Aires link should have come online in the second quarter of this year.
AT&T Latin America (ALA) entered Argentina after the purchase of Keytech L.D., a new operator holding nationwide licenses to provide domestic and international long-distance data transmission. In Argentina, AT&T plans to invest around $150 million by mid-2001 plus $350 million through 2004 to develop a fiber-optic and Internet Protocol (IP)-based network complemented by a broadband fixed wireless platform. During the next two years, fiber will be deployed in downtown and metropolitan Buenos Aires and in Mendoza, Cordoba, and Rosario. Long-term plans will connect more than 40 Argentine cities.
Comsat, a traditional satellite and broadband wireless provider, has a long-distance license and plans to enter the fiber-optic market. Comsat chose to lease fiber and is evaluating options for a 1,600-km contract, including rings in Buenos Aires, Rosario, Cordoba, and Mendoza. The links from Buenos Aires to Sao Paulo and New York (one STM-1 initially) were contracted from Global Crossing. Comsat plans to expand its metropolitan Buenos Aires fiber reach from 20 km to 50 km.
Argentina's Techtel, controlled by Techint Group (Italy) and more recently Telmex (Mexico), is laying a 1,600-km fiber network and may also deploy fiber between Buenos Aires and Las Toninas. Techtel should invest some $500 million in the next four years to expand its fiber footprint, switching, and wireless plant. Some $100 million was invested to extend coverage from Buenos Aires, Rosario, La Plata, and Bahia Blanca to the province of Mendoza. During 2001, Techtel may deploy fiber along the PanAmerican Highway through the Andes. The company has a local and long-distance license and wants to enter the corporate and high-end residential market.
Another new entrant to the Argentine market is Iplan Networks, which will also invest close to $500 million. Supplied by Cisco, the company earlier this year started to build its network in Cordoba. Founded in 1999, by mid-2000 Iplan started servicing Buenos Aires and La Plata via fiber along the Metropolitano train route and plans to deploy more than 1,000 km of fiber. Using the Argentine market as a trial, Iplan wants to launch services in Brazil and Mexico, says George Stewart, the company's president.
Iannone and Associates also says that 360networks is building a fiber-optic network between North and South America called 360americas. The first leg connecting the United States, Bermuda, and Brazil is ready. A link from Fortaleza to Rio and Sao Paulo should soon be operating. A land link from Sao Paulo to Buenos Aires was expected to enter service last month after the northern ring connection between the United States, Bermuda, Venezuela, and Brazil. The southern ring is scheduled for completion in 2002, when the cable should reach 18,000 mi, with a 1.28-Tbit/sec capacity.
In association with Motorola, Nextel is also building a network connecting North and South America, which will serve cities in Canada, the United States, and Mexico as well as Buenos Aires, Cordoba, Mendoza, and Rosario in Argentina, according to Iannone. During the first half of 2001, Impsat will provide Nextel with a high-speed fiber-optic connection for voice and data transmission at a cost of $10 million. The contract also includes maintenance and operation services for $12 million over the next 25 years, says Impsat.
Peter Howard Wertheim and Dayse Abran tes write on Latin American telecommunications issues from Brazil.